Tulpen uit Hamsterdam!
Birgit Erdmann

Midden in een ander boekproject werd ik opgebeld. Of ik misschien snel tussendoor een beeldwoordenboek kon vertalen. En niet zomaar een beeldwoordenboek, maar Het grootste (en leukste) beeldwoordenboek ter wereld (2016) van Tom Schamp. Schamp is een Vlaamse illustrator, die met veel succes (sommige van zijn boeken zijn bekroond met de Boekenpauw) een heleboel kinderboeken, meest prentenboeken, heeft gepubliceerd.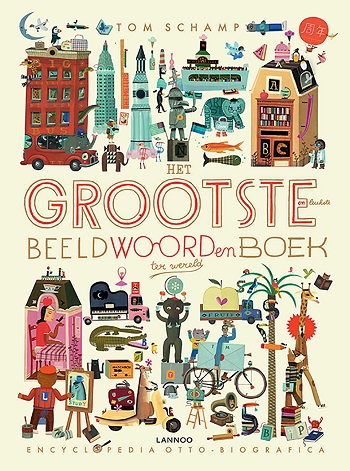 Na een snelle klik zag ik het en dacht: oh ja! Wat een mooi boek. Ik keek nog uren naar de bladzijden op het internet. Want wat was er toch veel te zien! En snel-snel ´s avonds nog een paar woorden vertalen kan toch altijd? Eieren-Eier. Vis in blik-Dosenfisch. Tutti frutti-Tutti frutti. Dus ik nam de opdracht vrolijk aan.
Al snel bleek dat een onbezonnen beslissing te zijn geweest. Toen ik het boek eenmaal in handen had, vroeg ik me af hoe ik er in godsnaam aan moest beginnen. Wat een gekrioel!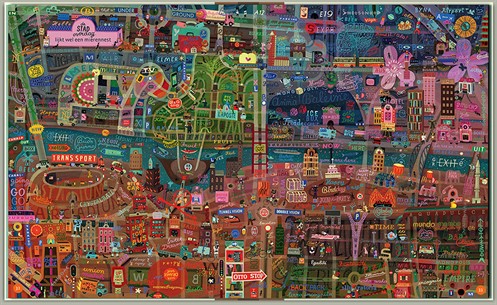 © Tom Schamp
Gelukkig wist de uitgeverij raad. Een paar dagen later kreeg ik per post een aantal vellen papier waarop was aangegeven welke woorden en zinnen ik moest vertalen en waar deze in het boek te vinden waren. Want niet alles hoefde vertaald te worden. Niet de Engelse woorden (bijv. Less = More, Sweet Dreams), niet de Italiaanse (Buon Giorno, Tomba la Bomba) of de Franse (Egalité, Boîte de Nuit).
Ik nummerde ze en begon in een Word-document met 1. Die Stadt am Tag, 2. gleicht einem Ameisenhaufen, 3. Bahnhofsbistro, etc. Dat scheelde een hoop werk.
In het beeldwoordenboek treden vaste personages op zoals de kleine Otto, Oom Tom Tom, de zondagsschilder – der Sonntagsmaler, mama, Dr. Demol (ook wel Molletje) – Dr. Maulwurf (ook wel Würfelchen genaamd), Hu & Go. Op iedere pagina staat een thema centraal: een seizoen, het verkeer, de luchthaven, dag, nacht, sport, muziek, boven water, onder water, school, kerst, vogels en eten… Een volmaakte kleine wereld.
Toen ik er bijna één keer doorheen was, kreeg ik weer een telefoontje. Men had zich gerealiseerd dat dingen die in het Nederlands werken dat niet noodzakelijkerwijs ook doen in het Duits. In een boek dat kinderen met een taal vertrouwd moet maken, red je het niet zonder lidwoorden. Die Eier. Der Dosenfisch. Maar wel: Tutti Frutti (zonder die). Dat kostte tijd, maar was te doen zonder al te veel te hoeven nadenken.
Anders was het met woordspelletjes, grappige woordcombinaties of verwijzingen naar populaire televisieprogramma´s die Nederlandstalige kinderen allemaal meteen herkennen of begrijpen. Want ja, waar moest ik de Duitse equivalenten vandaan halen, en dan ook nog equivalenten die grappig of ritmisch zijn of rijmen? Of alle drie? Soms had ik voor een zinnetje wel vier vertalingen bedacht. De definitieve versies kwamen uiteindelijk tot stand in samenwerking met mijn redacteur, Birgit Göckritz van uitgeverij Gerstenberg.
Een paar voorbeelden:
p. 8: Apparte-mens-gebouwen – Apartmensch-Haus
Haus in enkelvoud. Er is namelijk maar één gebouw te zien.
p. 18: Kipsalon – Salon Henna Huhn
Op de illustratie zie je kippen in een kapsalon. Ik had ook nog een ander idee: Hahnstudio (i.p.v. Haarstudio).
p. 28: Tijd voor Toetjes – Aber bitte mit Sahne
Andere oplossingen: Kuchen sollst du suchen/Super Süßspeisen. Er moest iets krachtigs komen te staan, want Nachtischzeit/Zeit für den Nachtisch valt plat. En zo werd het uiteindelijk de titel van een beroemde hit van Udo Jürgens.
p. 36 De wereld draait door – Dalli Dalli!
Dalli Dalli was ooit een spelprogramma, een van de eerste echte shows op de Duitse televisie. Het mooie hier is dat Dalli Dalli zoiets betekent als 'vooruit! schiet op!', wat op de pagina over Openbare Werken (Auf der Baustelle) wel van belang is.
p. 49: Metafoorkramer – Einfalls-Pinsel
Op de pagina over Schone kunstjes is een penseel afgebeeld met daarop het woord 'metafoorkramer'. Ik dacht meteen aan Einfalls-Pinsel. Eigenlijk is een Einfallspinsel een soort hansworst, maar met deze spelling wordt het een ideeën-penseel.
En dat is het dus geworden: Das schönste und größte Bildwörterbuch der Welt.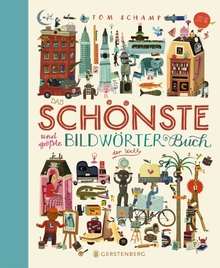 © Gerstenberg
Birgit Erdmann studeerde kunstgeschiedenis en Nederlandse taal- en letterkunde in Marburg, Berlijn en Amsterdam, was medewerker op de cultuurafdeling van de Nederlandse ambassade in Berlijn en is sinds 2010 literair vertaler van o.m. Chris de Stoop, Hella S. Haasse en Jaap Robben. In 2013 werd ze genomineerd voor de Deutscher Jugendliteraturpreis met haar vertaling van Toon Tellegens Ik wou. Zie www.birgiterdmann.de