De zomer van Pandora
Ton Naaijkens

Van de week kopte de krant dat dit de zomer van de brandhaarden moet heten. Zo voel ik het ook. Het is niet te begrijpen op hoeveel plaatsen in de wereld de hel is losgebroken. Alsof het vanzelfsprekend is dat erop los gemoord wordt en het menselijk lichaam van het ene op het andere moment in delen uiteen kan vallen – of dat nu in Syrië is of bij het Sinjargebergte, in Gaza of in Oost-Oekraïense velden, moedwillig of minder moedwillig. Je moet het je niet al te nadrukkelijk voorstellen, maar je ontkomt er niet aan. Je hoeft Facebook maar aan te klikken of een man houdt een afgehakt hoofd voor je omhoog. Of je leest met welk gemak eeuwenoude bouw- en kunstwerken met de grond gelijkgemaakt worden. Je waant je terug verplaatst naar oertijden, toen het barbarendom heerste en hoogstens in bedwang kon worden gehouden door rituelen en mythen. Het doet denken aan de oerbron van alle onheil, aan de doos van Pandora die geopend werd om de mensheid te straffen voor het stelen van het vuur. Het lijkt of de doos van Pandora zojuist opnieuw flink uitgeklopt en gelucht is.
Ik heb altijd geprobeerd me voor te stellen wat voor doos dat geweest moet zijn, in Griekenland toen dat land nog lang niet zo heette. Het is een beeld dat dusdanig overwoekerd wordt door wat we tegenwoordig een doos noemen dat het aan het denken zet. Een doos? In het Engels spreek je van 'Pandora's box', in het Frans van de 'boîte de Pandore', het zal dus niet aan het Nederlands liggen. Maar de Duitsers spreken al van een 'Büchse', een bus, een blikje, een klein vat waar een deksel op past. De Duitse vertaling komt het dichtst bij wat het volgens de Grieken moet zijn geweest. Er blijkt een vertaalfout aan ten grondslag te liggen die nota bene wordt toegeschreven aan een landgenoot, aan Erasmus. Die las Hesiodos en zag πίθος staan' het woord voor een groot vat voor het opslaan van wijn, olie of graan; hij hield het voor een πυξίς, een veel kleiner vat dat inderdaad veel lichter is en dus draagbaar. Erasmus zal gedacht hebben dat Pandora dat makkelijker met zich mee kon slepen. Misschien onderschatte hij de omvang van het kwaad dat het vaatje, kistje, doosje kon bevatten. Het woord doos heeft zich daarna gehandhaafd.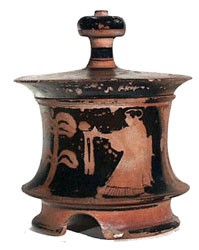 Afgelopen week vertaalde ik een prozagedicht van Sarah Kirsch (1935-2013) dat 'Die Büchse von Pandora' heet en gaat over de trammelant die vrouwen beleven met mannen (daar kun je je wel het een en ander aan onheil bij voorstellen). Ik vertaalde de tekst voor de Dode Dichters Almanak: elke zondag sluit de VPRO de avond af met een gedicht; alles is terug te zien, een deel via Uitzending Gemist (www.npo.nl/dode-dichters-almanak/POMS_S_VPRO_083956). Sarah Kirsch is sinds haar overlijden vorig jaar een aantal keren te zien geweest in dit bijzondere televisieprogramma, dat sinds 1998 bestaat maar aan het eind van dit jaar van de buis wordt gehaald. Hans Keller – samen met Remco Campert en Ine Waltuch – heeft met opnames uit binnen- en buitenlandse archieven een unieke bloemlezing samengesteld waarin dode dichters tot leven komen, ook in vertaling. Voor mij is het treffend dat mijn vermoedelijk laatste bijdrage 'De doos van Pandora' heet. Ik kon de netmanager die dit trieste besluit uit zijn hoed getoverd heeft een mythische naam geven. Wat hij uithaalt valt uiteraard in het niet bij de rampspoed die veroorzaakt wordt door drones, Bukraketten of kromzwaarden. Een gedicht is iets kleins. Maar het belichaamt wel het houvast dat je hebt in het leven dat ondanks alles doorgaat; het is iets van cultuur dat in het geweer komt tegen oncultuur, barbarendom – je moet je tuin blijven wieden.
Bedenker en samensteller Hans Keller vertelde afgelopen zaterdag in Het Parool hoe hij ooit op een vakantie in het Ierse gehucht Letterfrack televisie aan het kijken was en in zwart-witte close-ups de dichters T.S. Eliot en W.H. Auden had zíén voorlezen: 'Wat een schok! Dierbare dichters in plotseling nabije, nooit eerder waargenomen geestverschijningen.' Hij had zelf al opnames van Willem Elsschot, J.C. Bloem en Simon Vestdijk verzameld, raadpleegde het archief van Poetry International en startte de reeks: uitzendingen van een paar minuten, met als enige uitzondering, vertelt hij, een filmpje van achttien minuten waarin Allen Ginsberg zijn volledige 'Howl' voordroeg. Mogen ze allen opstaan, de dode dichters, en in koor een gedicht voordragen dat uit evenveel woorden bestaat als het programma aan euro's kost. Zo lang zal het niet zijn.
En toen – bij het nog eens overlezen van deze column, op hetzelfde moment dat er weer raketten door het luchtruim vlogen om het zoveelste bestand te schenden – werd de doos van Pandora andermaal gelucht. Martin Mooij (1930–2014) overleed: de vader van Poetry International, die de Dode Dichters Almanak volop steunde, de dichters als het ware uit eigen familie aandroeg. De wereld is weer kleiner, het gedicht steeds weerlozer.