Allemachtig
Jan Gielkens

Altijd weer interessant, die serie over eerste zinnen van vertalingen op www.athenaeum.nl. Ik ben blij dat die rubriek nog niet bestond toen in oktober 1992 mijn vertaling Onheilspad van de roman Unkenrufe van Günter Grass verscheen. Het Duitse boek was eerder dat jaar verschenen, en gewoontegetrouw had Grass zijn vertalers, het was nog vroeg in het jaar en koud, uitgenodigd om over het boek te komen praten. Het was een klein groepje daar op de zolder van Grass' atelier en schrijfhuisje, en het was de eerste bijeenkomst van deze soort die ik bijwoonde. Het was ook de eerste echte roman van Grass die ik vertaalde. De eerste zinnen van Unkenrufe gaan zo: 'Der Zufall stellte den Witwer neben die Witwe. Oder spielte kein Zufall mit, weil ihre Geschichte auf Allerseelen begann?'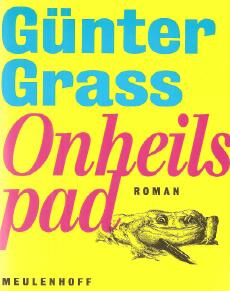 De Nederlandse vertaling verscheen begin oktober, ter gelegenheid van de Buchmesse in Frankfurt. De presentatie was daar ook, want er zouden, als ik het me goed herinner, vier vertalingen van Unkenrufe in diverse talen worden gepresenteerd. Uitgeverij Steidl had pers en belangstellenden uitgenodigd in de vermaarde Nederlandse Spiegeltent, en de bedoeling was dat de aanwezige vertalers de eerste zinnen van hun vertaling zouden voorlezen nadat Grass zijn begin had laten horen. Of andersom. We zaten allemaal op het podium in de Spiegeltent, ook enkele internationale uitgevers, onder wie de grootheden Siegfried Unseld en Inge Feltrinelli, waren present.
Ik zag mijn vertaling (een lelijk boek overigens) daar in Frankfurt voor het eerst, en ik moest me in korte tijd voorbereiden, gezeten in een toch wel indrukwekkende rij beroemdheden, en ook de vele sprekers die mij voorgingen, maakten indruk. De positieve kant: het waren maar een paar regels die ik moest opzeggen. Maar terwijl ik me op die paar regels zat voor te bereiden kreeg ik nóg meer zin om weg te rennen. De eerste zin in de vertaling die ik geacht werd voor te lezen luidde namelijk als volgt: 'Het toeval gaf de weduwnaar een plaats naast de weduwe. Of was er geen toeval in het spel, omdat hun verhaal op Allerheiligen begon?' Het probleem: er stond 'Allerheiligen' waar 'Allerzielen' moest staan. Waarom? Geen idee.
Ik begon me in elk geval allerlei krantenverslagen voor te stellen van de zichtbaar aanwezige Nederlandse journalisten met een smeuïg relaas over de flater die de vertegenwoordiger van de Nederlandse cultuur daar in Frankfurt had geslagen. Mijn primaire oplossing van het probleem was natuurlijk dat ik de zin voorlas met 'Allerzielen' waar 'Allerheiligen' stond. Niemand die het merkte, ook de journalisten niet, die natuurlijk helemaal niet over de presentatie schreven. Er was drank na afloop. Na terugkeer in Nederland meldde ik de kwestie meteen aan de mensen van Meulenhoff, die zo sportief waren snel een tweede druk laten verschijnen. En daar stond de zin natuurlijk goed in: 'Het toeval gaf de weduwnaar een plaats naast de weduwe. Of was er geen toeval in het spel, omdat hun verhaal op Allerzielen begon?' Het verschil is nooit iemand opgevallen.