Niet de grap is haram, wel de vertaling die je ervan maakt
Saskia Vandenbussche

Je kent het probleem wel. Je zit gemoedelijk met een internationaal gezelschap te keuvelen tot er iemand besluit een grapje uit zijn mouw te schudden. Ik hoef er geen tekeningetje bij te maken dat je in dit geval als vertaler in een onmogelijke positie terechtkomt. Als je de grap vertaalt voor degenen die de taal waarin die verteld wordt, niet machtig zijn, is het effect meestal lost in translation. Onlangs was het nog maar eens van dattum. Ik zat met een Frans, Belgisch-Waals, Belgisch-Vlaams en Irakees gezelschap in een Brusselse kroeg van een Belgisch biertje te nippen, toen na nog geen vijf minuten kletsen de eerste talige discussie opdook. Meneer de Fransman prononceerde Bruxelles pertinent als BruXelles, met x in plaats van s. Ik vroeg me dus af wat nu precies de juiste dictie was, en waarom nu net Fransen de naam van de stad met een X uitspraken. Uitleg van de Fransman: als ik het uitspreek als BruSelles, lijkt het net alsof ik sel (zout) leg op mijn bru (schoondochter). Een slecht grapje, absoluut, maar daar kon de Irakees niet over oordelen, want hij spreekt geen Frans.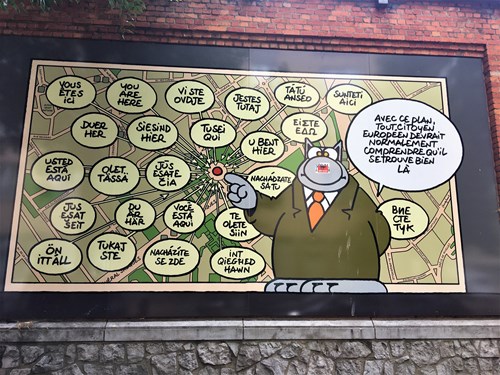 Terwijl zijn drie tafelgenoten zich in hun biertjes verslikten van het lachen, verborg de Irakees zijn gegeneerde glimlach dus maar achter zijn alcoholvrije cocktail. Mensen niet laten meelachen is eigenlijk een vorm van uitsluiting, en dus besloot ik om het grapje in het Nederlands te vertalen. Fehlanzeige natuurlijk. Maar goed, inclusiviteit über alles, ook boven onvertaalbaarheid. Of moeten we er ons misschien gewoon bij neerleggen dat je in een meertalig gezelschap beter geen grapjes maakt? Gelukkig niet! De kunst bestaat er namelijk in om de vreemde taal zo te doseren dat het welgemikte gebruik van een vreemd woord de humor van de grap versterkt. De mosterd daarvoor haal ik zoals gewoonlijk bij Fikry El Azzouzi, die ik tegenwoordig ook wel de meester van de meertalige humor noem. Een voorbeeld: In El Azzouzi's dystopische roman Alleen Zij (2016) komt een scène voor waarin een imam inburgeringscursussen voor autochtonen verzorgt en daarbij uitlegt wat zoal 'haram' is:
'Het grote geheim is integratie. Pas je aan. Schik je naar de allochtoon, de niet-blanke burger. Doe een beetje water bij de wijn. Ook al is dat haram. Niet de wijn is haram. Wel het water dat je in de wijn doet.'
De humor van dit fragment kan verklaard worden met de zogenaamde 'incongruity theory', die stelt dat humor veroorzaakt wordt door elementen die niet bij elkaar horen (incongruenties) met elkaar te contrasteren. Het bovenstaande fragment bulkt op verschillende niveaus van de komische incongruenties, en interessant genoeg is het gebruik van het woord 'haram' één daarvan. Het Arabisch vormt hier immers een incongruentie ten opzichte van de hoofdtaal, het Nederlands. In 1981 stelde de literatuurwetenschapper Andràs Horn (p. 234) al dat taalvermenging eigenlijk een schending is van de 'Reinheit' van taal, die inherent 'Inkongruenz, Disparatheit' met zich meebrengt en op die manier dus als 'Mittel der Komik' kan functioneren.
Maar er is meer. Stel je even voor dat het Arabische woord haram vertaald was geweest naar het Nederlands: 'Doe een beetje water bij de wijn. Ook al is dat verboden. Niet de wijn is verboden. Wel het water dat je in de wijn doet.' Deze versie van de imams woorden is minder grappig, en wel daarom: het woord haram laat veel meer dan het equivalent verboden associaties toe met de islam. 'Haram' is in de twee voornaamste bronnen van de islamitische rechtsleer, namelijk de Koran en de Hadith, de hoogste categorie van wat niet toegelaten is voor moslims. De term komt in de Koran onder andere voor in soera De Dis, die vermeldt dat dronkenschap vermeden moet worden, en in de Hadith in soenna Abu Huraira, die stelt dat Mohammed gezegd heeft dat alcohol verboden is. De imam keert de islamitische richtlijn over de consumptie van alcohol hier echter om door te verkondigen dat niet het drinken van alcohol, maar wel het spreekwoordelijk verdunnen ervan met water haram is. De verwijzing naar het islamitische geloof aan de hand van de term 'haram' vergroot hier bovendien het contrast met de uitdrukking 'water bij de wijn doen'. 'Water bij de wijn doen' roept dan weer associaties op met De bruiloft te Kana uit het Johannesevangelie, waarin Jezus water in wijn verandert. 'Haram' versterkt dus het contrast en dus de komische incongruentie tussen de islam en het christendom, waarbij de islam alcohol verbiedt en Jezus in het Nieuwe Testament tot groot genoegen van feestvierders water in wijn verandert. Deze wereld aan associaties wordt bondig teweeg gebracht door één simpel woordje: haram.
Het gebruik van een andere taal is hier dus een kernachtige manier om culturele associaties op te wekken. En die beknoptheid is essentieel voor het slagen van een grap: zoals filosofieprofessor Herbert Paul Grice (1989: 27) het in zijn stelregels over de pragmatische kant van humor formuleert: 'Be brief (avoid unnecessary prolixity).' Volgens antropologieprofessor Elliott Oring (1989: 358) is de punch line van een grap dan ook meestal 'an unusually compact expression'.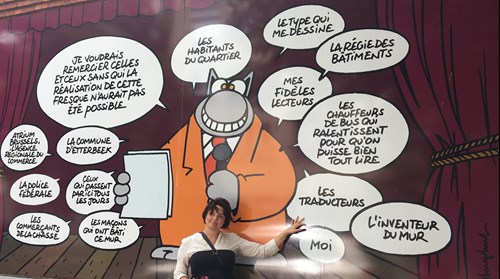 Dit alles dus om maar te zeggen dat er een middenweg bestaat tussen het niet-vertalen van een grap, wat onvermijdelijk tot exclusie leidt en dus allesbehalve woke is, en het wel-vertalen van een grap, wat inclusie meestal ook niet mogelijk maakt en onvermijdelijk tot hersenbrekens leidt. De volgende keer dat je in dubio zit of je een grap al dan niet zal vertalen, overweeg dan misschien eens om gewoon een meertalige grap te maken. Voorbeelden legio vind je in Fikry El Azzouzi's trilogie Ayoub.
Bibliografie:
El Azzouzi, F. (2018). Ayoub. Antwerpen: Vrijdag.
Grice, P. (1989). Studies in the way of words. Cambridge: Harvard University Press.
Horn, A. (1981). Ästhetische Funktionen der Sprachmischung in der Literatur. Arcadia 16(3), 225-241.
Oring, E. (1989). Between jokes and tales: on the nature of punch lines. Humor, 4(2), 349-364.
Reageren? info@tijdschrift-filter.nl.