Het Carol Ann Duffy drievrouwschap
Florianne Sollie
Maartje Stift & Helen Zwaan

Op 23 maart was poet laureate Carol Ann Duffy op het University College in Utrecht te gast voor een optreden. In het kader van dit feestelijke en bijzondere evenement werd haar een boekje aangeboden met tien van haar gedichten, tien bijbehorende vertalingen, en tien responsgedichten door dichters van het Utrechts Stadsdichtersgilde. Wij, Florianne, Helen en Maartje, studenten in het Masterprogramma Literair Vertalen aan de Universiteit Utrecht, sloegen de handen ineen als 'drievrouwschap' om onder begeleiding van samensteller Onno Kosters te werken aan de vertalingen van de gedichten.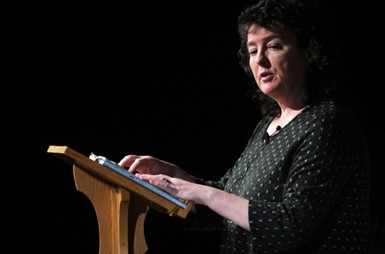 Carol Ann Duffy


Helen
Wat vooral opviel toen we onze selectie gedichten naast elkaar legden, was hoe divers deze was en wat een bijzondere en uiteenlopende stijlen Duffy toepast en beheerst. De drie gedichten waar ik me aan mocht wagen zijn daar goede voorbeelden van: 'Bees', een poëticale, klankrijke ode aan de honingbij en het dichterschap ('and honey is art'), 'Pathway', het sterven van een vader op buitengewone wijze onder woorden gebracht, en 'Translation', waarvan de rauwe taal me tijdens het vertalen fysiek aangreep:
The hunchback
swung on the one-armed bandit, slack eyes following
bright uneatable fruit, cranking Bugger bugger bugger
from stale breath.
De gebochelde
vergreep zich aan de eenarmige bandiet, trage ogen volgden
felgekleurd oneetbaar fruit, sputterde Kut kut kut
met rotte adem.
Toen we voor het eerst in aanraking kwamen met het werk van Duffy, waren we denk ik alle drie onder de indruk en er nog meer op gebrand elke regel en elk vers eer aan te doen. Misschien is vertalen nog wel moeilijker als de brontekst zo binnen je eigen smaak ligt en Duffy viel bij ons, het 'drievrouwschap', zoals Onno ons gedoopt heeft, zeker in de smaak.
In 'Bees' was het vooral de uitdaging om de muziek van Duffy's taal over te brengen: de speciale manier waarop zij met (binnen)rijm werkt en hoe haar woorden aan bijengezoem doen denken: 'Here are my bees, / brazen, blurs on paper, / besotted; buzzwords, dancing / their flawless, airy maps.' Duffy maakt eigenlijk ook een soort schilderij, met klanken als verftoetsen, een tekening met woorden, zoals we het tijdens een van onze bijeenkomsten omschreven, zonder dat die woorden gekunsteld overkomen. Deze kenmerken heb ik dan ook met veel ijver geprobeerd te behouden: 'Hier zijn ze, mijn bijen, / bronzen wazen op papier, / beneveld; gonswoorden, ze dansen / feilloos de lucht in kaart.'
Duffy bezit de jaloersmakende gave om op een schijnbaar simpele, rechttoe rechtaan manier een compositie te maken, waarbij ieder woord klopt en bijdraagt aan het beeld. In 'Bees' viel dit al op, maar vooral in 'Pathway' zorgde deze stijl voor vertaalproblemen en vele (mail)discussies. De eerste paar regels al:
I saw my father walking in my garden
and where he walked
the garden lengthened
to a changing mile
which held all seasons of the year.
Zo klaar als een klontje, zou je zeggen, maar in deze regels zit zo veel wat niet zomaar in het Nederlands over te brengen is. Het langst hebben wij gespeculeerd over de woorden 'lengthened' en 'changing': woorden waarbij je als lezer meteen een beeld voor je ziet en waar de beweging zit die ze ook inhouden, woorden die in het Nederlands tot mijn grote frustratie slecht te vinden waren. Uitlopen, uitstrekken, verlengen? Vormend, bewegend, vloeiend, stromend, golvend of toch gewoon veranderend? En dan het liefst drie lettergrepen. Zucht. Uiteindelijk (Onno: 'Leuk he, poëzie vertalen? Nooit af') is het geworden:
Ik zag mijn vader lopen door mijn tuin
en waar hij liep
ontvouwde de tuin
zich tot een verglijdende mijl
die alle seizoenen van het jaar omsloot.
De beweging en het beeld blijven behouden in 'ontvouwde' en in 'verglijdende' zit niet alleen beweging, maar ook de verwijzing naar tijd, iets waar het hele gedicht over lijkt te gaan.


Maartje
Het voelde als het kiezen tussen je kinderen wanneer je een mooie vondst had gedaan waardoor het rijm behouden bleef, maar deze vondst de betekenis niet precies overbracht. Ook andersom kwam voor: een woord leek in de context perfect vertaald, maar dan klopte het ritme niet meer. Dan moest er een keuze worden gemaakt tussen de mooie vondst behouden, dus inhoud opofferen aan vorm, of kiezen voor de meest precieze betekenis, inhoud boven vorm verkiezen dus. Vooral in het gedicht 'Yes, Officer' had ik hier moeite mee. De laatste regel van het gedicht luidt: 'Yes, Officer, I did. I did and these, your words, admit it.' Daar zit lekker veel binnenrijm in. Daarom was ik dan ook erg blij met mijn oorspronkelijke vondst: 'Ja, agent, ik heb het gedaan. Ik heb het gedaan en dit, uw woorden, geven het aan.' Het binnenrijm is behouden en ook de betekenis klopt. Maar in een bespreking van het drievrouwschap met Onno bleken we 'geven het aan' allemaal toch minder sterk te vinden dan 'admit it'. Om het politiejargon dat het gehele gedicht kenmerkt te behouden, hebben we er daarom voor gekozen om aan het eind van de regel het binnenrijm 'geven het aan' te vervangen door 'bekennen het'. Deze beslissing viel me natuurlijk erg zwaar…
Het was soms ook moeilijk om de precieze betekenis van een gedicht te achterhalen. Wat of wie had Carol Ann Duffy in gedachten toen ze het gedicht schreef? Twijfels hierover leidden soms tot zeer uiteenlopende vertaalopties. Vooral over de context van het gedicht 'Yes, Officer' hebben we veel gediscussieerd. Gaat het over een vluchteling? Of toch een zwerver? Vanuit deze vragen hebben we het gedicht benaderd en geprobeerd vanuit de meest passende context te vertalen. Het was natuurlijk niet de bedoeling dat we mevrouw Duffy bestookten met vragen, haar leven is al druk genoeg. Dat heeft ons ook min of meer gedwongen om sommige dubbelzinnigheden te omarmen en te behouden.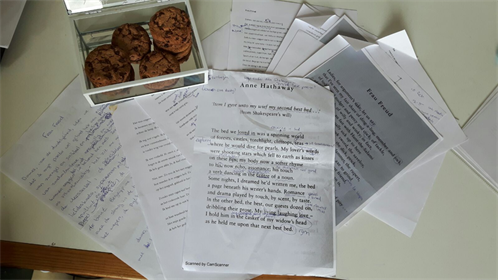 Florianne
Het vertalen van deze gedichten is een alleszins bijzonder proces geweest. Een groot deel van de tijd zaten we, ieder met haar eigen zenuwtrekjes en niet zelden met wat lekkers ter inspiratie, misschien-oplossingen, zeker-niet-oplossingen en andere invallen over tafel te roepen. In de meeste gevallen deed de oplossing zich dan ineens voor. Nog vaker gebeurde het dat we na enige reflectie op de roepsessie gewoon weer uitkwamen bij de oplossing die we in de eerste instantie al bedacht hadden. Waarom die eerst dan toch zo ongeschikt had geleken, was af en toe een raadsel. Het zou interessant zijn om zo'n proces van samen zoeken eens vast te leggen en terug te spoelen. Wie weet zie je dan de oplossing volgens een bepaald patroon ontstaan.
Tijdens een van de bijeenkomsten werd mij het nut van het vertalen van poëzie in één klap extra duidelijk. Blijkbaar vertalen we niet alleen voor wie het Engels niet helemaal begrijpt of waardeert. Maartje las haar vertaling voor van 'Anne Hathaway' – een gedicht dat mij in het Engels niet zo bekoord had, en dat ik daarom niet had uitgekozen om te vertalen.
My lover's words
were shooting stars which fell to earth as kisses
on these lips; my body now a softer rhyme
to his, now echo, assonance; his touch
a verb dancing in the centre of a noun.
Ik begreep de woorden, ik zag de stijlelementen, maar het deed me niet veel. Maar de Nederlandse vertaling kwam binnen:
Mijn minnaars woorden
waren vallende sterren die ter aarde stortten als kussen
op deze lippen; mijn lichaam rijmt nu zachter
met het zijne, nu echo, assonantie; zijn tasten
een werkwoord dat danst in het midden van een naamwoord.
Kippenvel, ontroering en het besef: soms is het lijntje naar je hart stomweg korter voor woorden in je moedertaal.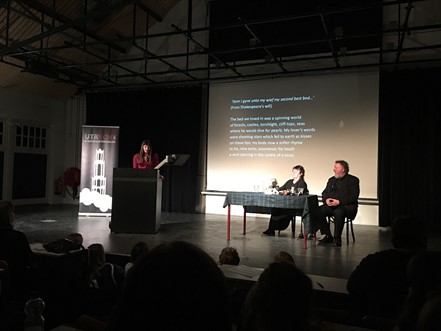 Een van de vertaalsters draagt haar vertaling voor, rechts Carol Ann Duffy en haar muzikaal begeleider, John Sampson (University College Utrecht, 23 maart 2017)