Het vertaalproces als vondsttocht: Ted Hughes' 'Relic'
Onno Kosters

Eens in de zoveel tijd, als ik geen vertaalklus onder handen heb of mijn dichtader een zetje nodig heeft, zoek ik naar een gedicht om te vertalen. Zo kwam ik enige tijd geleden, bladerend door Ted Hughes' New Selected Poems, op p. 29 het gedicht 'Relic' tegen:
Relic
I found this jawbone at the sea's edge: 
There, crabs, dogfish, broken by the breakers or tossed
To flap for half an hour and turn to a crust
Continue the beginning. The deeps are cold: 
In that darkness camaraderie does not hold:
Nothing touches but, clutching, devours. And the jaws, 
Before they are satisfied or their stretched purpose
Slacken, go down jaws; go gnawn bare. Jaws
Eat and are finished and the jawbone comes to the beach: 
This is the sea's achievement; with shells, 
Vertebrae, claws, carapaces, skulls.

Time in the sea eats its tail, thrives, casts these
Indigestibles, the spars of purposes
That failed far from the surface. None grow rich
In the sea. This curved jawbone did not laugh
But gripped, gripped and is now a cenotaph.
Geen heel bekend gedicht in het oeuvre van Hughes, wel een sterke, grillig vormgegeven overpeinzing over tijdelijkheid en eeuwigheid, over hoe wat vergaat ook blijft, indien niet als fragment van een levend organisme zelf, dan als relikwie, als grafmonument voor een leven van eten én gegeten worden. Je zou het gedicht 'typisch Hughes begin jaren zestig' kunnen noemen: aards (of, in dit geval: 'zees'), rauw, compact, een gedicht op leven en dood, over leven en dood, met sterke akoestische effecten, die soms wat geforceerd aandoen ('broken by the breakers', 'go down jaws; go gnawn bare'). Günter Arends' artikel 'From God to Gog? Ted Hughes, Gary Snyder und die romantische Naturkonzeption' biedt een mooie analyse van het gedicht, waarin hij onder andere stelt: 'In "Relic" ist das Meer ein von Brutalität beherrschter Naturraum, wo jeder Anfang unter dem Vorzeigen des Endes steht, ein Symbol für die sich selbst zerstörende Zeit' (75). Arends' woordveldonderzoek levert interessante inkijkjes in de cohesie van het gedicht op. Het laat bijvoorbeeld zien hoe '[e]ine groβe Zahl der in den Text aufgenommenen Verben wie "to break", "to toss", "to clutch", "to devour", "to cast" und "to grip" … Verben der Zerstörung [sind]' (75).
Ten minste één regel is zowel mysterieus als een beetje een tongbreker: 'Nothing touches but, clutching, devours' (probeer dat maar eens hardop uit te spreken), maar ik wil me hier concentreren op een vergelijking die op het eerste gezicht misschien wat prozaïsch aandoet:
Time in the sea eats its tail, thrives, casts these
Indigestibles, the spars of purposes
That failed far from the surface.
'Indigestibles', 'onverteerbaarheden' (?) die de 'spars of purposes / That failed far from the surface' zijn? Van Dale levert voor spar op het eerste gezicht geen zinnige opties (lange paal, rondhout, bokspartij, oefenmatch, hanengevecht, redetwist, schermutseling, spaat [een mineraal]) en ook na raadpleging van de Oxford English Dictionary blijf ik in eerste instantie in het duister tasten: behalve wat (grotendeels in onbruik geraakte) aanvullingen op Van Dale, geeft de OED een zee- of rivierbrasem als optie. Google levert 589 resultaten voor 'The spars of purposes', alle verwijzend naar Hughes' gedicht, maar alleen Ann Skea, in 'Notes on Reading and Understanding a Ted Hughes Poem', probeert het woord spars nader te duiden:
Why are the bones 'the spars of purposes / that failed'? This is a difficult question to answer and maybe the poet has not made his meaning clear enough. Perhaps the poet was imagining the evolutionary tree with its many branches (like spars), some of which lead to dead ends. Or perhaps the bones are just those of creatures which were once intent on eating to stay alive but which were themselves eaten, or simply died.
Moedig (en enigszins onheus jegens de dichter), en veel schieten we er niet mee op, maar altijd nog nuttiger dan wat Leonard Scigaj ervan maakt in 'The Ophiolatry of Ted Hughes', waarin hij het gedicht analyseert: niets. Ook Arends komt evenwel niet verder dan een interpretatie op basis van de context; het woord zelf blijft onbesproken.
Ik besluit in mijn vertaling van spars in eerste instantie, ook op grond van context, te kiezen voor het wellicht iets te specifieke en vlakke 'geraamten' (met als voordeel de klankverwantschap met 'onder water'), waar 'restanten' misschien beter is, ofschoon die meer om het lijf kunnen hebben, die restanten, dan botten of kaken. Ook 'ribben' zou kunnen, bedenk ik dan, die brengen een en ander weer dichter naar Van Dales 'palen' of 'rondhouten' (Van Dale geeft voor 'rib' onder andere 'balk', 'spantrib' en 'dwarsbalk'). Maar ribben zijn wel een erg beperkt stukje geraamte… wacht: zag ik daar niet 'spantrib' voorbijkomen? Kan 'spanten' niet? Ja! Van Dale: 'schuine balk, rib of spar van een dak'. Een spant houdt de boel bijeen tot de boel uit elkaar valt. Vergelijk 'geraamte'; in deze context past 'spant' precies, en net als bij spar in de brontekst zal de lezer er even bij stilstaan. En het klinkt nog hetzelfde ook! Geniaal.
De essentie van de spars in Hughes' gedicht is dat het niet meer dan de kaalgevreten, de 'gnawn bare' beenderen zijn die overblijven van het vreetfeest dat het leven is. Ik moet ineens denken aan de walviskaken die ik een keer op een van de Waddeneilanden zag – was het Vlieland? 'Op Vlieland werden de walviskaken wel gebruikt als grafmonument. Dat was goedkoper dan een grafsteen,' zegt de website van Ecomare. Was het Schiermonnikoog? 'Walviskaak pronkt weer op Schiermonnikoog: Schiermonnikoog heeft haar walviskaak terug in de Willemshof bij hotel Graaf Bernstorff. De walviskaak die als een soort van welkomstboog in het dorpscentrum staat, is gisteren na een restauratie van enkele maanden weer op het Waddeneiland teruggebracht,' aldus dewadden.nl. Het vertaalvak brengt je op de mooiste plaatsen en je hoeft er niet eens de deur voor uit.
Maar nu, wat te doen met die 'purposes'? Van Dale, purpose: doel, bedoeling, reden, plan, voornemen, zin, effect, resultaat, nut. Hm. Ja, daar kan ik me wat bij voorstellen, maar waarom zo letterlijk hier, Mr. Hughes? Dat kan toch niet de bedoeling zijn (grapje)? De spanten van ver onder water mislukte bedoelingen? Het gedicht wordt er niet beter op zo, laat staan de vertaling.
Maar dan graaf ik vondst twee op. Twee regels onder die 'failed purposes' tref ik 'This curved jawbone did not laugh' aan. Een (niet) lachend kaakbeen afkomstig van een waterbewoner: natuurlijk, dat moet wel verwijzen naar een dolfijn, de vrolijke tuimelaar met altijd een lach op zijn gezicht – hoe heet zo'n dier of een van z'n verwanten ook weer in het Engels, behalve dolphin natuurlijk – ah, ja: porpoise. Spreek uit (in het accent van West-Yorkshire waar Hughes werd geboren): purpose.
En zo vallen de puzzelstukjes ineen. Met 'the spars of failed purposes' gaat Hughes terug naar zijn vroegste jeugd, naar een klankverwantschap die een betekenisvolle woordspeling in zich heeft, purpose / porpoise. Is al ons pogen, zijn al onze bedoelingen tenslotte niet net zo optimistisch als de sprongen uit het water van een dolfijn; zo optimistisch en zo zinloos? Dat past precies in de 'betekenis' van het gedicht: je kunt vreten wat je wilt, uiteindelijk word je zelf door een grotere kaak verzwolgen; als het niet die van een grotere rivaal is, dan die van de grootste rivaal zelf: de dood. Is alle springen dus niet 'tuimelen'? Het doet me aan Beckett denken (maar alles doet me aan Beckett denken; Hughes' 'gnawn bare' aan '[g]nawing to be gone', Worstward Ho, p. 41): 'Ever tried. Ever Failed. No matter. Try again. Fail again. Fail better' (Worstward Ho, p. 7).
Vertalen is falen (spars? purposes?), vinden (spanten! porpoises!) en dan, hopen we, beter falen, en zo spoelen wij allen uiteindelijk aan, spanten van ver onder water tekortgeschoten tuimelaars:
Relikwie
Ik vond dit kaakbeen aan de rand van de zee
waar, door de branding vermorzeld of er neergeworpen
en een half uur nog stuipend dan stollend,
krabben en haaien de oorsprong vervolgen. De diepte is koud:
geen die in dat donker zijn naasten vertrouwt;
geen strelen maar worgen, verzwelgen. En de kaken,
voor ze gestild zijn of hun gapende najagen
slaken, worden zelf verslonden; worden knaagkaal. Kaken
vreten en gaan op en het kaakbeen spoelt aan:
dat is wat de zee vermag; of het schelpen
zijn of graten, klauwen, pantsers, schedels.
De tijd bijt zichzelf in de zee in de staart, bloeit, doet
bezinken wat niet verteert: spanten van ver onder water
tekortgeschoten tuimelaars. Geen gedijt
in zee. Van dit kromme kaakbeen kan geen lachje af:
het maalde en maalde en is nu zelf een cenotaaf.
(vertaling © Onno Kosters)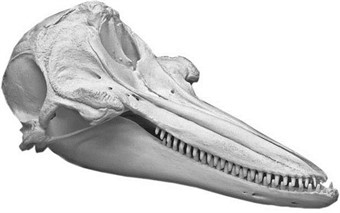 'De tuimelaar (Tursiops truncatus) is een robuuste maar gestroomlijnde, grijze dolfijn, met een duidelijke snuit. De wittige onderkaak is net iets langer dan de bovenkaak.' (http://www.museumbreskens.nl/)
Bronnen
Arends, Günter. 1985. 'From God to Gog? Ted Hughes, Gary Snyder und die romantische Naturkonzeption', Anglistik und Englischunterricht, 26, p. 69–86.
Beckett, Samuel. 1985. Worstward Ho. London: John Calder.
http://www.dewadden.nl/nieuws/walviskaak-pronkt-weer-op-schiermonnikoog/ [geraadpleegd 3 januari 2017]
http://www.ecomare.nl/ecomare-encyclopedie/gebieden/waddengebied/nederlands-waddengebied/vlieland/geschiedenis-van-vlieland/walviskaken-op-vlieland/ [geraadpleegd 3 januari 2017]
http://www.museumbreskens.nl/inforoute/dwergvinvis/tuimelaar/tuimelaar.htm [geraadpleegd 3 januari 2017]
Hughes, Ted. 1995. New Selected Poems, 1957-1994. London: Faber & Faber.
Scigaj, Leonard M. 1985. 'The Ophiolatry of Ted Hughes', Twentieth Century Literature, vol. 31, no. 4, p. 380–398.
Skea, Ann. s.d. 'Notes on Reading and Understanding a Ted Hughes Poem', http://ann.skea.com/NQ4analysis.htm [geraadpleegd 3 januari 2017].
Onno Kosters is dichter, vertaler, en docent-onderzoeker Engelse literatuur en vertalen aan de Universiteit Utrecht. Hij promoveerde in 1999 op een studie naar het rusteloze einde in het verhalend proza van James Joyce. Voor meer informatie: www.doelverdediger.nl.