Onze Engelse dode hoek
Vertaalbedenkingen bij Thomas Morris' 'Fugue'
Amber Janssens

Literair vertalers uit het Engels hebben hun beroep in de laatste twintig jaar drastisch zien veranderen. Enerzijds is de Nederlandse taal onweerlegbaar aan het verengelsen. Anderzijds zijn Nederlandstalige lezers steeds vertrouwder met de Britse en Amerikaanse cultuur door media en entertainment. De cultural gap lijkt zichzelf te sluiten, zonder de hulp van vertalers. Toch is onze kennis van de Engelstalige cultuur, die bovendien steeds diverser wordt, beperkter dan we zelf inschatten. Hoewel de Amerikaanse en Britse 'popcultuur' ons bekend is, blijft de algemene kennis van locals over regionale maatschappelijke problemen voor ons een klein stipje in de verte.
Dat verschil in kennis is het vertaalprobleem waar ik vorig jaar op stuitte tijdens de vertaalopdracht die ik moest maken om af te studeren. Ik koos als brontekst 'Fugue' (2015), een kort verhaal van de Welshe schrijver Thomas Morris, waarin de 25-jarige Beth worstelt met gruwelijke hallucinaties wanneer ze terugkeert naar haar geboortedorp Caerphilly in South Wales. Na het jaren te hebben gelezen als een psychologisch horrorverhaal, was ik verbaasd toen ik merkte dat Britse recensenten het nagenoeg unaniem interpreteerden als een allegorie voor een fenomeen waar ik nog nooit van had gehoord: de economische stagnatie van South Wales. Hoewel dit mijn scriptievertaling natuurlijk bemoeilijkte, had ik wel een interessante onderzoeksvraag te pakken: hoe duid je een onderliggende betekenislaag waar Nederlandse lezers waarschijnlijk weinig tot niets van af weten, zonder de allegorie te verbreken?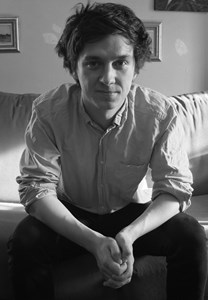 Thomas Morris
De verborgen betekenis
Om de verschillende interpretatiemogelijkheden van het verhaal te vertalen, moest ik eerst onderzoeken wat de Britten wisten dat ik niet wist. Ik besloot om de sociaaleconomische statistieken van South Wales door te nemen. Die bleken weinig opbeurend. In de al dertig jaar durende nasleep van de sluiting van de mijnen, leeft tegenwoordig 18,5% van de South Welshmen onder de armoedegrens. Ook de hoge werkloosheidsgraad, criminaliteitscijfers, leegstand en talloze gevallen van alcoholmisbruik laten niet veel aan de verbeelding over (Welsh Government, 2014). Ten slotte wordt deze achtergesteldheid in verband gebracht met het grote aantal geestelijke gezondheidsproblemen in de regio (Mental Health Foundation, 2016). Deze crisis wordt tegenwoordig nog regelmatig aan de kaak gesteld in Britse kranten, waardoor we kunnen stellen dat deze situatie tot de Britse algemene kennis behoort.
Toen ik met deze achtergrondkennis het verhaal opnieuw las, snapte ik de Britse interpretatie meteen. Hoewel Morris deze lokale problemen nergens expliciet vermeldt, staat zijn verhaal vol met subtiele verwijzingen naar deze situatie. Hij doet dat op verschillende manieren. Allereerst zorgt hij er met opvallend veel plaatsbepalingen voor dat het verhaal al vanaf de openingsparagraaf heel duidelijk gecontextualiseerd is:
On the way back from Cardiff, your father asks questions about Edinburgh and Tim. […] You haven't been back in a year, and you'd forgotten that these places – Castell Coch, the roundabout at Nantgarw, the Total garage on the dual carriageway – even exist.
Deze plaatsnamen uit South Wales – die onmiddellijk in contrast worden gesteld met Edinburgh – zijn realia die voor Britse lezers duidelijk negatieve associaties opwekken: armoede, ellende, een plek waar de klok stil is blijven staan. Ten tweede laat Morris zijn meest kansarme personages in een orthografisch zichtbaar Welsh sociolect spreken om de link tussen de setting en deze achtergesteldheid opnieuw te versterken. Ten derde gebruikt hij talloze sociaal gemarkeerde realia (Silverstein, 2009) zoals de merknamen Asda, Dutch Brew en Shloer die voor Britse lezers een belletje doen rinkelen met het idee 'goedkoop'. Nederlandse lezers zien deze connotaties over het hoofd en missen dus de hints waarmee de schrijver de psychologische problemen van het hoofdpersonage verbindt met een bredere maatschappijkritiek.
Het lijkt misschien overbodig veel werk om al die achtergrondinformatie te verduidelijken in een tekst die maar 7000 woorden telt, maar het is net in korte verhalen dat dit vertaalprobleem het meest zal voorkomen. Een kort verhaal steunt op goed gekozen verwoordingen die rijk zijn aan impliciete betekenissen om een grotere boodschap via een klein medium over te brengen. Indien die onderliggende betekenislaag wegvertaald wordt, zal de vertaling een leeg en beduidend slechter geschreven verhaal tonen dan het origineel. Een opmerkelijk voorbeeld uit 'Fugue' is de genuanceerde visie van de auteur op psychische gezondheid. Door te laten zien dat Beth is opgegroeid in de problematische sociaaleconomische situatie in South Wales, toont hij dat haar wanen een begrijpelijke oorzaak hebben die geworteld is in de realiteit. Voor een Nederlandstalige lezer die die connotaties over het hoofd ziet, is Beth in dit verhaal gewoon een 25-jarige vrouw die lijdt aan een groteske psychose die verder niet verklaard wordt: een betreurenswaardig cliché dat we wel vaker in vrouwelijke personages zien terugkomen (Little, 2015). De onzichtbare connotaties maken het personage dus complexer en interessanter en moeten zichtbaar vertaald worden om niet af te doen aan de kwaliteit van het verhaal.
Vertaalingrepen
Om de connotaties bij voornoemde realia te vertalen, las ik vertaalwetenschappelijke artikelen van o.a. Grit (1997), Aixelá (1996) en Pedersen (2007) over het vertalen van extralinguïstische verwijzingen. Het verschil tussen hun onderzoeksvragen en de mijne was dat zij alleen onderzochten hoe je de objectieve, oppervlakkige betekenis van realia kunt verduidelijken in vertaling, en niet de onderliggende. De uitdaging van 'Fugue' was om te wijzen op de achterliggende situatie zonder het verhaal te veranderen in een informatief geschiedenisboek over South Wales. Het was dus meer een kwestie van subtiele sfeerschepping: de lezer van de vertaling moest onbewust bijleren tot hij het verhaal met dezelfde blik als een Britse lezer kon lezen.
De drie voorbeelden hieronder tonen hoe ik deze onbekende achtergrondinformatie op de voorgrond probeerde te brengen. Ik ben me ervan bewust dat deze vertaaloplossingen volgens de heersende vertaalnorm van onzichtbaarheid te ingrijpend lijken. Toch moest ik, nadat ik een jaar lang alle mogelijke oplossingen onder de loep had genomen, vaststellen dat ik voor deze tekst geen andere optie had. Om de parallel tussen Beths dissociatieve persoonlijkheidsstoornis (of 'fugue') en de situatie in South Wales te behouden in het Nederlands, moest ik enorm 'vrij' vertalen. Uiteraard heb ik alle ingrijpende vertaalkeuzes uitvoerig verantwoord, en meestal kon dat door te wijzen op de noodzaak tot compensatie: als ik een geconnoteerde referentie niet elegant of duidelijk genoeg kon vertalen in de ene zin, moest ik haar compenseren in de andere. De voorbeelden zijn gerangschikt van minst naar meest gewaagd.
Voorbeeld 1 - equivalenten
'Will you check if we've got any butter in the fridge? I'm in Asda's with your father and he says we've plenty already.'

'Kun je eens kijken of er nog boter in de koelkast ligt? Ik sta met je vader in de Aldi en volgens hem hebben we nog genoeg.'

 
Deze substitutie verduidelijkt de slechte financiële situatie van Beths ouders (hierboven aan het woord). Nederlandstalige lezers zijn niet op de hoogte van de lage prijzen van Asda. Daarom verving ik deze merknaam door Aldi, een bekendere goedkope supermarktketen die ook filialen in Wales heeft.
Voorbeeld 2 - versterkende toevoegingen
| | |
| --- | --- |
| To the best of your knowledge, a travelling circus has never passed through Caerphilly, but whenever a shop closes down, a poster advertising one always appears. | Voor zover je weet is er nog nooit een reizend circus door Caerphilly getrokken, maar alle winkels die hier de deuren sluiten, krijgen zo'n affiche tegen hun raam. |
Bovenstaande vertaling wijkt niet extreem af van het origineel, maar voegt kleine details toe als 'alle' en 'hier' om de lezer subtiel, maar voortdurend, te wijzen op grotere lokale problematieken. Zo'n strategie werkt natuurlijk alleen je haar in de hele tekst volhoudt.
Voorbeeld 3 - informatieve toevoegingen
| | |
| --- | --- |
| A different family member might have suggested counselling, but your aunt told you not to tell anyone. | Een ander familielid zou je naar een therapeut hebben verwezen. Je zou er lang niet de eerste uit Caerphilly zijn. Maar je tante zei dat je het aan niemand mocht vertellen. |
Deze meest ingrijpende toevoeging verwerkte ik in het begin van de vertaling, als Beth voor het eerst vertelt over haar onbehandelde kinderangsten. Dit fragment vormt een pauze in het hoofdverhaal en aangezien het psychologische thema in kwestie al was aangesneden, was dit een geschikte plek om de link te versterken tussen persoonlijke en politieke problemen.
Al deze vertaalkeuzes zijn uiteraard aanvechtbaar. Daarom ben ik blij dat ik dit verhaal heb kunnen vertalen in het kader van een scriptie, waarin ik de ruimte had om mezelf te verantwoorden en te experimenteren met oplossingen die uitgevers mogelijk niet zouden tolereren. Toch wil ik afsluiten met een hoopvolle boodschap wat de creatieve vrijheid van vertalers Engels-Nederlands in de toekomst aangaat. Tegenwoordig lezen veel Nederlanders en Vlamingen liever de originele Engelse versie van boeken, deels omdat ze hun eigen taalkennis (te) hoog inschatten en deels omdat er een zeker wantrouwen heerst tegenover vertalers. Precies daarom moeten vertalers hun kennis van de Amerikaanse of Britse cultuur uitspelen om hun lezers toegang te geven tot onderliggende betekeniselementen die ze zouden missen in de originele tekst. Connotaties vertalen vergt veel werk en een hoop onderzoek, maar het is juist die gedrevenheid om ook de diepere betekenis van een tekst naar boven te brengen die het belang van ons beroep kan benadrukken in 2020.
Bibliografie
Aixelá, J.F. 1996. 'Cultuurspecifieke elementen in vertaling', in: Denken over vertalen. Nijmegen: Vantilt, p. 197–211.
Grit, D. 1997. 'De vertaling van realia', in: Denken over vertalen. Nijmegen: Vantilt, p. 189–196.
Little, J. 2015. 'Frailty, thy name is woman': Depictions of Female Madness [Thesis]. Virginia Commonwealth University. URL: https://scholarscompass.vcu.edu/etd/3709/
Mental Health Foundation. 2016. Mental Health in Wales: Fundamental Facts 2016 [rapport]. URL: www.mentalhealth.org.uk
Morris, T. 2015. We Don't Know What We're Doing. Faber & Faber. [Kobo].
Pedersen, J. 2007. 'Cultural Interchangeability: The Effects of Substituting Cultural References in Subtitling', Perspectives, 15:1, p. 30–48. doi:10.2167/pst003.0
Silverstein, M. 20092. 'Pragmatic Indexing', in: Concise Encyclopedia of Pragmatics. Amsterdam:  Elsevier,  p.756–759.
Welsh Government. (2014). Welsh Index of Multiple Deprivation. URL: https://gweddill.gov.wales/statistics-and-research/welsh-index-multiple-deprivation/?lang=en
Amber Janssens (1996) behaalde in 2019 een postgraduaat literair vertalen (uit de brontalen Frans en Engels) en studeerde westerse literatuur aan de KU Leuven. Nu werkt ze als departementshoofd Nederlands voor het vertaalbureau Ubiqus."
Reageren? info@tijdschrift-filter.nl.