Filter op de sofa - en online
Webredactie Filter

Er lijken patronen te zitten in de Filtertitels van de afgelopen jaren, onbedoelde structuren die de nummers aan elkaar verbinden. Neem jaargang 21; dat lijkt het jaar van de natuur, het landschap, de ruimte te zijn, onze sturm-und-drangperiode? Vol schuimend ijzig licht heet er één, Paradijzen en woestijnen een ander, en dan is er dat jaar ook nog Rijkdom & Ruimte. Het jaar daarvoor heeft iets nostalgisch, iets zoekends: Vergeten vertalers, Voor de geest en De zoektocht naar een magische vertaling. Winter jaargang 17, voorjaar jaargang 18 moet een liefdevolle piek zijn geweest, die begint met de beroemde LOVE-sculptuur van Robert Indiana op het omslag en dan verdergaat met De taal der liefde en Lust en gratie van het vertalen. In de tweede helft van jaargang 18 lijkt de melancholie toe te slaan. Het begint al een beetje met Mondialisering en vermaardheid, maar dan die laatste titel: Alles is altijd anders.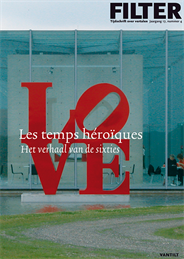 Onze laatste jaargang heeft iets vervreemds: Spiegels en machines, is de mens nog wel zichzelf? Het lijkt haast geen toeval dat het volgende nummer over oorlog gaat. Er zijn nog meer patronen, zoekt en ge zult vinden. Toch hebben we nooit tijdens een redactievergadering besproken welk overkoepelend thema we dit jaar gaan weer gaan kiezen. Maar misschien zegt onbewust gedrag zoals wel vaker meer dan bewust gedrag.
Van al die oude jaargangen komt steeds meer online te staan. Sinds deze week zijn jaargang 19, 20 en 21 vrijwel integraal toegankelijk – alles daarvoor was dat al. Dat betekent dat er weer prachtige stukken online zijn gekomen. In jaargang 19 was Maria Vlaar de vaste columnist, schreef Kiki Coumans een stuk over David Colmers vertaling van de auteur die 'in de loop van de decennia welhaast in ons DNA is beland': Annie M.G. Schmidt, en leerden we van Erín Moure over 'het homeopathische gebaar van de vertaling' (vertaald door Katelijne De Vuyst). In jaargang 20 bespraken we de vertaling van Fifty Shades of Grey, wie kent het nog?, maar ook een nieuwe vertaling van Gogol; Over de mantel die een jas werd, aldus Eric Metz. Het 'schuimende, ijzige licht' van jaargang 21 komt uit Hester Tollenaars vertaling van Kateb Yacines Nedjma, besproken door Désirée Schyns.
Er zijn in de afgelopen jaren ook thema's geweest waar we bewust voor hebben gekozen. James Joyce was een vaak en graag geziene gast, die vooral in nummer 19:4 veel ruimte kreeg, maar ook daarna nog regelmatig werd uitgenodigd. Vertalen en ethiek was het thema van de special Voor de geest, maar ethische kwesties kwamen in al of niet expliciete vorm in veel beschouwingen terug, zeker in de postkolonialistische rode draad die door de Filternummers loopt. Ook het thema hervertalingen kreeg een eigen nummer, maar dat weerhield ons er natuurlijk niet van ook in andere edities aandacht te besteden aan nieuwe vertalingen van klassieke werken. Laten we ten slotte het themanummer Vergeten vertalers niet vergeten, want ook om hen voor de vergetelheid te behoeden zetten we hun dossier – en alle andere artikelen – online.