Alieske in Wonderenland
Robbert-Jan Henkes

Zoveel zielen zoveel zinnen. In een Vrijdag Vertaaldagstuk vergeleek ik onlangs drie Russische en vier Nederlandse Alice in Wonderland-vertalingen. Nou ja, alleen de eerste twee alinea's. En bovendien zonder het origineel erbij te pakken. Het was dus dit keer niet Alice en de zeven vertalers, maar De Vertaler en de zeven Alicen. Ik wilde de vertalingen eventjes niet met de brontekst vergelijken. Ik wilde zien wat ze van zichzelf zeiden. Ik wilde ze op hun eigen merites beoordelen. Iets wat er maar al te vaak bij inschiet in Vertaliaanse kringen, waar met graagte op blunders wordt gewezen en dingen die er niet staan in het origineel.
Maar voor mij waren de zeven vertalingen zeven versies van een onbekende – en waarschijnlijk verloren gegane – oertekst. En zo vergeleek ik ze. Het was geen wedstrijd die je kon winnen. Maar aan de eindstreep waren er voldoende verschillen om er iets over te kunnen zeggen.
Inmiddels is de oertekst teruggevonden – in een zwaar beveiligde grot in het Gutengebergte, aangevreten door allerlei elektronische zetduiveltjes, maar nog wel leesbaar – en weet ik ook wat Lewis Carroll schreef, dus nu kan ik de vertalingen eindelijk ook vergelijken met het origineel.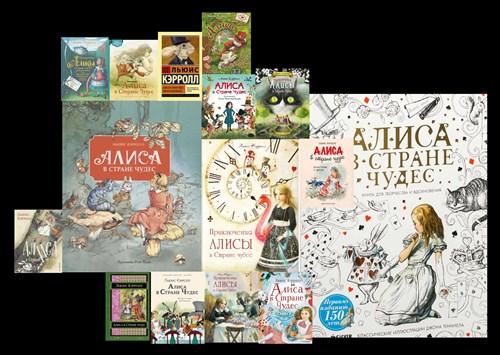 Een paar recente Alisa's
Opvallend is dat de Russen zich duidelijk meer vrijheid veroorloven. Zachoder schrijft er (goddank heel grappige en ter zake doende) dingen bij; Demoerova verandert de alinea-indeling; en Nabokov is paradoxaal heel vrij door zich uiterst letterlijk aan de tekst te houden.
De Nederlandse vertalingen wringen alle vier. Matsier net zo goed als Engelsman en De Jong net zo goed als Bulthuis-Reedijk-Kossmann. Het speelveld tussen letterlijk en vrij blijft voor hen een bos waarin ze de weg niet vinden. Ze willen niet te ver afdwalen, maar ze willen ook niet te letterlijk overkomen. Daarom blijven ze zwalken. Ze zijn halfslachtig en bang. Door de angst om de juiste toon te missen, raken ze hem nooit. In die zin zijn het echte vertalingen. Van z'n levensdagen zullen het geen nieuwe originelen worden.
Ik wil het experiment vervolgen door zelf de eerste alinea's te vertalen, en wel op de drie wijzen uit het oosten, namelijk de nabokoviaanse, zachoderse en demoeroveske wijze. Kijken wat dat oplevert. Misschien kom ik op die manier zelf ook nog wel tot een vertaling die me aanstaat.
Carroll
Alice was beginning to get very tired of sitting by her sister on the bank and of having nothing to do: once or twice she had peeped into the book her sister was reading, but it had no pictures or conversations in it, "and what is the use of a book," thought Alice, "without pictures or conversations?"
So she was considering, in her own mind (as well as she could, for the hot day made her feel very sleepy and stupid), whether the pleasure of making a daisy-chain would be worth the trouble of getting up and picking the daisies, when suddenly a white rabbit with pink eyes ran close by her.
De titel van het hoofdstuk is 'Down the Rabbit-Hole' – wat al bijna spreekwoordelijk is geworden voor de rode pil, die al bijna spreekwoordelijk is geworden voor het doorzien van de waarheid die 'ze' voor je willen verbergen. En als je het ene complot volgt, ontrafelen zich er steeds meer. 'Dan is het konijnenhol na konijnenhol na konijnenhol!' – zoals Lange Frans verbijsterd wist te vertellen.
De titel, 'Down the Rabbit-Hole' is door de drie Russen ook driemaal anders vertaald. Nabokov verstopt er twee extra dieren in: 'Een duik in het konijnenholletje' staat er, maar 'duik' kan ook 'duikereend' betekenen, en 'holletje' ook 'nerts'. Het allitereert, maar de duikereend en de nerts doen er niet toe en het verkleinwoord 'holletje' doet gewild aan. Zachoder haalt een oude conventie van stal, de breed uitgesponnen titel: 'Eerste hoofdstuk, waarin Alisa bijna dwars door de aarde kukelde'. Demoerova houdt het tamelijk letterlijk op 'Naar beneden langs het konijnenhol'.
Overigens kende Demoerova de vertaling van Nabokov niet. Ze wist dat hij bestond, maar kon hem toen ze de hare maakte niet vinden. Voor Zachoder zal hetzelfde hebben gegolden. Nabokovs Anja was in 1923 in Berlijn eenmalig verschenen en werd pas in 1976 (in Engeland) heruitgegeven.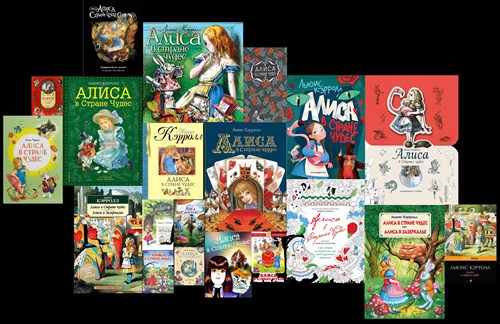 Verzameling recente Alisa's
Laten we de titel van het eerste hoofdstuk even voor wat hij is en ons linea recta het konijnenhol in begeven.
Op z'n Nabokovs
Annie begon heel erg moe te worden van naast haar zus aan het water zitten en niets te doen te hebben: een paar keer had ze van opzij in het boek gekeken dat haar zus aan het lezen was, maar er stonden geen plaatjes in en niemand die praatte, "en wat heb je aan een boek," dacht Annie bij zichzelf, "zonder plaatjes en zonder praten?"
Dus was ze zich net aan het afvragen (voorzover dat mogelijk was, want van de warmte ging ze zich heel erg slaperig en dom voelen) of een krans van madeliefjes maken leuk genoeg was om ervoor op te staan en de bloemetjes daadwerkelijk te gaan plukken, toen er plotseling een wit konijn met roze ogen vlak langs haar heen rende.
Op z'n Demoerova's
Alice kreeg er zo langzamerhand genoeg van om naast haar zus aan het water te zitten; een paar keer keek ze even in het boek dat haar zus aan het lezen was, maar er stonden geen plaatjes in, geen gesprekken, niets.
– En wat moet je met een boek zonder plaatjes, dacht Alice, en waarin niet gepraat wordt?
Zo zat ze en werd van de warmte steeds lomer en slomer. Misschien kon ze een bloemenkrans gaan vlechten, dacht ze. Maar was het echt leuk genoeg om er voor op te staan en de bloemetjes te gaan plukken?
Op dat moment rende er een wit konijn met roze ogen langs haar heen.
Op z'n Zachoders
Alies zat met haar grote zus aan de waterkant, zich gruwelijk te vervelen, want ze had niets maar dan ook niets te doen – en daar word je heel moe van. Af en toe keek ze van opzij even in het boek dat haar zus aan het lezen was, maar daar stond ook al niets interessants in, geen plaatjes, geen gesprekken, geen gedichten, niets. 'Ik snap niet wat je daaraan hebt,' dacht Alies, 'aan een boek zonder plaatjes of gesprekken of gedichten.'
Ze was zich net aan het afvragen (al ging dat door de warmte niet gemakkelijk) of een madeliefjeskrans maken leuk genoeg was om er helemaal voor op te staan en de blommen te gaan plukken, toen er plotseling... toen er plotseling...
Toen er plotseling, uit het niets, een wit konijn met roze ogen vlak langs haar heen rende.
Drie heel verschillende vertalingen. Als vertaler zul je altijd moeten kiezen, welke stijl je ligt, welke toon je passend vindt. En die keuze moet je een beetje natuurlijk afgaan. Forceren is uit den boze. Als het niet jouw stem is, is de vertaling gedoemd te mislukken.
Maar gekozen moet er worden. Geen half werk. Niet van twee walletjes willen blijven eten, zoals de vier Nederlandse vertalingen doen, die én tekstgetrouw willen blijven én hedendaags willen overkomen of in elk geval leuk, lief, grappig, simpel enzovoort. En daarmee Alice in hun eigen halfslachtige evenbeeld omvormen.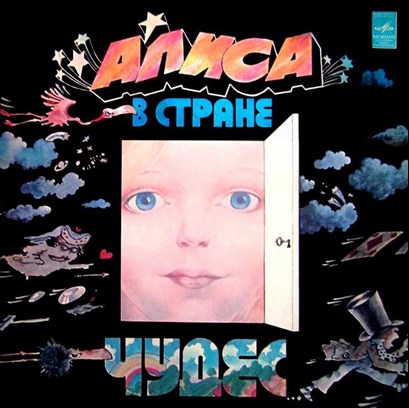 Alisa in wonderland, hoorspel uit 1976 met liedjes van Vladimir Vysotsky.
Sommigen vinden de letterlijkheid en relatieve stijfheid van Nabokov meer dan genoeg als vertaalstrategie. Ook als hij niet letterlijk is komt hij letterlijk over, een beetje hamerend en één-op-één. Op die manier letterlijk zijn is misschien wel het makkelijkste. Je vertaalt immers louter de woorden (de vigerende 'vertalen wat er staat'-vertaalmethode in Nederland). Maar kaal en karig is het ook.
Je kunt ook kiezen voor actualisering; niet op het niveau van dingen erbij gaan bedenken en alles wat leuker gaan aanzetten, maar simpelweg door de vertelstructuur enigszins aan te passen, zoals Demoerova doet. Zonder ver af te wijken van het origineel wordt het inderdaad levendiger.
Of je bent als Zachoder eerder jezelf aan het vertalen en de ander aan het uitdrukken, wat ook heel legitiem is. Zoals we ook de Majakovski van Marko Fondse hebben. Een werk waarin de vertaler zijn ziel heeft gelegd. En zijn kunde natuurlijk.
Het kan allemaal.
Het proeven is en blijft in de pudding.
Verwijzingen 
Mijn Vrijdag Vertaaldag-stuk, Vier Alicen, twee Alisa's en een Anja, staat hier.
Het teruggevonden origineel van Lewis Carrols tekst in het Gutengebergte staat onder andere hier, met allerlei fouten en omissies (het woord 'hot' in 'the hot day' is bijvoorbeeld weggevallen. Er zullen ook versies zijn met minder ocr- en andere fouten, maar het blijft oppassen met elektronische teksten).
Lange Frans brengt het konijnenhol ter sprake in de Fabeltjesfuik-aflevering van Zondag met Lubach, seizoen 10, aflevering 5, op 14 minuten.
De plaat met het hoorspel Alisa in wonderland is hier te beluisteren. (Noot van de Webfilter-redactie: beluisteren is een genoegen, zelfs als u geen Russisch beheerst.)
Reageren? info@tijdschrift-filter.nl.