Liefde in tijden van spraakverwarring
Saskia Vandenbussche

Dankzij Erasmus, stage en werk in het buitenland heb ik mijn horizon grondig kunnen verbreden. Niet alleen mijn professionele horizon, maar ook die van mijn liefdesleven. Zo had ik relaties met partners die Georgisch, Arabisch en Bulgaars spraken. Nu is het hebben van een opeenvolging van exotische relaties niet om over naar huis te schrijven wat stabiliteit betreft, maar wel wat interculturele communicatie betreft, wat in deze geglobaliseerde wereld kan tellen als talent! Hoewel ik dat niet als dusdanig op mijn curriculum vitae kan vermelden, kun je je niet voorstellen wat voor een intercultural communication skills ik op die manier heb opgedaan. Goed communiceren met een vriendje van onder de kerktoren is al niet evident, laat staan met iemand met wie je geen gemeenschappelijke achtergrond en taal deelt. Toch blijkt dat best mee te vallen en dat is allemaal te danken aan veel 'vertaling' en een paar 'leugentjes om bestwil'. Ik verklaar me nader: met bovengenoemde partners communiceerde ik via een lingua franca, die mijn noch zijn moedertaal was, behalve met de Arabier, met wie ik Nederlands sprak.
Laten we dus met onze Arabier beginnen, die naar eigen zeggen heel romantisch was. Zo deelde hij graag complimentjes uit: 'Hayati, je hebt zulke mooie koeienogen en verleidelijke wijfjeskamelenheupen!' 'Wablief', schoot ik als een oorlogszuchtig bokje dat vecht om een vrouwtje (teis in qara el chotoub) in een furie, 'noem je dat romantisch?' Je kunt het zo gek niet bedenken, maar volgens mijn Arabischtalige habibi waren dat wel degelijk complimentjes. Het zijn trouwens niet zomaar goedkope vleierijtjes, maar citaten uit hoogstaande Arabische poëzie! De nog steeds populaire, maar eeuwenoude Irakese dichter Ali ibn al- Jahm (803–863) bedacht zijn geliefde inderdaad met beeldende vergelijkingen als ayun el maha (ogen als koeien) en meshi el naqa (zij die wandelt als een kameel). Hoewel ik mij het menselijke equivalent van een wijfjeskameel veeleer voorstel als een gom kauwende, heupwiegende sloerie, die overdreven wimperknipperend verleidelijk over haar schouder gluurt, had ik volgens mijn oosterse schone dus wel degelijk reden om me geflatteerd te voelen. Alleen kwamen zijn complimentjes wat minder goed over in vertaling. Ik gaf hem alvast het voordeel van de twijfel.
Ook de Georgiër, met wie ik overwegend Duits sprak, zat niet verlegen om koosnaampjes. Door de specifieke omstandigheden van mijn Erasmusverblijf, dat veel te kort en veel te leuk was, kan ik me nog maar enkele lieve woordjes herinneren: sixarulo, tkbiluka en sayvarelo. Het geheugen werkt beter met geuren en smaken, dus de namen van gerechten uit de werkelijk exquisiete Georgische keuken zijn me beter bijgebleven: chaiapuro (kaasbrood), tkemali (pruimenketchup), chaqafuli (mirabellensoep), badrishani (aubergines in walnootpasta) en het tongstrelende nagerecht tshurtshela (hazelnoten op een touwtje, gebonden met gestold druivensap).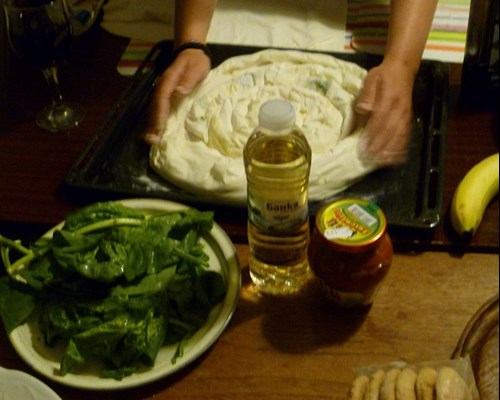 Mijn eerste tafelervaringen in Bulgarije verliepen minder verrukkelijk, maar dat ligt niet zozeer aan de met liters rakia overgoten gerechten, als wel aan het voor mij schokkende gebruik van imperatieven in het Bulgaars. Zo beval mijn schoonmoeder me twee minuten na onze eerste kennismaking: 'Jash! Jash!' (Eet! Eet!) Licht geërgerd besloot ik dat mijn schoonmoeder een wel erg bazige baba was, tot ik jaren later, na ettelijke woordenwisselingen over de vermeend botte communicatiestijl van mijn partner en een cursus Bulgaars voor beginners, begrepen had dat het Bulgaars nu eenmaal gretig gebruikmaakt van imperatieven. Het is dus perfect acceptabel om 'Ga toch zitten', te vertalen als 'Zit!' en 'Wil je dat eens voorlezen?' als 'Lees!' en 'Kun je even een handje toesteken?' als 'Doe dit, doe dat!' Of hoe vertalen jarenlange ergernissen in één klap kan gladstrijken.
Dat geldt trouwens niet alleen voor correcte vertalingen, maar ook voor foute vertalingen, wat me naadloos bij het onderwerp humor brengt. Tijdens mijn interculturele relaties heb ik namelijk tot mijn scha en schande ontdekt dat humor erg cultureel bepaald is en dat niet iedereen (eigenlijk vrijwel niemand) mijn West-Vlaams gevoel voor humor deelt. Aangezien grappen en grollen helemaal opgeven voor mij geen optie is, heb ik iets anders verzonnen om eventuele euvels te verhelpen: het concept van vertaalfouten! Als ik merk dat mijn grapje op weerzin stuit, zeg ik simpelweg dat het een 'ongelukkige vertaling' is uit het Nederlands. En 'ongelukkige vertalingen' zijn akkefietjes waar elke zichzelf respecterende meertalige multiculturele wereldburger gemiddeld twee keer per maand mee te maken krijgt. Zo zie je dus maar dat het concept van vertaalfouten menig meningsverschil ontzenuwen kan. (Dat geldt overigens niet voor meningsverschillen tussen docent en student wat vertaalexamens betreft.)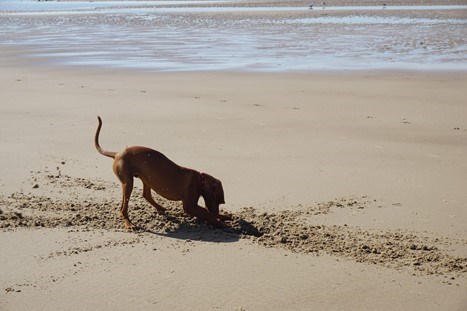 Nu ik het toch over de academische wereld heb, wil ik hier even vermelden dat mijn interculturele lingua franca's niet bepaald 'zuiver en correct' waren, maar eerder een mengtalig equivalent van bad simple English, à la: 'Lubov, the mup is digging a hole in the potager! Yes, he dug up all the samaradala bolletjes! And now he is peeing against the spruitjes! Barze, barze, catch him! Svinski tross.' Vrij vertaald luidt dat in het Nederlands: 'Liefje, de hond is een gat aan het graven in de moestuin! Hij heeft de Bulgaarse bosknoflookbolletjes allemaal opgegraven! En nu is hij tegen de spruitjes aan het plassen! Snel, snel, pak hem! In varkenspas!' Engels kun je dat niet noemen. Eigenlijk komt het erop neer dat mijn partner en ik de taal gebruikten waarin we woorden voor het eerst, of het meest, gehoord hebben: Mup, Luxemburgs voor hond, raakte in ons idioom ingeburgerd toen we onze stoute pup inschreven aan de muppenschoul. Het is mup gebleven, ook al studeerde onze nog steeds stoute puberhond niet veel later aan de hondsclub (hond is eveneens Luxemburgs voor … hond). Potager werd het woord voor moestuin toen we ons nieuwe appartement bezochten en de makelaar trots de tuin toonde: 'Et voilà le jardin avec potager'. Het Engelse woord voor potager ken ik nog steeds niet. Dat was ook het geval voor bulbs toen ik bloembollen wou kopen en ik mijn Bulgaarse bink suggereerde: 'Let's buy some of these….eeh…flowerbolletjes'. Barze, barze is een term die ik goed onthouden heb vanwege een bijna-doodervaring in Sofia, een stad waar voetgangers nog steeds gezien worden als marginalen die zich geen auto kunnen permitteren en fietsers een curiosum zijn en blijven omdat ze simpelweg niet lang leven: 'Saski! Barze, cross the road!' Svinski tross werd gemunt door mijn aanhoudende grapjes over de 'communistische mentaliteit' van mijn partner en de associaties die deze mentaliteit oproept met Animal Farm van George Orwell. Maar die zijn niet voor publicatie vatbaar.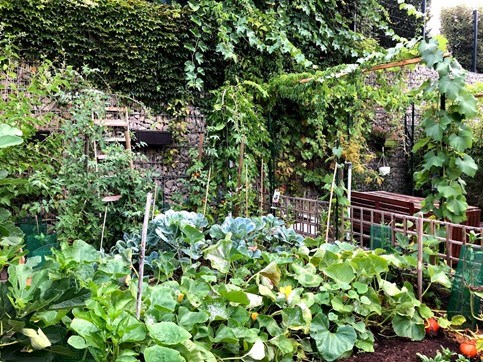 Bovenstaande voorbeelden zijn trouwens prachtige illustraties van heterolingualisme, de schriftelijke variant van meertaligheid. Dit fenomeen boeit me dermate dat ik er een proefschrift over ben beginnen te schrijven. Ik stel voor dat jullie voor meer wetenschappelijke informatie over heterolingualisme daar binnenkort een kijkje gaan nemen!
Saskia Vandenbussche studeerde toegepaste taalkunde en vertalen aan de UGent. Ze werkte acht jaar lang als vertaler, copywriter en proeflezer in internationale firma's in Luxemburg. Sinds maart 2020 doet ze onderzoek naar heterolingualisme in de hedendaagse Nederlandstalige literatuur aan de UCLouvain.
Reageren? info@tijdschrift-filter.nl.