Op reis met Gorge
Lotte van der Velden

Hallo, ervaren vertalers! Weten jullie nog hoe het was toen je net begon? Ik wel in ieder geval. Graag nodig ik jullie dan ook uit om lekker onderuitgezakt in je luie stoel met mij mee te reizen, en terug te denken aan die romantische eerste jaren van je carrière. Laten we bij het begin beginnen.
- Three simple rules, three golden rules
- Whenever you want something – take it.
- All that is required to take everything you want is absolute will and an ability to lie to the depths of your heart.
- The effectiveness of a lie is compromised only by your attachment to the outcome of the lie. Never think of the outcome, assume discovery, embrace each second as if it were your last. Never, ever, regret. (Kelly, p. 50)
In het toneelstuk The Ritual Slaughter of Gorge Mastromas van Dennis Kelly (2013) reizen we mee door het leven van Gorge. Gorge Mastromas is in zijn jeugd een onschuldige jongen die altijd het juiste pad kiest, ten koste van zichzelf. Maar door de jaren '80 en '90 heen stevenen we af op een keerpunt in zijn leven, dat hem uiteindelijk aan het hoofd van een imperium brengt, het destructieve pad van het kapitalisme op. Deze tweede fase van Gorges leven begint met de hierboven geciteerde regels.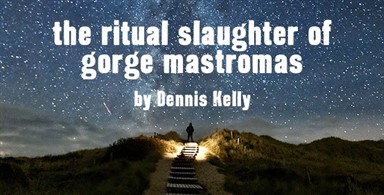 Op het gebied van toneelvertalen is veel geschreven over spreekbaarheid en speelbaarheid. Een bijzondere uitdaging als je op een stuk zit dat voor bijna de helft bestaat uit het soort fantastisch vormgegeven uitwisselingen als die hierboven: geen directe dialoog, maar een soort koor (door de regisseur naar hartenlust te interpreteren) dat spreekt in poëtische, juist vrij 'onspreekbare' zinnen. Kijk maar eens naar de wijze waarop de kunstige Kelly de relatie van Gorge met zijn eerste vriendin beschrijft:
Four years into the relationship with Tanya, living together for three and a half, arguments, conversational bald patches, a kind of settling that is a feature of long-term love and can actually be quite beautiful in and of itself if handled and understood properly, but to young hearts casually addicted to hormones and ejaculate it can seem stale. (Kelly, p. 25)
Maar toen ik dit stuk in 2016 zag in de uitvoering van examenkandidaten van de Londense toneelschool LAMDA, rolden de zinnen toch wel degelijk als gladde bowlingballen over het toneel. Het koor, bestaande uit de acteurs die tevens alle rollen speelden, raasde op topsnelheid door de teksten, die achter hen, voor hen, om hen heen en zelfs onder hen werden meegespeeld door de andere acteurs. Die snelheid is in het hilarische maar ook lange stuk meer dan nodig om de aandacht van het publiek erbij te houden.
De snelheid van het stuk loopt gelijk op met het leven van Gorge; het tempo wordt steeds hoger en remt dan weer langzaam af; het poëtische koor wordt plots doorbroken door pijlsnelle dialogen die geen spaan van de personages heel laten, en bij de toehoorder ongelooflijke hilariteit teweegbrengen, maar ook een sterk gevoel van medelijden en ongeloof. En dan weer dat koor, maar met steeds kortere stukken nu, en steeds vaker afgewisseld door langere dialogen. En terwijl ik meerol met Gorge besef ik dat het stuk zo geschikt zou zijn voor de Nederlandse planken. Maar hoe krijg ik dat nou voor elkaar?
Ten eerste is Gorge wat mij betreft bij uitstek een stuk dat vertaald moet worden voor vandaag, en het liefst voor morgen. Shakespeare, Vondel en Ibsen zijn van die doorgewinterde klassiekers die óók een waardige plek innemen in een boekenkast, waar de lezer hen kan oppakken wanneer hij wil, terug kan gaan en vooruit kan bladeren, zijn favoriete passages opnieuw kan lezen; Gorge is dat op dit moment nog niet. Gorge is bedoeld voor op de planken, de planken van 2018/2019/2020, wel te verstaan, en de taal die in het stuk gesproken wordt moet daar dus ook bij passen. Een taal die voorbij kan flitsen, terwijl het publiek slechts twee uurtjes heeft om dit heftige stuk op te slokken en hopelijk zo goed mogelijk te verteren.
Deze Dennis Kelly is niet bepaald licht verteerbaar, maar zijn taal is wel degelijk van het hier en nu. Hoewel er wel ongeveer een tijdsframe en locatie aan het verhaal toe te kennen zijn, blijft het stuk redelijk universeel. De namen in het stuk zijn op zijn minst merkwaardig (Gorge Mastromas, zijn broer Gel, terwijl zijn vrouw dan weer 'gewoon' Louisa heet) en multi-interpretabel (twee personages worden alleen genoemd als A. en M.). Ook locaties worden relatief opengehouden en cultuurspecifieke elementen worden vermeden. Dat houd ik in mijn vertaling dan ook aan.
Die universaliteit is trouwens niet gek als je bedenkt welke reis het stuk al gemaakt heeft. Het werd door Kelly in 2012 geschreven in opdracht van de Städtische Bühnen Frankfurt Am Main en voor het eerst opgevoerd onder de naam Die Opferung von Gorge Mastromas. Hoe dat taalkundig gegaan is, is al even mysterieus als de gaten die Kelly in het leven van Gorge laat: het blijft een raadsel in welke taal Kelly het stuk oorspronkelijk geschreven heeft of wie de eventuele vertaler was. Wel is duidelijk dat, zoals in de papieren uitgave staat, 'deze productie van THE RITUAL SLAUGHTER OF GORGE MASTROMAS' (Kelly, p. 1) voor het eerst opgevoerd werd in 2013 in de regie van Vicky Featherstone, met wie Kelly al eerder samenwerkte. Het stuk werd in zowel Engeland als Duitsland herhaaldelijk opgevoerd, en is ook in vertaling gespeeld in Frankrijk, Spanje en Latijns-Amerika.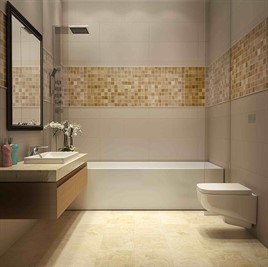 Blijft de vraag: hoe vertaal ik die heerlijke, vloeiende, hilarische en dan opeens weer ongemakkelijke topsnelheid? Hoe rol ik mee door Gorges leven? De belangrijkste stap in mijn vertaalproces heb ik al gezet: namelijk een theatrale lezing. Het toneelstuk is immers gemaakt om te spelen, niet om het eerst helemaal stuk te lezen en die stukgelezen versie dan af te leveren als vertaling; dat is niet mijn stijl. Dus trommelde ik een groep vrienden met acteerervaring op en liet hen mijn stuk half lezen, half spelen in mijn kleine huiskamertje. Zo hoor je namelijk niet alleen de (hopelijk) gebruikelijke fouten van een eerste versie, maar ook wat het uiteindelijke publiek zal horen. En uit zo'n 'lezing' komen heel fijne vertaalverbeteringen voort. Mag ik jullie ter afsluiting bijvoorbeeld lastigvallen met een eerste stukje Kelly-in-vertaling? In deze scene zit Gorge met een bloedend hoofd in een luxe hotelsuite, waar hij wordt overvallen door zijn PA.
GORGE MASTROMAS:
Ik
heb mijn hoofd gestoten
LOUISA:
Wat?
GORGE MASTROMAS:
Aan dat… dingetje.
LOUISA:
Je hoofd bloedt, je bloedt uit je hoofd.
GORGE MASTROMAS:
Dat weet ik, Louisa
LOUISA:
Welk dingetje?
GORGE MASTROMAS:
Dat dingetje in de, dat badkamerdingetje
LOUISA:
Je hebt je hoofd gestoten?
GORGE MASTROMAS:
Ja, nee, gestoten, of gevallen
LOUISA:
Je bloedt echt heel erg, je bloedt echt fucking erg.
GORGE MASTROMAS:
Ja, nou ja, ik heb mijn hoofd gestoten, ben uitgegleden, ik viel op dat
Kijk, ik was
aan het douchen en
LOUISA:
Wat?
GORGE MASTROMAS:
en toen viel ik en daar zat dat ding dat uit de –
LOUISA:
Waarom was je aan het douchen?
GORGE MASTROMAS:
Ik was niet aan het douchen, ik wilde gaan douchen, maar de vloer was nat, dus knalde ik met mijn hoofd tegen dat, dat, dat uitstekende dingetje dat –
LOUISA:
Gaat het wel?
GORGE MASTROMAS:
de wastafel, nee niet de wastafel maar daarnaast, dat ding met allemaal spullen erop dat uitsteekt –
LOUISA:
Het wastafelplankje?
GORGE MASTROMAS:
Nee, ik bedoel dat uitstekende dingetje dat ze in de muur gebouwd hebben naast de wastafel, waar je je spullen op zet.
LOUISA:
Het wastafelplankje.
GORGE MASTROMAS:
Ja, het wastafelplankje… ja. Ik wilde gaan douchen.
Heerlijk toch, zo'n tekst? En elke keer dat ik me door zo'n verrukkelijke dialoog heen gewerkt heb, besef ik weer dat de prachtige maar lastig te vertalen poëzie van het koor het geploeter waard is. Gorge Mastromas hoort thuis op het Nederlands toneel, en ik ga er dan ook flink aan trekken om hem van mijn boekenplank af te krijgen. Ik houd jullie graag op de hoogte.
Bronvermelding
Kelly, Dennis. 2013. The Ritual Slaughter of Gorge Mastromas. London: Oberon Modern Plays.
Lotte van der Velden (1990) studeerde in 2016 af aan de master Vertalen aan de Universiteit Utrecht. Ze is nu werkzaam als docent Engels en timmert aan de weg als toneelvertaalster.