Such horrid things
Ton Naaijkens

Wat deed ik zoal de laatste tijd? Ik ging naar Love & Friendship, open voor Austen en haar venijn, net als bij de film Carol op mijn hoede voor ondertitelverrassingen, maar ze kwamen niet. De gisse vrouw in de film – die iedereen zo briljant manipuleert totdat ze zichzelf en haar dochter aan een goede (lees: bemiddelde) man geholpen heeft zonder er haar minnaar voor te hebben moeten opofferen – verschafte me wel degelijk hoogstaand intellectueel genot, vooral door een wat mij betreft historisch zinnetje dat ze uitsprak. In het nauw gebracht door haar intriges, als ze echt geen kant meer uit kan en moet erkennen dat alles tegen haar spreekt, verzucht ze: 'Facts are such horrid things!' Wat inderdaad zo is. En het is een frase die ik nog wel eens zal inzetten – feiten zitten nu eenmaal vaak in de weg. Jane Austen (1775–1817) schreef het zinnetje toen ze amper achttien was en de vruchten van het leven nog moest gaan plukken.1 Ik zoek in de zojuist beschikbaar gekomen vertaling van Akkie de Jong op wat die ermee doet: 'Feiten zijn zoiets afschuwelijks!' is het geworden.2 Minder plastisch dunkt me en minder citeerbaar in de dagelijkse omgang. Dat brengt me bij een tweede iets waarmee ik me onledig hield de laatste tijd: het achterhalen van feiten over mensen die ik niet gekend heb. Daar zit geen zwaar geschiedtheoretisch voornemen achter, het was puur werk, zuiver onderzoek. Feiten zijn nog afschuwelijker als ze ontbreken.
Met Filter bereiden we een nummer voor over Vergeten Vertalers. Dat deden we al eens eerder en we zullen het vast nog eens doen (bijdragen en suggesties zijn zeer welkom). Ik ben bezig met een portret, al weet ik intussen niet meer van wie. Dat is minder zorgelijk dan het lijkt. Eerst zocht ik naar een man en vervolgens kwam ik uit bij een vrouw (evenmin zo zorgelijk als het lijkt). De man publiceerde onder een pseudoniem en werd in het jaar 1906 geboren als Jan Hendrik Willem Schlahmilch. Dat hij is overleden is na enig gezoek wel te achterhalen: in 1986. Ik heb al eens over de bewuste man geschreven: het gaat om John Vandenbergh, de eerste vertaler van de Ulysses van Joyce. In het Filter-archief wordt vijftien keer naar hem verwezen: de man is helemaal niet vergeten, zou je zeggen. Maar het gaat mij om zijn ideeën, de waarde van zijn bijdrage aan de Nederlandse vertaalgeschiedenis (aan de hand van de vierslag oeuvre, loopbaan, opvattingen, profilering). Toch blijft het nodig daar de vertaler als mens niet uit het oog te verliezen – facts are such basic things. Ik kwam bij de goede man van alles tegen – eerst een huwelijk of twee, later nog een derde huwelijk; ik ging te rade bij instanties als het Centrale Bureau van de Nederlandse Orde van Advocaten omdat werd beweerd dat hij advocaat geweest was, ik kwam doopcelen tegen op genealogiesites waarin verwezen werd naar een garagebedrijf aan de Kanaalweg te Utrecht (bij mij om de hoek) en een adres aan de Oudegracht te Utrecht, pal naast het fameuze pand waar Nijhoff zijn Awater schreef en Pyke Koch zijn beruchte zelfportret met zwarte haarband moet hebben geschilderd. Ik stuitte al zoekende en dankbaar navragende ook op een briefje waar ineens andere woonadressen opdoken – de überchique Sophialaan in Amsterdam-Zuid en een adres in de Achterhoek: Klein Bielder te Harfsen. Waarna er een wereld voor me openging die ik niet kende. Ik kwam terecht bij de Historische Vereniging van Laren, de Brandstoffencommissie van Apeldoorn en Het Oostgelders Tijdschrift voor Boerderij en Genealogieonderzoek; ik werd voorbeeldig geholpen door mensen die zich nauwelijks afvroegen waar het voor nodig was. De speurtocht leverde me bovendien de ontmoeting op met woorden die ik tot dan niet kende of nooit verwacht had ooit echt te zullen gebruiken – zoals 'geurgevoelige bebouwing' en 'kwartierstaten'. Dwaalde ik af? Integendeel, want ik kwam het derde huwelijk van Vandenbergh op het spoor, nota bene met een nog vergetener vertaler dan hij. Vanaf dat moment was het beter een portret te gaan schetsen van haar, dacht ik, en dan zeker niet onder de titel 'De vrouw van Vandenbergh', maar eerder iets compleet anders. In dubio zijn en je omringd te weten van schier zichtbare feiten – dat is het genoegen dat ik de afgelopen dagen heb mogen smaken.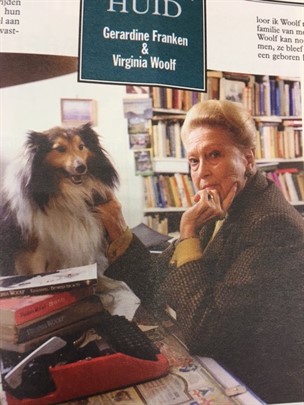 De boerderij te Harfsen bleek in 1964 verbouwd te zijn door Jan Cornelis Rietveld, zoon van, in opdracht van ene 'Van den Bergh'. Ze was echter eigendom van iemand anders, die er tot ver in de jaren negentig gewoond heeft: ook een Joycevertaler, een vrouw die eerder de achtergrond verkoos, Gerardine Franken. Samen met Leo Knuth, volgens weer een andere bron haar geliefde voor enige tijd, tekende zij voor de eerste vertaling van A Portrait of the Artist as a Young Man (1972). Over haar is stukken minder bekend, hoe belangrijk zij ook was, zeker vanwege haar vertalingen van fameuze boeken als Nightwood (van Djuna Barnes, 1963) en Orlando (van Virginia Woolf, 1976). Ik achterhaalde haar geboortejaar, 1920, maar geen jaar van overlijden. Er is nauwelijks iets over haar te vinden, tot nu toe. Er is bij mijn weten tot op heden geen verband gelegd tussen Vandenbergh en Franken. Na wat gesurf op delpher.nl trof ik een artikel aan van Adriaan van der Veen, die in 1971 een Joycecongres in Triëst aankondigt en opsomt wie daar van Nederlandse kant allemaal aanwezig zullen zijn: Knuth, een 'groot kenner van Finnegans Wake' werkzaam aan de Rijksuniversiteit Utrecht, en John Vandenbergh, zojuist bekroond winnaar van de Nijhoffprijs voor zijn Ulysses-vertaling. Twee belangrijke mannen voorwaar. De laatste zal naar verluidt vergezeld zijn van zijn vrouw, 'die het enkele jaren geleden gevonden werkje Giacomo Joyce' vertaalde: Gerardine inderdaad. Voordat ik nu 'wordt vervolgd' ga tikken wijs ik op het enige portret van haar dat ik aantrof in Vrij Nederland (1997). Daarop staat zij afgebeeld met een hond, een heuse Lassie die Piet heet. Het lijkt me een interessante vrouw, zo eigenzinnig dat ze niet eens naar zichzelf luistert. In dat artikel zegt ze 'ergens in de jaren vijftig' met Vandenbergh getrouwd te zijn, maar dat ze niet precies meer weet wanneer. Ze weet nog wel heel goed het jaar dat ze van hem scheidde: 1972. Facts are such horrid things, die ongetwijfeld vervolgd worden.
Noten
1 Ik citeer voor het gemak dat alleen een columnist zich mag veroorloven wat er in Wikipedia over de korte briefroman Lady Susan staat: 'Between 1793 and 1795, Austen wrote Lady Susan, a short epistolary novel, usually described as her most ambitious and sophisticated early work. It is unlike any of Austen's other works. Austen biographer Claire Tomalin describes the heroine of the novella as a sexual predator who uses her intelligence and charm to manipulate, betray, and abuse her victims, whether lovers, friends or family. Tomalin writes: "Told in letters, it is as neatly plotted as a play, and as cynical in tone as any of the most outrageous of the Restoration dramatists who may have provided some of her inspiration ... It stands alone in Austen's work as a study of an adult woman whose intelligence and force of character are greater than those of anyone she encounters."'
2 Jane Austen, Love & Friendship. De story van Lady Susan. Groningen: boekwerk & partners, s.a. [2016], p. 67.