De winter komt waarlijk!
Janne Van Beek

'Doing it all by yourself, love?' vroeg de vriendelijke man die me een maagdelijk wit trailpaspoort overhandigde dat ik bij elk stadium moest laten stempelen. Hij werkte al een leven lang in de giftshop van het Segedunum Roman Fort and Museum in Wallsend, het eind- of beginpunt (dan heb je jammer genoeg de wind tegen) van het Hadrian's Wall Path, maar had zich nooit gewaagd aan de 135 kilometer lange wandeltocht langs de muur van Hadrianus. Met een glinsterende stempel in mijn paspoort liep ik het museum uit, knal de verkeerde kant op.


De muur van Hadrianus
Zelf had ik tal van redenen om van de oostkust naar de westkust van Engeland te wandelen. Zo wilde ik in de eerste plaats nagaan of ik klaar was voor de 'echte' wandeltocht die ik enkele weken later zou maken – alhoewel de netjes onderhouden en gemarkeerde wandelwegen van het glooiende Noord-Engelse landschap bij nader inzien een lachwekkende voorbereiding waren voor hetgeen me in de Alpen te wachten stond – maar bovenal zocht ik al lang een excuus om te beginnen aan A Game of Thrones, het eerste boek van J.R.R. Martins zevendelige A Song of Ice and Fire-reeks.
Normaliter ben ik een alleslezende veelvraat die meerdere boeken willekeurig door elkaar verslind, maar niets geeft me meer voldoening dan op vakantie een boek te lezen dat op een of andere manier te maken heeft met mijn bestemming. Aan Game of Thrones-fans hoef ik niet uit te leggen dat de wereld die auteur George R.R. Martin schiep, geïnspireerd is door onze eigen geschiedenis, met name die van het Verenigd Koninkrijk, en al wie de afgelopen jaren onder een steen heeft geleefd hoeft de kaart van het fictieve Westeros maar naast die van het VK te leggen (en Ierland op z'n kop te draaien) om te zien waar Martin de mosterd gehaald heeft.
Wat is er toepasselijker dan een godganse dag langs de muur te wandelen die keizer Hadrianus tussen 122 en 128 liet bouwen teneinde het noordelijk gespuis uit het Romeinse Rijk te weren om daarna 's avonds bij het haardvuur van de lokale pub in dorpjes als Wallsend, Heddon-on-the-Wall en Walton te lezen over het fictieve broertje van diezelfde muur?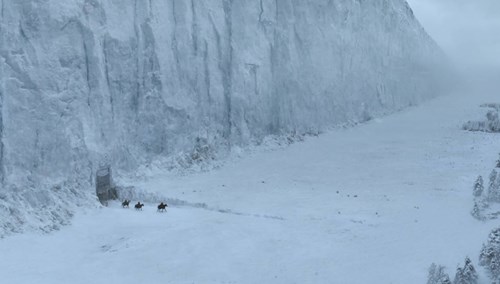 De Muur uit Game of Thrones
Centuries of wind-blown dirt had pocked and scoured it, covering it like a film, and it often seemed a pale grey, the color of an overcast sky… but when the sun caught it fair on a bright day, it shone, alive with light, a colossal blue-white cliff that filled up half the sky. (177)
Een echte wandelaar zou de gelezen hoofdstukken uitscheuren en weggooien, maar dit boek stond zo vol onbegrijpelijke woorden, registersprongen, torenhoge clichés en sappige, doch eindeloze beschrijvingen van maaltijden dat ik het hele boek dan toch maar uit pure nieuwsgierigheid 135 kilometer lang meezeulde zodat ik thuis kon nagaan wat de vertaler ervan gemaakt had. Gelukkig vergat ik mijn voedselvoorraad in de koelkast van de boerderij waar ik de eerste nacht verbleef. Dat scheelde weer in gewicht.
Zo markeerde ik onder het genot van een taaie proteïnereep die me door barmhartige medereizigers was toegestopt verrukt de zin: 'They say night's beauties fade at dawn, and the children of wine are oft disowned in the morning light' (296). Ik krabbelde Tolkien naast de passage: 'I tell you, my lord, the darkness is coming. There are wild things in the woods, direwolves and mammoths and snow bears the size of aurochs, and I have seen darker shapes in my dreams' (202) en Carroll bij: 'grumkins and snarks' (119) en bij: '"Trial first," drawled Ser Lyn Corbray, "then execution"' (422). Vele kilometers en blarenpleisters later omcirkelde ik de woorden 'mayhaps', 'perchance' en 'happenstance' (271, 370, 759), gewoon omdat ik ze zo mooi vond klinken, en schreef ik verbaasd een tien met een uitroepteken naast de zin '… he said as a shaggy pale shape slid towards him silently and sniffed at his furs' (205). Onder de categorie spontaan-medelijden-met-de-vertaler vielen tevens 'Littlefinger fingered his small pointed beard', en 'My men will want Meat and mead' (250, 590).
In het station van Brussel Noord pikte ik afgelopen week een exemplaar van Het Spel der Tronen op, vertaald door Renée Vink. 'Veel plezier ermee,' zei de verkoper samenzweerderig, niet wetende dat ik het boek voor de tweede keer ging lezen. Allereerst viel op dat er voorin twee kaartjes ontbreken, alsof de uitgever (Luitingh-Sijthoff Fantasy) die overbodig achtte omdat 'The Land Beyond the Wall' en 'The Lands of the Summer Sea' toch niet in het eerste deel voorkomen. Na een tijdje hield ik op met het woest omcirkelen en vergelijken van cultuurspecifieke elementen die toch zo goed als allemaal leuk vertaald waren en liet ik me meevoeren door de Nederlandse tekst. Bladzijden lang bevond ik me weer op de muur bij de broeders van de Nachtwacht of schoof ik aan bij het zoveelste feestmaal om zo nu en dan hardhandig wakker geschud te worden door kleine slordigheden of foutjes. Zoals een mandje zwarte bessen dat gewoon een mandje bramen moet zijn (blackberries) of de 'geest' (een wight is in deze context een griezelig schepsel dat uit de doden herrijst) die zijn nochtans wel erg stoffelijke vingers in Jon Snows keel ramt (419, 525, 403).
Bij het lezen van de zin 'Yet every night, some time before the dawn, Drogo would come to her tent and wake her in the dark, to ride her as relentlessly as he rode his stallion' (221), schrok ik me in de eerste plaats een hoedje omdat Daenerys, die in de HBO-serie toch 'al' zeventien is, in het boek slechts dertien jaar oud is als ze met Khal Drogo trouwt. Bij het lezen van de vertaling zijn mijn bezwaren niet zozeer inhoudelijk, als wel taalkundig. De vertaler verwarde 'some time' met sometimes waardoor de in andere opzichten punctuele Drogo haar niet consequent elke nacht 'meedogenloos komt berijden', maar slechts 'soms vlak voor het ochtendkrieken' (214).
Sommige opvallende verschillen zijn dan weer het resultaat van bewuste keuzes. Enkele passages zijn herschreven, werden van plaats veranderd of ontbreken gewoonweg. Voor vertaalproblemen worden vrije oplossingen gezocht: zo werd 'hamstring' vermoedelijk een 'kniepees' (376), omdat 'achterdijbeenspier' best een mondvol is – gewoon 'hamstring' had wat mij betreft ook gewoon gekund – en worden Littlefingers gevinger en Tyrion Lannisters 'meat and mead' zonder pardon wegvertaald.1 Ook Martins hysterische gebruik van sibilanten en alliteratie wordt niet altijd gehandhaafd en slechts elders gecompenseerd wanneer de gelegenheid zich natuurlijk aandient. Soms met als resultaat een zin die in het Nederlands haast meer als Martin klinkt dan in het origineel: 'Maanlicht flonkerde op het wielende water van het stroompje, dat zich beneden een rotsig pad over de bodem van de vallei baande' (643).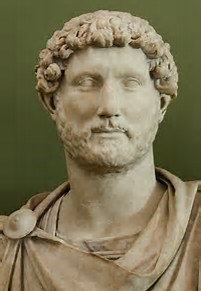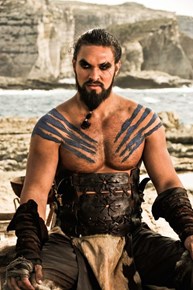 Keizer Hadrianus                                       Khal Drogo
Heeft het feit dat Vink – of de uitgever – best vrij is geweest er misschien wat mee te maken dat het om fantasy gaat? Ik vraag me af of de vertaling trouwer was geweest als het boek vóór de verkoop van de vertaalrechten was verfilmd en door de grote massa opgepikt. In de televisieserie is bijvoorbeeld goed merkbaar op welk punt de kijkcijfers omhooggingen, het budget vermenigvuldigde en scenaristen in toenemender mate op zoek gingen naar min of meer gegronde redenen om personages uit de kleren te doen gaan. Ondanks de epische gevechten, magische wezens, draken en vele andere elementen die kenmerkend zijn voor het fantasygenre, vallen Game of Thrones-fans niet in een hokje te duwen en wordt het boek ook zeker niet alleen gesmaakt door verlegen tieners die vloeiend Elfs spreken. Dankzij de verfilming zijn A Game of Thrones en vervolgen van het rekje 'fantasy' naar 'fictie' verhuisd.
Het mag geen verrassing heten dat vertaalster Renée Vink, die in 1981 het Tolkien Genootschap Unquendor oprichte, werken van bekende fantasyschrijvers op haar palmares heeft staan. Ze vertaalt uit het Engels, Zweeds, Noors, Deens en Duits. Sinds de vertaling van A Game of Thrones, die haar acht maanden kostte, leest ze niet meer het hele boek voordat ze begint te vertalen. Dat lees ik in een interview op winteriscoming.nl, de Nederlandse fansite van Game of Thrones (Janssen 2013). Dat de boeken voor haar wat korter mochten, verklaart misschien de weglatingen. Hoewel ze de Nederlandse boeken zeker als haar eigen werk beschouwt, hoeft ze haar naam niet op de cover. Als je pakweg Finnegan's Wake vertaalt, vereist dat volgens haar minstens zoveel creativiteit als de auteur, maar lijvige fantasyreeksen vertalen is vooral een kwestie van doorzettingsvermogen. In een interview met fantasywereld.nl biecht ze op dat sommige namen niet consequent vertaald zijn omdat ze geen register bijhield: 'Je hoopt dan stiekem dat geen mens dat merkt, maar dat is natuurlijk wel gebeurd. Eigenlijk zou iemand de hele serie eens moeten doornemen en al die afwijkingen moeten noteren met het oog op volgende drukken, zodat de boel rechtgetrokken kan worden,' aldus Vink (Cobben 2014). Ik plan alvast mijn volgende wandeling.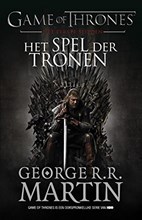 'Toch meer vertaler dan wandelaar,' schreef ik de laatste avond van mijn pelgrimstocht in mijn dagboek, gezeten in een pub die door locals werd geprezen als 'cheap and cheerful'. Hoewel de eed van de Nachtwacht wat mij betreft zo als omschrijving van het vertalerschap kan doorgaan:
De nacht daalt, en daarmee vangt mijn wake aan. Die zal geen einde nemen voordat ik sterf. (…) Ik zal geen kronen verwerven, noch roem vergaren. Ik zal leven en sterven op mijn post. Ik ben het zwaard in de duisternis. Ik ben de waker op de muren. Ik ben het vuur dat brandt tegen de kou, het licht dat gloort in de ochtend, de hoorn die de slapers wekt, het schild dat de rijken der mensen beschermt. Ik wijd mijn leven en eer aan de Nachtwacht toe, in deze en alle komende nachten (484).
Noot
1 'Pinkje betaste zijn puntbaardje' (241) en 'Mijn mannen willen vast wel eten en drinken' (565).


Bibliografie
Cobben, Davey. 2014. 'Interview met Renée Vink', 14 augustus: https://www.fantasywereld.nl/boeken/boekinterviews/interview-met-renee-vink/
Janssen, Henk. 2013. 'Een interview met Renée Vink', 3 november: https://www.winteriscoming.nl/2013/11/een-interview-met-renee-vink/
Martin, J.R.R. 1996. A Game of Thrones. London: Harper Voyager.
Martin, J.R.R. 1997. Het Spel der Tronen. Vertaald door Renée Vink. Amsterdam: Luitingh-Sijthoff Fantasy.
Janne Van Beek (1994) studeerde Engels en Literair Vertalen in Groningen, Newcastle, Utrecht en Antwerpen. In 2017 ontving ze een talentbeurs van de master Literair Vertalen, mogelijk gemaakt door het Nederlands Letterenfonds. Komend jaar verschijnt haar eerste boekvertaling.
Reageren? info@tijdschrift-filter.nl.