Twee weken in citaten
Maaike Harkink

Moths that fly by day are not properly to be called moths; they do not excite that pleasant sense of dark autumn nights and ivy-blossom which the commonest yellow-underwing [...] never fails to rouse in us. (Virginia Woolf, 'The Death of the Moth')
Motten die overdag rondfladderen zijn de naam 'mot' niet waardig; zij roepen niet dat aangename gevoel op van donkere najaarsavonden en hederabloesem dat zelfs de eenvoudigste hooivlinder [...] iedere keer weer in ons naar boven brengt.
(Proefvertaling MH)
De afgelopen twee weken vond de Intensieve Mastercursus Literair Vertalen plaats, die de Universiteit Utrecht en de KU Leuven voor de zevende maal samen organiseerden. De cursus is bedoeld voor studenten van het Postgraduaat Literair Vertalen in België en de tweejarige Master Literair Vertalen in Nederland. Studenten van de eenjarige master, zoals ik, wordt gevraagd om een proefvertaling (in mijn geval 'The Death of the Moth' van Virginia Woolf), een motivatiebrief en een aanbeveling van een docent in te sturen; je lot in handen ligt van de organisatie. Na het inleveren volgde de spanning, er waren immers slechts enkele plekken beschikbaar, het was een kostenkwestie, vooral de groep Engels was erg groot. Oei oei, ai ai! Maar gelukkig kwam daar het verlossende mailtje van Eva Wissenburg: ook ik mocht meedoen. Nu nog even zeven vertalingen aanleveren binnen een paar weken tijd, die tijdens de cursus behandeld zouden worden. Hup! Geen probleem! Misschien was het wel juist dankzij dit voortraject van 'zenuwlijden' en vervolgens – toen ik had gehoord dat ik was aangenomen – de voorpret, dat ik er zo met volle teugen van heb genoten. Ik voelde me bevoorrecht om in het historisch centrum van het prachtige Antwerpen te zitten, zoveel te leren, zoveel nieuwe mensen te ontmoeten en studiegenoten beter te leren kennen… Ik heb alle ervaringen in me opgezogen als een spons.

De Grote Markt van Antwerpen
Wat achteraf gezien vooral opvalt aan de cursus is de grote verscheidenheid. De vertalingen die we moesten maken liepen uiteen van een fragment uit een young-adultboek (van Patrick Ness) tot Fitzgeralds The Great Gatsby en korte verhalen van Zadie Smith, Jonathan Safran Foer en Claire Keegan, elk met hun eigen vertaalproblemen. Dat hield natuurlijk verband met degenen die de teksten kozen, de diversiteit van de vertalers van wie we les kregen. Allemaal hadden ze weer hun eigen lesstijl, van ieder stak je andere dingen op. Vele praktische tips heb ik neergepend, zoals het gebruik van de woorden 'bovendien', 'namelijk' en 'ongetwijfeld', die niet naar voren komen als je sec uit het Engels vertaalt, maar die geweldig werken als Nederlands smeermiddel (dank, Maria Postema). Hetzelfde geldt voor het omgaan met de vele saids in het Engels; 'he said', 'she said', 'they said', 'everyone said'. Het Nederlands biedt hier meerdere oplossingen voor. 'She said complainingly' kan bijvoorbeeld heel mooi 'verzuchtte ze' worden. Daarnaast kun je je in het Nederlands 'iets laten ontvallen', etc. (waarvoor dank, Caroline Meijer).
Ook de lezinggevers vormden een bont gezelschap. Frans de Haes vertelde in zijn lezing over de totstandkoming van de tweetalige poëziebundel van Jo Gisekin, waarvoor hij de Franse vertalingen maakte. De gedichten zijn geschreven naar aanleiding van een serie foto's van een witte pauw, die staan afgedrukt naast de gedichten. Gisekin en De Haes droegen de bundel in zijn geheel prachtig voor. Gisekins taalgebruik is zeer verfijnd en een zin die me in het bijzonder bijbleef, komt uit 'De queeste', dat gaat over de mannetjespauw die de hen verleidt. Het gedicht eindigt met de zin:
'de een verlieft zich in de ander' – 'qui l'un dans l'autre s'enamourent' (p. 15)
Na al deze romantiek en verleidingsdansen volgde een dag later de zakelijkere, maar niet minder interessante lezing van Henri Bloemen over de PETRA-E leerlijn. Hij stelde daarbij als hoofdvraag: 'Als je aan alle competenties voldoet uit deze leerlijn, ben je dan ook automatisch een goede vertaler? Bloemen vertelde over het ontstaan van de leerlijn en er volgde een open discussie met het publiek. Cees Koster hield een boeiende lezing over zijn work in progress, de biografie van Pé Hawinkels, en vertelde over diens (veel te korte) leven en indrukwekkende carrière, wat me nu al doet uitkijken naar het boek, dat naar verwachting in 2018 zal verschijnen. 'Leuk, hè?'
Beatrijs Vanacker vertelde over een fenomeen waarvan ik nog nooit had gehoord: pseudovertalingen. Boeken die zich voordoen of worden ontvangen als vertaling, maar dat eigenlijk niet zijn. Dit verschijnsel kwam veel voor in de achttiende eeuw en maakte dat bekende auteurs zich konden losmaken van hun status en de beeldvorming die over hen was ontstaan, om vervolgens iets heel anders te gaan doen. Ook werd van dit fenomeen gebruikgemaakt door onbekende schrijvers die op deze manier konden schrijven wat ze maar wilden, zonder last te hebben van censuur, omdat het werk zogenaamd uit een fascinerend buitenland kwam. 
Twee jonge vertalers spraken over zaken waar je tegenaan loopt als beginnend vertaler en hoe je daar mee om kunt gaan. Rosalind Harvey zette in Groot-Brittannië het Emerging Translators Network op, een Google-groep waarin beginnende vertalers ervaringen kunnen delen en elkaar om advies kunnen vragen. Een lid van de groep verzon de hashtag #namethetranslator, waarbij je op Twitter bijvoorbeeld kunt reageren op recensies om te vragen 'if they could please #namethetranslator'. Roos van de Wardt hield in Antwerpen een enthousiast verhaal over hoe zij de eerste jaren als literair vertaler had doorstaan. Uit haar lezing sprak een sterke passie voor het vak en ze vertelde openhartig over haar – soms ook minder leuke – ervaringen. Voor ons studenten had ze een grote stapel door haar vertaalde boeken meegenomen, waaruit we mochten kiezen. Haar bevlogenheid werkte aanstekelijk en ik denk dat iedereen de tips goed in de oren heeft geknoopt, want van zo'n rijkgevulde boekenplank met eigen vertalingen kunnen wij alleen nog maar dromen.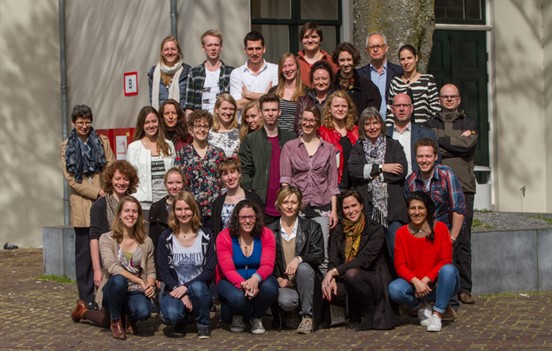 Ook de studentengroep was een bonte verzameling, die niet alleen uiteenliep in brontaal, maar uiteraard ook in types en achtergronden. In Antwerpen en Utrecht aten en borrelden we vaak met een groot gezelschap. Met alle taalpuristen bij elkaar ontkom je dan niet aan gesprekken over taal: hoe zeg je dit of dat in het Vlaams, Brabants, Achterhoeks, etc.? Ook kwamen we erachter dat iedereen heel cultuurminnend is en dat de meesten van ons ook een liefde voor muziek hebben en zelf een instrument bespelen of zingen. Zo werd al gauw het idee geopperd om een band te beginnen. Als (ver)taaldieren onder elkaar wisselden we bovendien de vreemdste complimenten uit, zoals: 'Ik vind jou echt zoooo idiomatisch!'
Twee weken lang zat ik in een 'vertaalbubbel', ik volgde het nieuws niet meer, de terreurdreiging was ineens heel ver weg en de dagelijkse sleur was nergens te bekennen. Alleen maar optrekken met gelijkgezinden, creëren, puzzelen, discussiëren en emmeren. Er zit wel een steekje bij je los als je het een uur lang over de openingszin en weer een uur over de slotzin van The Great Gatsby kunt hebben, maar gelukkig zit bij iedereen om je heen datzelfde steekje los. Of liever, kan iedereen het met net zoveel passie hebben over details die er voor anderen misschien niet toe doen, maar die wij, vertalers, juist zo belangrijk vinden.
Bibliografie
Westerling, A. & Gisekin, J. 2014. De witte pauw/Le paon blanc. Vertaald door Frans de Haes. Gent: Poëziecentrum.  
Maaike Harkink studeerde Communicatie aan de Hogeschool Utrecht, waarna ze vijf jaar als freelance tekstschrijver werkte. Ze volgde een premastertraject om vertalen te studeren aan de Universiteit Utrecht en bevindt zich nu in de afrondende fase van de Master Vertalen Engels.