Curieuze keuzes
Opmerkelijke vertalingen van Alice's Adventures in Wonderland
Janne Van Beek

In een brief aan zijn uitgever schreef Lewis Carroll bezorgd dat zijn kinderboek Alice's Adventures in Wonderland wel eens onvertaalbaar zou kunnen zijn, 'the puns and songs being the chief obstacle'.1 Carrolls vrees ten spijt verscheen in 1875 de eerste Nederlandse vertaling, gevolgd door talloze adaptaties en vertalingen van variërende lengte en kwaliteit.
Ondanks de moeilijkheidsgraad is de vertaalgeschiedenis van deze klassieker ontzettend rijk en het mag dan ook niet verbazen dat er zo nu en dan eigenaardige vertaalkeuzes gemaakt zijn. Ik weet dat het me niet siert om de moedige (of maffe?) collega's die zich ooit aan dit chef-d'oeuvre waagden in hun hemd te zetten en sappige vertaalfouten op te sommen, maar ik kan het toch niet laten om enkele eigenaardige vertaalkeuzes met jullie te delen.
1. Lize's bank in 't wonderland
In den beginne (in dit geval 1875), toen de allereerste zin uit Alice's Adventures in Wonderland voor het allereerst in de Nederlandsche taal gereproduceerd werd, sloeg de anonieme vertaler de plank flink mis door 'bank' letterlijk te vertalen, waardoor Alice (in deze vertaling 'Lize') en haar zus niet aan de oever van de Thames zitten, maar 'op een bank in den tuin.' Welnu, als pionier had deze dappere ziel natuurlijk geen voorgangers om mee te sparren en Martin Gardners The Annotated Alice, inmiddels een onmisbaar hulpmiddel voor lezers en vertalers van Alice, verscheen pas een kleine eeuw later.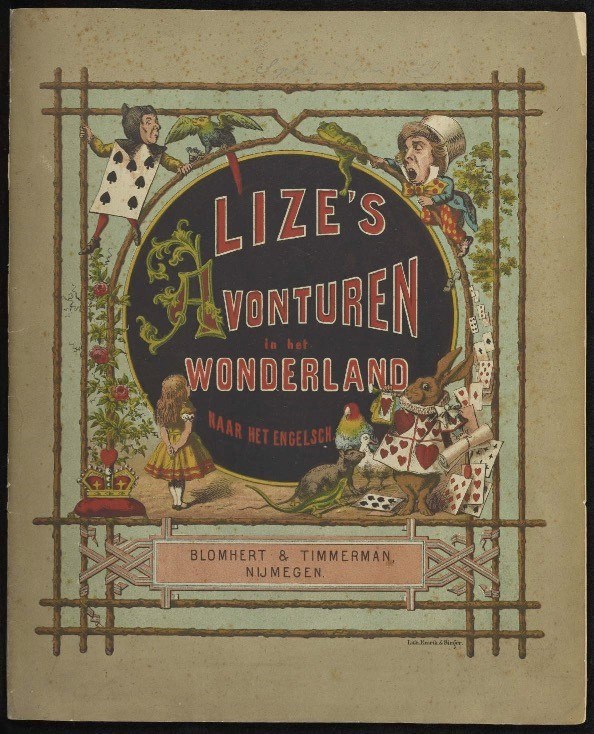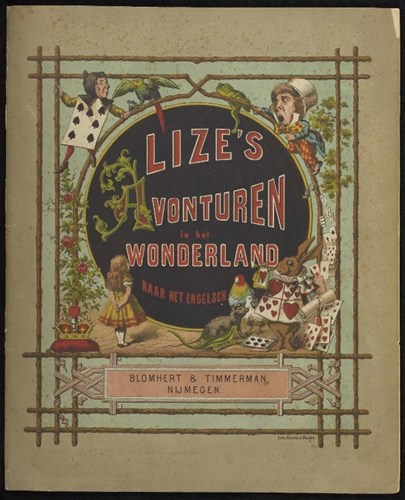 2. Alsmaar… minder raar
'Curiouser and curiouser!' luidt het welbekende begin van hoofdstuk twee 'The Pool of Tears' ('Het tranenmeer'). Na enkele bladzijden gaat het Alice al zodanig duizelen dat haar taalgevoel haar prompt in de steek laat (ik huiver bij de gedachte alleen al!). Het is dan ook des te curieuzer dat Gonne Andriesse-van de Zande (1976) deze zin vertaalde in het grammaticaal pijnlijk correcte 'Raar, raar, hoe langer hoe raarder!' (22) en het daaropvolgende vertellerscommentaar 'she was so much surprised, that for the moment she quite forgot how to speak good English' (14) voor de goede orde wegliet.2 Ook verder in de vertaling wordt Alice als een soort grammar nazi avant la lettre geprofileerd. In de woordenwisseling met de Hertogin compenseert Andriesse-van de Zande een weggelaten grapje met het net wat minder kolderieke 'Alice had niet geluisterd naar deze laatste opmerking; anders had ze stellig wel gezegd dat het mij is en niet mijn, want ze was heel goed in taal' (93).
3. Poor Alice!
Ook in de vertaalgeschiedenis van Alice liet het feminisme haar sporen na. Zowat alle vertalers vertaalden 'Alice led the way, and the whole party swam to the shore' (32) zoals Van Dale adviseert als 'Alice ging voorop.' Behalve de laatste vertaler, Sofia Engelsman (1999). Haar rebelse Alice 'nam de leiding, en de hele troep volgde haar naar de oever' (35). Ook wanneer de verteller Alice voor de zoveelste keer omschrijft als 'poor Alice' vindt Engelsman het na een keer of twee wel mooi geweest. Hoewel haar Alice minstens zo vaak in tranen uitbarst, kan ze op minder sympathie van de verteller rekenen.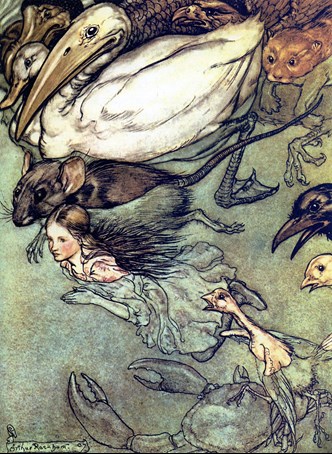 Alice door Arthur Rackham
4. Gemiste kans
'Nonsens!' vat Alice de situatie kernachtig samen in hoofdstuk acht (100). Ze doet dat zo luid en beslist dat zelfs de hartenkoningin er stil van wordt (en dat is heel wat). Ik was ook even met stomheid geslagen toen ik las dat Engelsman hier voor 'schei toch uit' had gekozen (113). In de eerste plaats omdat een verwijzing naar het nonsensgenre hier voor het grijpen ligt, maar ook omdat ze naast 'nonsens' of 'onzin' nog een heel arsenaal aan verrukkelijke synoniemen tot haar beschikking had, van lulkoek tot quatsch, van kolder tot klets. Hoe vaak kun je die nou inzetten?
5. Tot slot
Nog een laatste opvallende vertaalkeuze om het af te leren. Nadat Alice uit haar wonderlijke droom ontwaakt en onbekommerd naar huis rent, blijft haar zus nog even namijmeren. Deze passage, waarin alles weer bij het oude is, heeft in de eerste plaats een normaliserende functie, maar is tegelijkertijd ook een knipoog naar de echte Alice voor wie Carroll het boek schreef en we zouden dan ook kunnen stellen dat Alice' zus hier zijn perspectief vertegenwoordigt:
Lastly, she pictured to herself how this same little sister of hers would, in the after-time, be herself a grown woman […], and how she would gather about her other little children, and make their eyes bright and eager with many a strange tale, perhaps even with the dream of Wonderland of long ago… (149)
Carroll drukt hier de hoop uit dat zijn verhaal zal voortleven in de kinderen aan wie Alice, die (jammer genoeg) zal opgroeien, het verhaal ooit zal vertellen, net zoals Carroll dat deed voor zijn talrijke child friends. Of Carroll daarmee op Alice' eigen kinderen doelt wordt helemaal niet duidelijk uit deze zin en het is dan ook erg opvallend dat Nicolaas Matsier deze interpretatie expliciet maakt in zijn vertaling:
Matsier: Ten slotte zag ze voor zich hoe ditzelfde zusje van haar, naderhand, zelf een volwassen vrouw zou zijn, […]. Hoe zij haar eigen kleine kinderen bijeen zou roepen, en hun ogen vrolijk en gretig zou maken met menig vreemd verhaal, misschien zelfs met de droom van Wonderland van lang geleden. (111)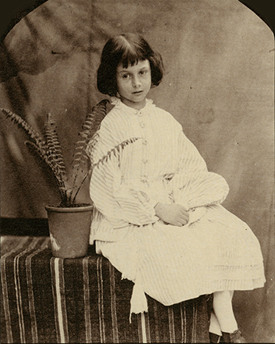 Alice Liddell, voor wie Carroll het boek schreef. Foto door Lewis Carroll, 1860.
Noten
1 Douglas-Fairhurst 181.
2 Andere vertalers kozen bijvoorbeeld voor: 'rarer en rarer' (Ten Raa 1899), 'hoe raarder en raarder!' (Reedijk en Kossmann 1947), 'vreemder en vreemderder!' (Heeresma 1966), 'Al raarder en raarder!' (Van Oven-van Doorn 1934), 'Hoe raarder, hoe raarder' (de Jong 1981), 'vreemderder en vreemderder' (Matsier 1989) en 'Het wordt alsmaar gekkerder' (Engelsman 1999).
Bibliografie
Carroll, Lewis. ca. 1875. Lize's avonturen in 't wonderland. Bew. onbekend. Nijmegen: Blomhert & Timmerman.
Carroll, Lewis. [1934] 19625. Alice's avonturen in Wonderland. Bewerkt door M.C. van Oven-van Doorn. Den Haag: Van Goor Zonen.
Carroll, Lewis. [1947] 19563. De avonturen van Alice. Vertaald door C. Reedijk en A. Kossmann. Rotterdam: Donker.
Carroll, Lewis. 1966. Alice in Wonderland. Bewerkt door F. Heeresma. Antwerpen: Zuid-Ned. Uitgeverij & Amsterdam: Centrale Uitgeverij.
Carroll, Lewis. 1976. De avonturen van Alice in Wonderland. Vertaald door Gonne Andriesse-van de Zande. Baarn: Hollandia.
Carroll, Lewis. 19842. Alice in Wonderland. Vertaald door Eelke de Jong. Alphen aan den Rijn: ICOB.
Carroll, Lewis. 2012. De avonturen van Alice in Wonderland & Achter de spiegel en wat Alice daar aantrof. Vertaald door Nicolaas Matsier. Amsterdam: Athenaeum-Polak & Van Gennep.
Carroll, Lewis. 2014. De avonturen van Alice in Wonderland. Vertaald door Sofia Engelsman. Haarlem: Gottmer.
Carroll, Lewis. 2015. The Annotated Alice: 150th anniversary deluxe edition: Alice's Adventures in Wonderland and Through The Looking-Glass. Ed. Martin Gardner. New York: W.W. Norton & Company.
Douglas-Fairhurst, Robert. 2015. The story of Alice: Lewis Carroll and the secret history of Wonderland. London: Harvill Secker.
Janne Van Beek (1994) rondde onlangs de onderzoeksmaster Literair Vertalen aan de Universiteit Utrecht af. In 2017 ontving ze een talentbeurs van de master Literair Vertalen, mogelijk gemaakt door het Nederlands Letterenfonds. Ze vertaalde onder meer werk van Rachel Nagelberg voor het Crossing Border Festival en John Berger voor EXTRA. 
Reageren? info@tijdschrift-filter.nl.