Blauwe rozen
Ton Naaijkens

Voor de vertaling van een gedicht van Friederike Mayröcker moest en zou ik Martin Schongauers schilderij La Vierge au buisson des roses (1473) bekijken. Ik behielp me met het net. 'Maria in de rozenhaag' heet het daar en het hangt in de dominicaner kerk in Colmar. Daar was ik nog niet zo lang geleden geweest om Grünewalds altaar te zien in het Underlinden-museum, maar om de een of andere reden heb ik mijn bezoek aan de kerk verdrongen. Onlangs was ik weer op stap en moest en zou ik Grünewalds befaamde madonna (1514-1519) zien in het dorpskerkje van Stuppach. Een prachtig schilderij, maar afgeschermd door een grote glazen wand. Echte ervaringen opdoen is een hele toer geworden dezer dagen. Onder aan het schilderij zag ik nochtans bloemen, ik meen dat er ook rozen bij zijn.
| | |
| --- | --- |
| Stuppacher Madonna van Grünewald | Schongauers La Vierge au buisson des roses |
Ik ga over rozen schrijven. Met welk gezag en wie interesseert het? Ik doe het gewoon, op eigen gezag, zonder me te beroepen op grote geesten. Desnoods heb ik een citaat paraat, bijvoorbeeld van Musil. Ik heb het lang in een notitieboekje bewaard, niet wetende of het ooit te pas zou komen: 'Er zijn best veel van dergelijke essayisten en meesters van het innerlijke leven geweest, maar het zou geen zin hebben ze te noemen; hun rijk ligt tussen religie en weten, tussen exempel en leer, tussen amor intellectualis en gedicht, het zijn heiligen zonder religie en soms zijn het ook gewoon mensen die verdwaald zijn geraakt in een avontuur.'1 Ja, avonturen – die gaan per definitie niet over rozen. Grünewald, die zwervende en niet echt plaatsbare schilder, was zo'n meester van het innerlijke leven. Maar eeuwen her. Zijn ze er nog? Onlangs liep ik er een tegen het lijf, althans: via wat diegene gemaakt had. Op een tentoonstelling met de aantrekkelijke titel 'La vie en rose'.2 Zijn naam is Cy Twombly, zijn rozen bedekten enorme wanden. Waar ik mezelf nu bevind weet ik niet, laat ik zeggen: ik moffel me in de ruimte tussen amor intellectualis en gedicht.
Twombly (1928–2011) schilderde al jaren bloemen en vaak voegde hij er tekst aan toe: zijn rozen hoefden dus niet te verrassen. Maar dat deden ze wel, geholpen door Museum Brandhorst in München, het kleurrijke gebouw van Sauerbruch Hutton en het stralende weer. De rozen waren geschilderd in Gaeta, een stadje tussen Napels en Rome, 'op het uiteinde van het kleine schiereiland van de Monte Orlando': Twombly woonde er een flink deel van zijn leven en een pand van hem is ooit prachtig beschreven in het New York Times Style Magazine.3 Maar ging zijn leven over rozen? Ik weet het niet (moet je komen aan iemands innerlijke leven?). Hier in München zag ik reusachtige blauwe rozen, gele rozen, uitgelopen rozen en rozen van anderen, door de curatoren uitdagend ingedeeld in ambigu geformuleerde thema's als 'vrijheid en eenzaamheid', 'levensvreugde en verlossing' of 'dood en rouw'. Wat me voor hem innam, meteen na de overweldiging, waren de op de schilderingen aangebrachte citaten. Niet direct die van Emily Dickinson of T.S. Eliot, maar die van gedichten van Ingeborg Bachmann (1926-1973). Twombly las haar in het Engels: voor mij een vreemde Bachmann.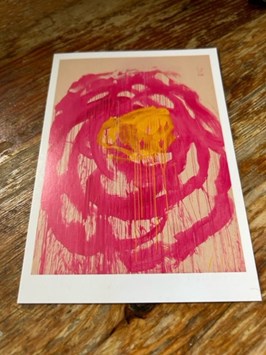 Ansichtkaart met daarop een van Twombly's rozenkunstwerken
Wat me steeds intrigeert, als tekstfetisjist, is hoe een kunstenaar omgaat met door hem gelezen woorden en vooral: hoe die dan worden omgezet in beelden. Ook waar dat gebeurt, in welk deel van de hersenen. Soms meen ik het te zien, maar zelfs bij strikt illustrerende kunst is het vaak een raadsel waar de voorkeur aan wordt gegeven: aan welke lijnen, aan welke kleuren. Boven de vier steeds donker wordende rozen op het doek Untitled (Roses) (Gaeta 2008, acrylic on plywood) staan in kladschrift deze woorden: 'Shadows Roses Shadow / under an alien Sky /Shadows Roses Shadows / On an alien earth / between Roses and Shadows'. De laatste drie woorden lijken in en aan elkaar geschreven te zijn. La vie en rose dans l'ombre? Het is geen spectaculaire vertaling van het Bachmanngedicht uit Anrufung des Grossen Bären (1956).4 De vertaling stamt volgens een bijschrift uit de bundel Invocation of the Great Bear, maar die bestaat niet. Ik vermoed dat Twombly de in 2006 verschenen bundel Darkness Spoken: the Collected Poems of Ingeborg Bachmann gebruikte, een vertaling door Peter Filkins (Zephyr Press). Omdat Twombly meer rozen schilderde zal hier het verband met schaduwen van belang zijn: de achterkant van de levenslust die de bloemen oproepen. Dat kan van alles zijn. Als het om een verloren liefde gaat – een liefde voor wie of wat dan ook – dan valt het voor mij samen met de duidelijke referentie aan Bachmanns voorbije verhouding met Paul Celan, die haar talloze keren verblijdde met bloemen. Papavers, klaprozen. Tot het niet meer ging en hij haar bestookte met de felle regel 'ik drijf de doorn in jouw hart, / want de roos, de roos / staat met de schaduwen in de spiegel, ze bloedt!' Eind 1956 verblijft Ingeborg Bachmann een tijdje in het Hôtel de la Paix in Parijs om de band met Celan weer aan te halen. Maar het gaat niet. Ze slaat terug met een kort gedicht dat de naam van het hotel draagt: daarin gebruikt ze het woord 'Rosenlast'. Het is een dramatisch gedicht, dat een afscheid evoceert, het (haar? zijn? hun?) 'lichthart' breekt erin. Maar nu ben ik zelf aan het vertalen en projecteer ik een ander verhaal op Twombly's rozen. Een eigen verhaal. Wie ben ik om de rozen die ik zie mijn kant op te trekken? Kende Twombly Celan?5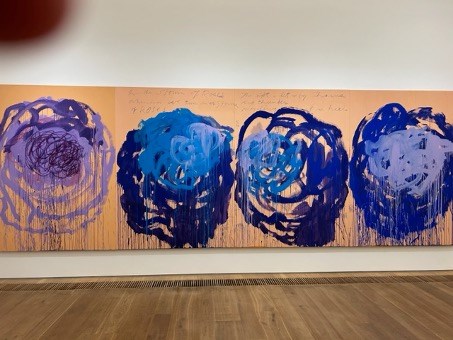 Eigen foto van Twombly's blauwe rozen
Het is een interessant gebied, die tussenruimte waarin je een verband vermoedt tussen poëzie en visuele kunst. Vertalen, las ik ergens en niet voor het eerst, speelt zich altijd af in een tussengebied, in 'het tussenin'. Tussen talen, tussen culturen, tussen mensen: vertalingen getroosten zich de moeite de ander, de andere cultuur, de andere taal te doorgronden – en ze geven er vorm aan. In die zin doen vertalers onderzoek. Ze doen het werk dat ook door heel wat beeldend kunstenaars 'onderzoek' wordt genoemd. Ze verkennen het innerlijke leven en schrijven een essay. En steeds is het cruciaal wat iemand ziet in wat hij onderzoekt. Nu loop ik rond in de monumentale rozenzaal van museum Brandhorst, ik kijk om me heen en ik vertaal. Ik sta nu voor de blauwe rozen – en weer zie ik er een kort gedicht van Bachmann op staan: 'Im Gewitter der Rosen', in het Engels. In de begeleidende tekst wordt een andere schrijfwijze gekozen: 'wherever we turn in the Storm / of ROseS / The night is lit up by Thorns', staat er. De opvallende hoofdletters zijn van de curatoren, neem ik aan: ook zij zijn dus aan het vertalen en verkennen geweest. Net als overigens Anselm Kiefer, die in 2015 een reeks schilderijen verzamelde onder de titel 'Im Gewitter der Rosen'.6 Wat is het druk in deze tussenruimte. De meesters van het innerlijke leven ontmoeten elkaar meer dan eens en ze denken allemaal anders. Het is moeilijk ze te volgen, zeker als je je in hun gezelschap begeeft. Maar geraakt worden door blauwe rozen, op een onbewaakt ogenblik in zomers München, is ook wat waard.
Noten
1 De gedachte wordt het personage Ulrich in de mond gelegd in het hoofdstuk 'Ook de aarde, maar met name Ulrich, huldigt de utopie van het essayisme', Der Mann ohne Eigenschaften, tweedelige Rowohlteditie van 2000, p. 253-4.
2 In Museum Brandhorst in München.
3 Zie voor een detail bijvoorbeeld de foto met dit onderschrift: 'The grand sitting room of the main house that dates from A.D. 1000, on the property of Nicola Del Roscio, Cy Twombly's archivist and close companion, in Gaeta, Italy, with 18th-century frescoes thought to be by the artist Sebastiano Conca, a sofa from Andy Warhol's home in Paris and terra-cotta tiles on the floor, handmade in a nearby village.'
4 Het origineel: 'Schatten Rosen Schatten / unter einem fremden Himmel / Schatten Rosen / Schatten / auf einer fremden Erde / zwischen Rosen und Schatten.'
5 Ik denk van wel. Als ik op het internet zoek (en me naïef laat meesleuren door algoritmen die geneigd zijn alles te bevestigen) kom ik ook wel ergens uit.
6 Ontleend aan deze website.