Woordkunst revisited
Bert de Waart

Vorig jaar verscheen een selectie uit Herman Gorters dichtbundel Verzen uit 1890 in Engelse vertaling. Dit is eredivisievertalen, zelfs voor een vertaler met een indrukwekkende staat van dienst als Paul Vincent (onder veel meer Hooft, Vondel, Couperus, Elsschot, Boon, Mulisch). Voor het merendeel bestaat de bundel uit korte en zeer korte gedichten, met regeltjes van een paar woorden, die tafereeltjes eerder oproepen dan beschrijven, zonder ze tastbaar te maken; Gorter geeft zijn impressie ('zijn sensatie', noemde Van Deyssel dat) van die tafereeltjes, in een uiterst individueel taalgebruik. En wat zijn die gedichtjes adembenemend mooi en wat is de vertaling, van 31 van de 86 gedichten uit de bundel van 1890, goed gelukt. Meteen maar een voorbeeld:
In de stilte van de stad
kwam ze, haar rok ruischte,
de witte handen had
ze stil, ik luisterde.
In the stillness of the town
she came, her dress swished,
her hands lay down
quite still, I listened, hushed. (68-69)
Het bijzondere van Gorters stijl zit 'm in de vele herhalingen en in de neologismen: woorden en woordverbindingen die hij voor slechts dat ene gedicht maakt. De herhalingen heeft Vincent gehandhaafd, de neologismen over het algemeen niet: in zijn inleiding verklaart hij dat hij de vreemdheid van Gorters taalgebruik zo veel mogelijk heeft willen behouden, maar de Engelse lezer niet te zeer wilde vervreemden (p. 13). Bij eerste lezing van Poems of 1890 miste ik die neologismen: blijkbaar zijn ze in mijn beleving van deze gedichten onverbrekelijk met de schoonheid ervan verbonden. Maar inderdaad, toen ik nog lesgaf heb ik vaak genoeg geprobeerd om aan leerlingen uit te leggen wat ik toch zo mooi vond aan bijvoorbeeld dat 'schemerblauwt' en dat 'schrijnen' in de eerste strofe van het gedicht op p. 84 en aan dat 'blinkesneeuw', dat 'blinke', dat 'zeeë' en dat 'tintelzee' in het zeer korte gedicht op p. 24, en dan zag ik bij hen diezelfde vervreemding opbloeien. De woordkunst van rond de voorlaatste eeuwwisseling is voorbij en daar helpt geen lievemoederen aan. Dat Nederlands is nauwelijks nog te lezen, en niemand kan het meer schrijven, dus Vincents keuze om niet te proberen zulk Engels te schrijven is begrijpelijk. Wat de vertaling wél doet is die impressie, die sensatie laten navoelen.
Twee lampen schijnen,
de spiegel schemerblauwt, er schrijnen
lichten in meubels rondom,
alle dingen zijn stom.

Ik hoor adem uit een vrouw
komen, ik wou
ik wou – ik zit zwaar en stil.
't is niets wat ik wil.

Hoor de klok rikketikken,
hij telt de oogenblikken.

Two lamps are shining,
the mirror dims and blues, whining
of lights in furniture around,
not a thing makes a sound.

I hear a woman's breath swish
as it comes, I wish
I wish – I sit heavy and still,
nothing enthuses my will

Hear the clock tock tick,
it counts each moment's click. (84-85)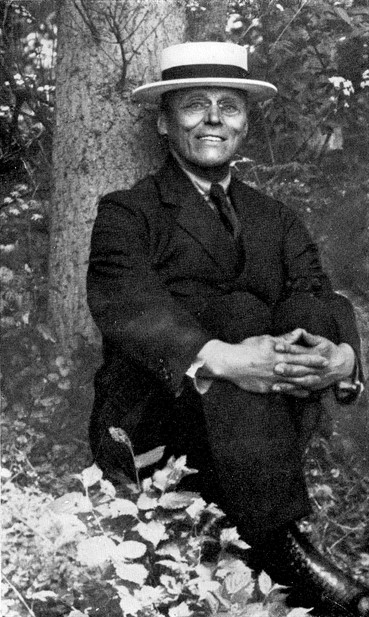 Gij zijt een stille witte blinkesneeuw,
gij zijt een blinke zeeë tintelzee.
You're a silent white gleam of bright snow
Your're a gleamy sea-filled tingle sea. (24-25)
Het is in het Engels diezelfde kamer en dezelfde vage angst; hij is net zo verliefd en net zo dol op de klank van zijn eigen stem.
Als Vincent naar rijmparen zoekt voegt hij vaak een woord toe, zoals 'hushed' op p. 69 en 'swish' op p. 85. Die woorden sluiten uiteraard aan bij wat er in de brontekst staat en daardoor worden die toevoegingen omwille van het rijm onvermijdelijk expliciteringen, uitleg van wat Gorter niet zegt maar wel bedoelt. Voor mij, purist die ik ben, behoort die vaagheid, dat iets niet zeggen en wel bedoelen, of toch niet, tot de essentie van Gorters stijl, dus ik vind die explicitaties jammer. Maar alweer: het is meestal heel efficiënt gedaan, en het Engels geeft toch diezelfde Gortersensatie. Soms is het toegevoegde woord trouwens 'light', een Gorterwoord bij uitstek.
Wel heb ik wat moeite met de toevoeging op p. 62–63. 'Hoor, het leven vliedt, / zing het jammerlied' > 'Hear, life flies hell-bent, / sing forth the lament'. 'Hell-bent' rijmt met 'lament' maar kent aan het leven een vastberadenheid en een fatalisme toe die vreemd zijn aan het gedicht – en aan deze bundel.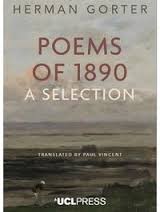 De twee expliciteringen op p. 50–51 staan daar niet omwille van het rijm. In de eerste strofe zit de 'ik' op het strand en kijkt naar de rimpelende zee; 'er was ook windgezing' > 'and I heard wind singing'. En aan het eind van strofe 2: 'er was ook veel zonlicht' > 'the sun shone overhead'. Natuurlijk, het is de 'ik' die de wind hoort zingen en het zonlicht komt van de zon, maar Gorter vermeldt die waarnemer en die herkomst nu juist niet, wat het gedicht zijn typische pastelkleur geeft.
Nog zo'n detail. Gorter is zuinig met tijdsbepalingen en wat hij meedeelt over de 'tijd van handeling' is altijd vaag. Maar vier gedichten uit de Verzen uit 1890 hebben in hun eerste regel het bijwoord 'toen', en één de bepaling 'dien avond'. Dat is mysterieus: het gedicht lijkt aan te sluiten bij een eerder genoemde gebeurtenis, maar die gebeurtenis zelf blijft onvermeld. Op p. 18–19 van Poems of 1890 staat zo'n gedicht en Vincent vertaalt daar 'toen' met 'once', waardoor het vertaalde gedicht een conventioneel begin heeft, zonder mysterie.
Driemaal keek deze lezer dus bedenkelijk. Maar voor de rest: wat een benijdenswaardig mooie vertalingen! Een aanwinst, dit boekje, aan beide zijden van de Noordzee. Nog één gedicht:
Het gouden zongezwier,
een oogenblik,
hoog maakt stil plezier
de leeuwerik.

De zon zwermt in goud goud,
fijn klinkt geklik
van schapebel – in 't goud
hoor leeuwerik.

De wolken gaan stil voort
op gouden grond,
ze zeggen zich geen woord
uit gouden mond.

The golden panache of the sun,
a moment, hark,
on high, still rapture of one
little lark.

The sun swarms in gold gold,
the fine clank, hark
of sheep's bell – in the gold
hear sound of lark.

The clouds scud past unheard
on golden ground,
they speak not one word,
from gold mouths no sound. (74-75)
In zijn inleiding merkt Paul Vincent op dat er van Mei alleen fragmenten in het Engels zijn vertaald en geeft vervolgens, schijnbaar uit de losse pols, zijn vertaling van de eerste twaalf regels, net zo stuwend en klankrijk als Gorters tekst, en net zo prachtig als de 1890-gedichten in deze bundel: 'A newborn springtime and a newborn sound ...' (p. 3). Dat smaakt naar meer.
Herman Gorter, Poems of 1890. A selection. [Sel. and] transl. by Paul Vincent. London: UCL Press, 2015. Het boekje is in Nederland niet te koop, maar wel gratis te downloaden van de site van UCL Press: http://www.ucl.ac.uk/ucl-press/browse-books/poems-1890.