Een Griekse column
Ton Naaijkens

Een maand lang ontslakken, niet alleen lichamelijk, en overschakelen op een dorpsversnelling: ik ben in ruste gegaan en begin met een tijdje freewheelen op Fourni Korseon, een Grieks eilandje in de Egeïsche Zee, tot voor kort autovrij en nu autoluw. Ik verblijf in het gat Kambi op nog geen vijftig meter van zee, ik schat het aantal inwoners op minder dan vijftig. Je moet wandelen naar het centrale stadje met hooguit 1000 inwoners. Als je 's avonds laat terugwandelt is dat in volstrekte duisternis op een helder zichtbare Melkweg na dan. Tegen iemand die ineens een halve meter voor je opdoemt bots je ongewild op – een authentieke blind date heet dat dan, mijn eerste, zonder aanzien van geslacht, leeftijd of mate van aantrekkelijkheid. Ik hoor een enkele zeekraai krassen. Er is niets te doen, er is alleen natuur, je moet weer leren slapen als het ware. Fourni betekent letterlijk bakoven, maar het is september, dus valt het mee; Korseon zou wijzen op de piraten die zich ooit schuilhielden in de talloze baaien, maar de voor de hand liggende etymologie met corsaren blijkt al te volks te zijn.1
Op een zaterdag wordt rond een naburig eilandje, Thymena (10,071 km², in 2011 had het 136 inwoners), een zwemmarathon gehouden. Alle deelnemers worden bij de finish toegejuicht en krijgen een krans van laurier opgezet. Het rondje rond het eiland heet gyros. De pita gyros krijgt een extra betekenis: er zit rondgedraaid vlees in. Talen zijn eenvoudig en vreemd tegelijk: dat de grote Italiaanse wielerwedstrijd giro heet klopt wel, maar geld overmaken via de giro? Ik wil geen esperantist worden hier, dus raak ik in de ban van onvertaalbare woorden. Zoals ψυγείο. Je denkt aan de sofa van Freud bij wie je vrijelijk je psygeio kan uitstorten. Maar het woord prijkt op een onooglijk winkeltje voor witgoed, en een ijskast ligt doorgaans niet zo lekker. Met tal van andere woorden raak ik verloren en verstrikt in vertaling, wat me ertoe noopt me vast te houden aan afbrokkelende klanken: die behap ik nog een beetje. Misschien is het de invloed van Yoko Tawada, van wie ik een boek lees? Als geboren Japanse die in het Duits schrijft kan ze zich over het kleinste woord oprecht verwonderen (bijvoorbeeld: 'Warum steht das Jucken im Singular, /wenn du so viele Mückenstiche hast? / Ist Gott noch Single? / Der Schöpfer zahlreicher Mücken.'). Als ze schrijft vertaalt ze, als ze vertaalt schrijft ze. Als het goed gaat. En wij eten spaghetti met knoflook en kritamos. Wat nu, Yoko? Kritamos? Krijt? Kreta? Kersenkruid? Ik google en schrik: zitten we echt blaadjes van een terpentijnboom te eten? Voor je het weet vergiftig je je.2 Van een goedwillende expert hoor ik dat het om zeevenkel gaat, in het Grieks θαλασσινό μάραθο: de wereld is weer rond, lijkt me, want daar heb je de marathon weer.
Finish van de 'gyros van Thymena' – o γύρος της Θύμαινας
Kortom, het leven is goed en begrijpelijk op een eiland, zij het veranderlijk. Twee dagen zonder stroom en water, de veerboten kunnen niet aanmeren vanwege de meltemi, de echte wereld is even heel ver weg. Ik ga maar wat lezen, op aanraden van een NRC-medewerker3 de thrillers van de nog niet lang geleden gestorven Schotse auteur Philipp Kerr (1956–2018), en wel die die in Duitsland spelen rond speurder Bernie Gunther: op zijn advies in historische volgorde (republiek van Weimar, jaren dertig, Hitler, naoorlogse deling). Ze zijn spannend maar ook smakeloos, niet eens vanwege de wel heel machistische seks en de zelfs mij opvallende male gaze in het algemeen, als wel door de manier waarop Gunther – los van zijn moordzucht al geen prettig iemand – een rol krijgt toebedeeld in de officiële Duitse geschiedenis. Hij ontmoet grootheden en werkt nauw samen met mensen als Himmler en Heydrich; toppunt van smakeloosheid is de verhoorscène in het concentratiekamp Dachau waar Bernie undercover verblijft. Dat woord vertaal ik nooit meer met onderduiken dus.
À propos vertaling: ik ben verplicht me daaraan te wijden. Op de hoogste berg van Fourni staan nota bene de resten van een tempel die volgens sommige bronnen aan Hermes gewijd was, de god van alles en nog wat, maar in ieder geval ook van dieven, bedriegers en vertalers. Ik lees Kerr in het Nederlands en op een iPad Mini. Deel 1 van de Berlijnse Trilogie is echt beroerd vertaald, deel 2 een stuk beter, maar stilistisch blijft het allesbehalve een hoogstandje. Tal van Mückenstiche en andere irritaties, daar komt het op neer: los van de spectaculaire afbrekingen die e-boeken kunnen produceren (dra-matis-ch) en de foute scans (onverklaarbare scheidi ngen in woorden, willekeurige hoofdletters) zijn het toch ook de onzorgvuldigheden van de vertalers. Men deed vast zijn werk, dat snel af moest, en wat let je als de spanning er toch wel in blijft. Maar toch, geachte uitgever: een boek blijft een wanproduct als de tekst rammelt – hoe mooi en verleidelijk omslag en flaptekst ook mogen zijn.4 Het is al erg als in het niet zo gek lopende De een van de ander steevast gesproken wordt over de Federale Republiek Duitsland, een mij onbekend land. Maar daar kun je je bij neerleggen. In het dit jaar verschenen Metropolis stuit ik op zinnen als: 'Ik kon me niet vergissen over dat merk, want terwijl hij tegen me sprak, stopte hij vanuit zijn ruimhartige gemoed mij een sigaar in het borstzakje van mijn jack.'5 Op het menu van het restaurant van het hyperchique hotel Adlon staan 'losprijzen', worden mensen 'terug gedegradeerd' en duikt [sic] een blonde amazone op met [sic] perfecte gelaatstrekken 'wier kop zoals een mascotte op een motorkap van een snelle auto paste'.6 Maar ik las door, dankzij Hermes, de kritamos en de Fourniaanse corsaren. Die stemden mild en troostten me met de gedachte dat columns een beperkte lengte hebben. Zeker Griekse, ontsproten onder een aangenaam septemberzonnetje.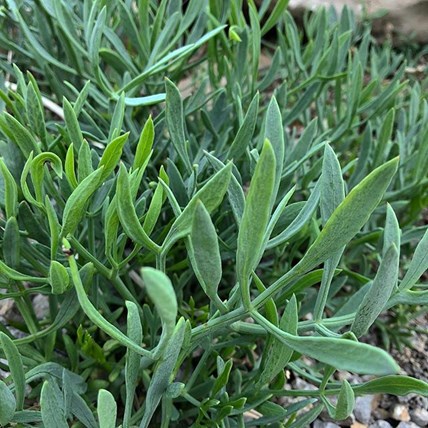 zeevenkel (Crithmum maritimum) 
Noten
1 Van Huub Beurskens hoor ik dat Albert Camus ook even op Fourni was, in 1958: 'Op dinsdag 17 juni zeilde de boot van Patmos richting Agathónisi, door Camus Gaidaros, ezelseiland, genoemd. Maar de zee was vreselijk ruw, iedereen aan boord werd zeeziek. Er werd derhalve koers gezet naar Fourni, om daar beschutting te zoeken in een kleine eenzame baai. Toen de storm eindelijk afnam was het te donker om te gaan varen. 's Nachts begon het opnieuw te spoken en bijna de gehele volgende dag moest er verder worden gewacht. Tegen zes uur besloot men het erop te wagen. Om half negen kwamen "dan de lichtbakens van Tigani (het oude Samos) in zicht. De rustige kleine haven is een weldaad, na de woelige zee."'
2 Dagen later vind ik in goede gezondheid dit in een boek over het leven op Ikaria, een eiland niet ver van Fourni: 'Lambrini serves us a piece of pasticcio which she cooked in their wood-fired oven. And tells us we must try the pickled kritano, a plant that grows by the sea. After pouring everyone wine, she finally sits down.'
3 Arjen Ribbens schreef deze uitdaging: 'Neem de grootmeester van spannende boeken mee op vakantie', NRC Handelsblad, 12 juli 2019.
4 Ik las op aanraden van Ribbens eerst Metropolis, 'geschreven in de maanden van Kerrs aangekondigde dood', in 2019 in het Nederlands verschenen bij Meulenhoff Boekerij, vertaald door Jan Pott. Vervolgens De Berlijnse trilogie, vertaald door Gerard Suurmeijer, De Boekerij 2001, 20128. En ten slotte De een van de ander, vertaling Herman van der Ploeg, De Boekerij 2007, 20119. Het laatste boek was in Nederland thriller van het jaar in 2007.
5 Metropolis, deel 1, p. 19 bij instelling van het kleinste font op mijn witte iPad Mini, model MD531NF/A, en dan moet je hem dwars houden.
6 Voorbeelden staan (volgens de in de vorige noot beschreven procedure) resp. in deel 1, p. 39, deel 2, p. 33 en deel 2, p. 36.
Reageren? info@tijdschrift-filter.nl.