In memoriam J.A. Schalekamp (1926-2015)
 De Webredactie

Op 29 september jl. overleed op 89-jarige leeftijd Jean Arnoldus Schalekamp op het eiland Mallorca, waar hij sinds 1960 woonde. Schalekamp was ruim vijftig jaar als vertaler actief en vertaalde circa 200 boeken van 143 auteurs uit het Engels, Frans, Spaans en Catalaans.1 Daarnaast schreef hij enkele romans en verhalenbundels en publiceerde hij artikelen en reportages in diverse dag- en weekbladen. Schalekamps vertalingen waren niet onomstreden. In het allereerste nummer van Filter werd zijn vertaling van het hondsmoeilijke The Gold Bug Variations van Richard Powers onder de loep genomen. Ter nagedachtenis aan deze veelzijdige literator publiceert Webfilter vandaag enkele passages uit de brief die hij schreef in reactie op dit artikel. Hij liet zich erin kennen als iemand die niet zonder zelfkennis en humor keek naar zijn eigen werk.
J.A. Schalekamp
Beste Ton Naaijkens,
De roman De dubbele helix van het verlangen van Richard Powers is in zijn geheel door mij vertaald, maar omdat ik me niet als poëzievertaler beschouw en me daarom over het algemeen niet aan het vertalen van poëzie waag, heeft Jan Eijkelboom op mijn verzoek de vertaling van de meeste gedichten op zich genomen. De rol van Frank Carmiggelt is, dat hij op verzoek van de uitgever mijn vertaling heeft bekeken en waar nodig gereviseerd, zonder het origineel erbij. Ik was het daar geheel mee eens, want als je zo lang op zo'n ingewikkelde vertaling zit te zwoegen, zie je bepaalde dingen niet meer en is het heel belangrijk als het Nederlands wordt bekeken door iemand die er fris en onbevangen tegenover staat. Ik heb, toen ik het boek ontving, de definitieve versie niet in zijn geheel met mijn manuscript vergeleken, daarvoor ontbraken tijd en zin me, maar ik heb dat wel met enkele hoofdstukken gedaan en geconstateerd dat nergens ingrijpend veranderd is. Met de meeste veranderingen was ik het wel eens, sommige leken me lood om oud ijzer, met andere was ik het niet eens. Een voorbeeldje van die laatste: 'Mijn bibliothecaressewangen kreukelden als een van achteren aangereden mini-autootje',  door Carmiggelt veranderd in: 'Rond mijn bibliothecaressejukbeenderen (het woord alleen al!) vormden zich kreukels als bij een van achteren aangereden kleine middenklasser', en zo zijn er meer. Ik neem aan dat Carmiggelt zich ook heeft beziggehouden met de vele natuurwetenschappelijke passages, waarin het vaak heel moeilijk was om de juiste Nederlandse equivalenten te vinden.

[…] Vertalen is bijna altijd een frustrerende bezigheid (hoewel ik het dolgraag doe). Maar het vertalen van Powers heeft me met een gigantisch gevoel van frustratie opgezadeld. Ik heb er een jaar zeer intensief aan gewerkt (was al die tijd ongenietbaar voor mijn omgeving, die God dankte toen het klaar was) maar heb het gevoel dat, als ik er drie jaar aan had kunnen werken (maar daar was uiteraard het geld niet voor, noch de tijd), het misschien wel een betere vertaling zou zijn geworden, maar nog steeds verre van volmaakt.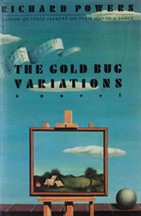 Ik vertaal af en toe graag moeilijke boeken, omdat ik dat een prettige uitdaging vind, bijvoorbeeld de romans van Claude Simon. Maar bij Powers was de uitdaging kennelijk te groot en werd het vertalen op den duur een soort nachtmerrie. Gek genoeg heb ik er nooit nachtmerries van gehad maar laatst kreeg ik wel een droom die duidelijk naar Powers terugwees en die ik je niet wil onthouden, omdat het een typische vertalersdroom is: ik droomde dat ik aan het vertalen was en op de zin stuitte: His bronx needed badly a glass of luke-warm milk. Ik kon er maar niet achter komen wat de auteur met 'his bronx' bedoelde. Later, toen zijn 'bronx' bij het zien van een mooi meisje 'vrolijk opsprong', begreep ik het, en het 'needed badly a glass of luke-warm milk' betekende dat het ding slap was. Inderdaad, het had een Powers-metafoor kunnen zijn!

[…] Tussen haakjes: voor zover mij bekend, is Gold Bug Variations tot nog toe in geen enkele andere taal dan het Nederlands vertaald, en naar ik gehoord heb omdat de uitgevers in andere landen het als té moeilijk beschouwen. Three Farmers is naar Richard me vertelde wel in het Italiaans uitgekomen, maar hij was nogal sceptisch over de vertaling omdat, zei hij, de vertaler hem geen enkele maal had geconsulteerd […].

Jean Schalekamp

Randa (Spanje), 13 juli 19942


Noten
1 Statistische gegevens zijn overgenomen uit het 'Vertaaldossier J.A. Schalekamp en C.A.G. van den Broek' (2011), samengesteld door Kim Bos, Lisa Geijtenbeek, Linda de Man en Marjolein Toet, in het kader van de cursus Vertaling, cultuur en wetenschap van de master Vertalen aan de Universiteit Utrecht.
2 Dezelfde fragmenten uit Schalekamps brief werden eerder gepubliceerd in Filter 1:2, p. 22–23.