Ga nu *** slapen!
Een troostboek voor wanhopige ouders?
Anne van Buul

Wie zwanger is, ontkomt er niet aan: vroeg of laat word je in die veertig weken besmet met het leesvirus. Van Krijg nou tieten! tot Duik in je weeën en Hoe werkt mijn baby?, alles wat er maar te lezen valt over buiken, borsten, bevallen en opstaan verslind je. Om bevestigd te krijgen dat het normaal is dat je opgezette voeten en trek in grapefruit hebt, en om je voor te bereiden op alles waarvan je je als zwangere nog geen voorstelling kan maken (weeën, kraamtranen, slapeloze nachten…).
Ook ik liet in die negen maanden geen letter zwangerschapslectuur ongelezen. In de berg aan boeken vindt iedere aanstaande moeder uiteindelijk haar eigen weg. Je legt opzij wat niet bij je past en herleest (want je vergeet veel) wat aansluit bij jouw gedroomde invulling van het moederschap. Zo ging mijn exemplaar van Kluuns Help, ik heb mijn vrouw zwanger gemaakt! direct weer naar de kringloopwinkel, en bleef het ouderwetse Regelmaat brengt rust van Ria Blom ook na de geboorte van zoonlief een baken gedurende vele huiluurtjes.
Veruit het leukste boek dat ik las over moeder worden en zijn is Het jaar dat ik (2x) moeder werd van Aaf Brandt Corstius. Volgens Aaf komt er in het brein van zwangere vrouwen een speciaal leeshormoon vrij dat pas weer weggaat als alle boeken over placenta's, stuwing, bruin vruchtwater en bakerlappen verslonden zijn. Aan die leeswoede ontkwam ook zij niet en met haar boek komt ze er eveneens aan tegemoet. Dat boek is minder cliché dan Kluun ('U wilt gewoon een zoon. Dat weet ik'), minder grof dan Claudia de Breij ('En nou weer vrolijkheid, want jij bent dik en misselijk! Wees godverdomme blij!'), het is goed geschreven, eerlijk, herkenbaar en erg grappig. Van Aaf leer je hoe je te wapenen tegen de borstvoedingsmaffia, waarom de Hema ineens een onweerstaanbare aantrekkingskracht op je uitoefent en hoe je je baby erwtjes kunt leren eten. Nuttig en aangenaam, dus lees allen Aaf.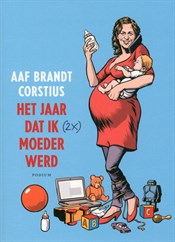 Aaf Brandt Corstius is tegenwoordig misschien beter bekend van haar TV-optredens in De wereld draait door en Wie is de mol? dan van haar columns in Margriet, De Volkskrant en NRC next en haar boeken over het leven van de moderne vrouw (zij schreef o.a. Het jaar dat ik dertig werd en Handboek voor de moderne vrouw). Nog minder bekend is dat Aaf vertaalwetenschap gestudeerd heeft in Amsterdam en drie boeken vertaalde uit het Engels. Samen met Paulien Cornelisse vertaalde zij de humoristische roman Girl (2004) van Emma McLaughlin en Nicola Kraus, en de roman Bling (2005) van Erica Kennedy.
Het derde boek dat Aaf (dit keer in haar eentje) uit het Engels vertaalde is het prentenboekje Go the fuck to sleep! van Adam Mansbach, een troostboek voor wanhopige ouders die hun kinderen niet aan het slapen krijgen. De versjes hebben de stijl van ouderwetse kinderrijmpjes, maar parodiëren die ook doordat in de laatste zin van ieder rijmpje een vloek klinkt van een gefrustreerde ouder.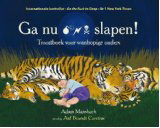 Op het omslag wordt het boekje aangeprezen als 'internationale bestseller' en als 'Nr 1 New York Times', en natuurlijk ontbreekt ook een juichkreet van Matthijs van Nieuwkerk over de vertaalster niet ('Een van mijn favoriete columnisten'). Als tot slot ook cabaretiers Erik van Muiswinkel ('Wat een ongelooflijk geestig boek') en Claudia de Breij ('Hilarisch boek!') op de achterflap hun loftrompet hebben geblazen, zijn de verwachtingen van de lezer hooggespannen. Toch moet ik bekennen: al huilt mijn baby nog zo veel, troost zoek ik liever in een ander boek.
Het eerste rijmpje is vermakelijk en klinkt ook in het Nederlands heel natuurlijk:
The cats nestle close to their kittens now.
The lambs have laid down with the sheep.
You're cozy and warm in your bed, my dear
Please go the fuck to sleep.
De katjes kruipen bij moederpoes
De lammetjes bij de schapen
Je ligt heerlijk in je bed, mijn schat
Ga nu *** slapen!
Hetzelfde recept –een lieflijk kinderversje mondt uit in een ouderlijke vloek – wordt in het boekje nog twaalf keer herhaald, maar in het Nederlands lang niet altijd met hetzelfde humoristische effect. Metrisch lopen de versjes stroef en sommige rijmwoorden lijken vergezocht. Op veel plaatsen worden er dingen bij bedacht en worden de vloeken afgezwakt, zoals in het volgende kwatrijn:
Flowers doze low in the meadows
And high on the mountains so steep.
My life is a failure, I'm a shitty-ass parent.
Stop fucking with me please, and sleep.
De bloemetjes slapen in de wei
Bij de eenden verstomt het gekwek
Mijn leven is een zooi, ik ben een slechte ouder
Ik smeek je: slaap! Ik word gek
Heeft 'a shitty-ass parent' in het Nederlands een even krachtig equivalent? Met 'Een slechte ouder' komt de betekenis wel over, maar de zelfspot niet.
Een ander voorbeeld waarin het Nederlands tammer overkomt dan het Engels en waarin ook het poëtische aspect ondersneeuwt, zijn de volgende zinnen:
I know you're not thirsty. That's bullshit. Stop lying.
Lie the fuck down, my darling, and sleep.
Nee, je hebt geen dorst, dat is onzin. Niet jokken.
Ga liggen, nu! En slapen
In het Engels is het metrum regelmatiger, wordt de driedeling van de eerste zin in de tweede herhaald, en geeft de alliteratie en assonantie van 'lying' en 'lie' de regels een poëtisch effect. In het Nederlands is de eerste regel heel letterlijk vertaald – al klinkt 'onzin' braver dan 'bullshit' – maar is de tweede regel verkort en van vloek ontdaan, wat ten koste gaat van het metrum, de dichterlijkheid en de humor.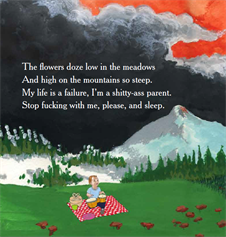 Daarnaast ben ik niet erg gecharmeerd van de prenten, gemaakt door kunstenaar Ricardo Cortés, maar dat is een kwestie van smaak. Ze passen in ieder geval wel bij de versjes, die half lief en half wreed zijn. Ach, misschien is een troostboek voor ouders gewoon nog niet aan mij besteed. Mijn baby kan zelf zijn bed nog niet uit en ik vind het nog niet erg om hem 's nachts te troosten als hij bozig met zijn armpjes tegen zijn kribje bonkt. Bovendien zijn er boeken die volgens mij meer troost bieden aan jonge ouders. De opvoedbijbel Oei, ik groei! bijvoorbeeld, waarvan je, steeds als je die vertwijfeld openslaat, de verlangde bevestiging krijgt dat je kind inderdaad een groeisprong maakt als het (bijvoorbeeld) acht weken oud is en (zoals bij ons) hysterisch huilend je kerstdiner ruïneert. Van dat leesvirus zal ik dus voorlopig nog wel niet genezen zijn.