De manière à obtenir un creux – So as to be a hole?
Eva Wissenburg

Op een dag, lang geleden, kreeg ik van mijn toenmalige pianolerares een boekje met gekopieerde bladmuziek van Erik Satie. Drie gymnopédies en zes gnossiennes waren het, samengesteld uit kopietjes van, zo op het oog, vijf verschillende uitgaven. Het boekje is bobbelig van het vocht en redelijk gehavend, want ik heb er al die jaren regelmatig uit gespeeld, en hoe ouder ik werd, hoe meer ik geïntrigeerd raakte door één specifiek aspect van het boek: de talige aanwijzingen bij de stukken, of liever nog, de vertalingen daarvan.
Satie neemt geen genoegen met het gebruikelijke allegro of moderato; slechts één keer zie ik in mijn boekje poco rallentando staan, maar ik vraag me af of die aanwijzing van Satie zelf komt, want behalve 'lent et douloureux', 'lent et triste', 'lent et grave', of 'lent' tout court (zoals bekend is zijn muziek vaak langzaam), voorziet hij zijn stukken liever van opmerkingen als: 'sans orgueil', 'seul, pendant un instant' en 'très perdu' (in het filmpje van Reinbert de Leeuw respectievelijk minuut 7.51, 9.57 en 11.01). Standaardaanwijzingen over tempo en aanslag gebruikt Satie niet of nauwelijks. In plaats daarvan lijkt hij eropuit de fantasie van de uitvoerder te prikkelen met dan weer verhalende, dan weer poëtische frasen.
Vaak komen de vertalingen wel ongeveer overeen met hoe ik het Frans lees. Naast 'sans orgeuil' staat in mijn uitgave 'don't be proud', naast 'seul, pendant un instant' staat 'alone, for a second' en naast 'très perdu' staat 'very lost'. Ook iets beeldender aanwijzingen lijken me treffend vertaald. Zo wordt 'du bout de la pensée' (minuut 3.04) bijvoorbeeld 'from the tip of the thought', naar analogie met 'du bout de la langue/from the tip of the tongue'. Maar bij de aanwijzingen die ik zelf ook nog steeds niet helemaal doorgrond, helpt de vertaling me niet altijd verder. Neem 'de manière à obtenir un creux', uit Gnossienne N° 3 (minuut 10.34). In het Engels wordt dat 'so as to be a hole', en hier begon het blinde vertrouwen dat ik ooit in de vertaling had de eerste haarscheurtjes te vertonen.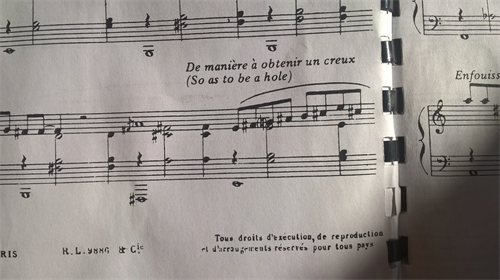 Dat 'creux' 'hole' wordt, snap ik. Het is een lastig woord dat op allerhande holtes kan slaan, maar betekent 'obtenir' niet dat je die holte moet zien te verkrijgen in plaats van dat je zelf een holte wordt? Moet je bij het spelen niet proberen een holte, een leegte, een niets te creëren? Cryptisch inderdaad, maar niet onbegrijpelijk als je de muziek erbij hoort. Een andere curieuze opmerking in de eerste gnossienne is 'postulez en vous-même', in het Engels 'wonder about yourself' (minuut 4.12). De Franse constructie is voor mij nog steeds niet helemaal doorzichtig. 'Postulez' kan inderdaad zoiets als 'stel je voor' betekenen, maar dat moet je volgens Satie, denk ik, ín jezelf doen, niet 'about yourself'.
Deze overpeinzingen maakten me nieuwsgierig naar de ontstaansgrond van de vertaling uit mijn boek, maar omdat het een kopietje is, weet ik niet veel meer over de uitgave dan dat ze afkomstig is van Éditions Salabert, volgens de eigen website de belangrijkste uitgever van Satie. Het copyright dateert van 1913, maar bij wie het precies berust is niet goed te lezen en wie de vertaling heeft gemaakt zie ik ook nergens. In de hoop een complete editie te vinden, misschien zelfs met informatie over de vertaler, toog ik naar Broekmans & Van Poppel, maar daar vond ik alleen hun eigen uitgave van de gnossiennes, tot mijn plezier wel met een (opnieuw Engelse) vertaling.
Ook in deze uitgave, uit 1976, staat geen vertaler genoemd, maar er staat wel een naam op de titelpagina: G. Hengeveld. Dit zal de pianist en componist Gerard Hengeveld zijn, die veel studiemateriaal bij deze uitgeverij uitbracht en behalve zijn eigen composities ook uitgaven van andermans werk verzorgde. Het is heel goed mogelijk dat hij ook verantwoordelijk is voor de vertaling, al wordt dat nergens gezegd. Dit boek begint erg naar mijn zin met een voetnoot bij de eerste gnossienne: 'The title is most likely a vague allusion to Cnossus, Knossos, or Gnossos, an ancient city on the island of Crete', maar de vertalingen laten vooral zien dat Saties aanwijzingen op zijn minst voor meerderlei uitleg vatbaar zijn.
De twee gewraakte aanwijzingen worden hier respectievelijk 'how to achieve absolutely nothing' en 'make your own demands'. 'Achieve' neigt dan misschien naar mijn eigen uitleg van 'verkrijgen', maar de constructie met 'how to' laat zien dat de vertaler en ik deze aanwijzing verschillend opvatten. De Engelse constructie impliceert een vraag, terwijl ik het Frans lees als een aansporing tot een modus ≈ 'speel dit alsof je een leegte probeert te scheppen'. Bovendien, als je het Frans niet door de aanwijzing heen zou zien schemeren, zou je zomaar kunnen denken dat Satie zich hier afvraagt hoe je ervoor kunt zorgen dat je helemaal niets voor elkaar krijgt.
'Make your own demands' is welhaast het tegendeel van 'wonder about yourself', terwijl het een vertaling van dezelfde zin is, maar ook deze interpretatie is goed te verklaren. 'Postuler' kan behalve 'voorstellen' ook 'eisen' betekenen en als je iemand opdraagt in gedachte ('en vous-même') eisen te stellen, is de stap naar 'make your own demands' inderdaad niet zo groot. Toch durf ik over geen van beide vertalingen te zeggen dat ze 'kloppen', zoals ik ook van beide niet al te stellig wil beweren dat ze het bij het verkeerde eind hebben.
Waarschijnlijk zijn er voor deze aanwijzingen verschillende vertalingen mogelijk, zoals iedereen de stukken ook op een andere manier speelt, maar juist dat maakt me benieuwd naar de beweegredenen van de vertalers. Baseerden ze zich op het Frans, op de muziek, op hun kennis van Satie? Het lijkt me mooi als vertalers zich ook in dit soort uitgaven lieten zien en ons deelgenoot maakten van hun overwegingen. Nu oogt de vertaling in elke uitgave als 'de waarheid', terwijl juist al deze verschillende interpretaties laten zien dat het Satie is gelukt om met zijn aanwijzingen de fantasie te prikkelen...
... hoewel niet iedereen het erover eens is dat zijn opmerkingen multi-interpretabel zijn: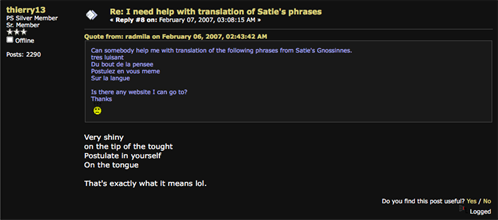 Bronvermelding
Satie; Three Gnossiennes for the piano. Verzorgd door G. Hengeveld. Amsterdam: Broekmans & Van Poppel, 1976.
Gnossienne 1, 2 en 3 in de uitgave van Éditions Salabert, Parijs, 1913.