High Windows / Hoge vensters
Neuken, bebloede vogels en eindeloos geluk in vertaling
Lorenz De Witte-Vroman

Mijn favoriete gedicht – en het enige gedicht dat ik uit het hoofd ken – is er eentje van Philip Larkin, 'This Be The Verse'. In twaalf eenvoudige versregels in gekruist rijm krijgt de lezer te horen hoe kinderen door hun ouders voor het leven worden getekend. Waarom net dit gedicht? Omdat het als volgt begint: 'They fuck you up, your mum and dad'. Iedereen herkent wel iets van zichzelf in een disfunctionele familie. Maar het zijn Larkins gevloek en snijdende sarcasme die me het meest intrigeren. In heel zijn oeuvre komt het woordje 'fuck' slechts driemaal voor, twee keer in dit gedicht en eenmaal in 'High Windows', het titelgedicht van zijn vierde en laatste bundel.

Philip Larkin (1922 - 1985)
'High Windows' laat zich minder gemakkelijk ontrafelen dan 'This Be The Verse'. Neil Forsyth heeft het over 'a puzzle at the heart of [the poem] that has never been solved' (1).
High Windows
When I see a couple of kids
And guess he's fucking her and she's
Taking pills or wearing a diaphragm,
I know this is paradise
Everyone old has dreamed of all their lives—
Bonds and gestures pushed to one side
Like an outdated combine harvester,
And everyone young going down the long slide
To happiness, endlessly. I wonder if
Anyone looked at me, forty years back,
And thought, That'll be the life;
No God any more, or sweating in the dark
About hell and that, or having to hide
What you think of the priest. He
And his lot will all go down the long slide
Like free bloody birds. And immediately
Rather than words comes the thought of high windows:
The sun-comprehending glass,
And beyond it, the deep blue air, that shows
Nothing, and is nowhere, and is endless.
 De vier lange, meanderende zinnen van 'High Windows' vallen uiteen in drie delen. De eerste zin, die net niet de helft van het gedicht beslaat, vormt het eerste deel. Het begint platvloers met de aanblik van 'a couple of kids' die er vermoedelijk seksuele betrekkingen op na houden. Afgunstig contempleert het lyrisch ik de seksuele vrijheid die de jeugd heeft verworven en het geluk dat hun ten deel valt. In het tweede deel, zinnen twee en drie, vraagt het dichterlijk ik zich af of veertig jaar eerder iemand hém zijn vrijheid van de kerk en van God benijdde. Een alledaagse gebeurtenis in het heden geeft aanleiding tot reflectie over het verleden. Noch seksuele vrijheid noch secularisatie staat garant voor geluk; de glijbaan is eindeloos en het zijn  'bloody free birds'. In het derde en laatste deel, dat samenvalt met de vierde zin, doemt als bij toverslag de toekomst op in de vorm van de 'high windows', waarachter een blauwe hemel zich eindeloos uitstrekt. Het gedicht opent met het weinig hoogdravende 'fucking', maakt vervolgens een vergelijking met een 'combine harvester', die het gedicht iets ruraals geeft en eindigt bij het transcendentale, epifanische beeld van oneindige hemel. Volgens sommigen wijst dit blauw op de dood – een geliefd thema in Larkins poëzie – anderen linken het aan het ongrijpbare geluk uit de eerste twee delen. Wat die vensters daar precies doen, blijft een raadsel. Het gedicht roept meer vragen op dan het antwoorden aanreikt. Ik was dan ook verrast toen ik ontdekte dat Jan Eijkelboom zich in 1981 aan een vertaling van dit kleine enigma had gewaagd.
Hoge vensters
Als ik een stel kinderen zie lopen
en denk dat hij haar neukt en dat zij
aan de pil is of een schildje heeft,
weet ik: dit is het paradijs
waar ouderen hun leven lang van dromen.
Banden, gebaren - het wordt afgedaan
als een versleten oogst-combine,
en iedereen die jong is gaat de glijbaan
af naar eindeloos geluk. Heeft iemand
veertig jaar geleden naar mij gekeken
en gedacht: Dit wordt pas leven, geen
God meer en geen klamme angst in 't donker
om dàt en om de hel, moeten verbergen
wat je denkt voor de pastoor; hij en
zijn soort gaan ook de glijbaan af
als vrije klotevogels? En meteen
komt eerder dan woorden de gedachte
aan hoge vensters, zon-omvattend glas,
het diepe blauw daarachter, dat niets
aantoont, nergens is, er altijd was.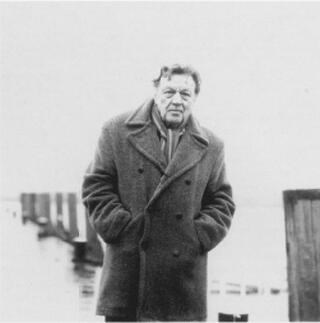 Jan Eijkelboom (1926 - 2008)
Wat meteen opvalt is hoe Eijkelboom tracht het spreektalige karakter van het gedicht te behouden. Hij verdeelt het gedicht in vier zinnen, net als Larkin, al verplaatst hij de leestekens. Eijkelboom plaatst een punt aan het einde van de vijfde regel en voegt Larkins tweede en derde zin met behulp van een puntkomma samen. Die puntkomma is enigszins ongelukkig. Waar in het Engels 'he and his lot' voor mij duidelijk terugverwijst naar het lyrisch ik en zijn leeftijdsgenoten, zorgt de puntkomma er in het Nederlands voor dat 'hij en zijn soort' veel dichter bij 'de pastoor' komt te staan. Heeft nu ook de pastoor vrijblijvende seksuele betrekkingen? Eijkelboom bewaart de enjambementen, die verzen en strofes met elkaar weten te verbinden, al zorgt ook hier de Nederlandse syntaxis voor wat aanpassingen. 'the life; / No God' wordt 'geen / God'. Geen slechte keuze, de afwezigheid van God wordt zo nog eens extra in de verf gezet. Dit alles gaat enigszins ten koste van het rijm, voor zover daarvan al sprake was in het origineel. Hier en daar rijmt een 'slide' op 'side' of 'hide' maar veelal treffen we heel verre verwanten als 'back' – 'dark' aan. Niet alleen banden en gebaren, ook het rijmschema wordt afgedaan, des te meer in het Nederlands waar alleen 'glijbaan' en 'afgedaan', en 'glas' en 'was' rijmen en in de verte 'geen' en 'meteen'.
Eijkelbooms zinnen meanderen er niet minder om dan die van Larkin. En toch zit me iets dwars. Aan het einde van de eerste zinstaat ironisch genoeg net voor de punt het woord 'endlessly'. Hier doet Eijkelboom iets geks. Larkin beschrijft hoe jongeren de glijbaan afgaan naar het geluk, maar voegt er dan aan toe dat die tocht nooit eindigt. De neerwaartse beweging zet zich ad infinitum voort. In de vertaling daarentegen gaat 'iedereen die jong is' de 'glijbaan / af naar eindeloos geluk'. Larkins glijbaan slingert verder en geluk wordt nooit bereikt. Die van Eijkelboom is lang maar leidt uiteindelijk naar eindeloos geluk. Oneindig geluk klinkt misschien als een gelukzalige toestand, maar geluk zonder de nodige tegenslag is niet minder beangstigend dan zijn onbereikbare variant. Beide teksten stralen dus een zeker pessimisme uit dat ook op andere plaatsten terugkomt. De neerwaartse beweging van een glijbaan bijvoorbeeld contrasteert met de vermelding van het paradijs en suggereert zo dat de kinderattractie misschien uitmondt in de hel. Het beeld van 'free bloody birds', die naar beneden duiken, versterkt alleen maar dat gevoel.
Het gedicht eindigt met een tweede 'endless'. Waar zich eerder een eeuwige neerwaartse beweging voltrok, staat de lezer nu tegenover de stilte van een blauwe hemel die 'niets aantoont, nergens is'. De uitgestrekte lucht lijkt tegengewicht te bieden aan de woeste, eeuwig glijdende maar nooit succesvolle zoektocht naar geluk. In die eindeloze blauwe hemel ligt onze onvermijdelijke toekomst, de dood, besloten. Maar misschien is er ook een sprankeltje hoop op waar geluk. Per slot van rekening zakt het lyrisch ik hier niet af richting hel maar kijkt op naar de hemel. Eijkelboom eindigt niet met 'eindeloos' maar met 'er altijd was' – vreemd genoeg in de verleden tijd. Zowel zijn glijbaan als zijn hemel impliceren een zekere eeuwigheid, het contrast tussen hemel en hel is bij lange na niet zo duidelijk als bij Larkin. Bij Eijkelboom is dan ook weinig plaats voor hoop in de onvergankelijke blauwe hemel, al helemaal niet wanneer je via de glijbaan naar een eeuwig maar oppervlakkig geluk kunt afzakken. In zeker opzicht is Eijkelbooms gedicht naargeestiger en pessimistischer dan het origineel.
'They fuck you up, your mum and dad. / They may not mean to, but they do.' Ouders, ze ondernemen de heldhaftigste pogingen om hun klein grut op te voeden tot verantwoordelijke volwassenen. Het kost ze bloed, zweet en tranen. En toch gaat er hier en daar iets mis, weten ze hun kroost te traumatiseren, hun eigen onhebbelijkheden door te geven. Misschien gaat iets gelijkaardigs wel op voor het maken van poëzievertalingen. Begeesterd werkt de vertaler tot in de vroege uurtjes om de ruwe kantjes van zijn kleinood af te slijpen. Toch treden ook hier oneffenheden op, worden de kleinste barstjes zichtbaar. Als ouder tracht je steeds bij te vijlen, als vertaler kun je na publicatie vaak weinig veranderen. Maar waar je slechts enkele keren moeder of vader wordt, heeft de vertaler talloze nakomelingen. Iedere vertaling is een nieuwe kans, een kans om het beter te doen. Deze vertaling hoeft niet de laatste te zijn, er kunnen er nog vele volgen. Misschien ligt daarin wel een sprankeltje hoop, misschien is dat wel wat ik zie achter die hoge vensters, misschien is dat het ware geluk.
Bronnen
Dilworth, T. 2002. 'Larkin's High Windows', The Explicator, 60:4, p. 221-224.
Larkin, P. 1974. High Windows. London: Faber and Faber.
Eijkelboom, J. 1981. 'Hoge vensters', De Tweede Ronde, jaargang 2, p. 157.
Lorenz De Witte-Vroman (1995) studeerde westerse literatuur aan de KU Leuven en volgde het voorbije academiejaar het postgraduaat literair vertalen

Philip Larkin leest 'High Windows'
Reageren? info@tijdschrift-filter.nl.