Meertalig biechten in de praktijk, zonder visum
Jan Gielkens

'Dit is maar een kastanjepoffer,' laat de Oostenrijkse schrijver Joseph Roth (1894–1939) in zijn roman Die Kapuzinergruft (1938) iemand kort na het einde van de Eerste Wereldoorlog en dus ook kort na het einde van de Oostenrijks-Hongaarse dubbelmonarchie zeggen over een medepersonage: 'maar moet u eens zien: het is zonder meer een symbolisch beroep. Symbolisch voor de oude monarchie. Deze heer heeft zijn kastanjes overal verkocht, in half Europa, mag je wel zeggen. Overal waar men zijn gepofte kastanjes at, was Oostenrijk, regeerde Franz Joseph. Nu zijn er geen tamme kastanjes meer zonder visum. Wat een wereld!' Het tafereel speelt zich af in Wenen.
Het is, zelfs als je in vakantietenue een paar dagen door Wenen zwerft, niet moeilijk te constateren dat deze prachtige stad ooit veel meer was dan de hoofdstad van wat nu de Republiek Oostenrijk is. Breng maar eens een bezoek aan die Kapuzinergruft waar de roman naar genoemd is, de crypte onder het Kapucijnenklooster in het centrum van de stad waar tientallen hoogwaardigheidsbekleders uit vier eeuwen Oostenrijkse geschiedenis hun laatste rustplaats hebben gevonden. De voorlaatste keizer Franz Joseph (die in 1916 hoogbejaard overleed) ligt naast zijn echtgenote Elisabeth, die we natuurlijk allemaal en vooral kennen van de Sissi-films.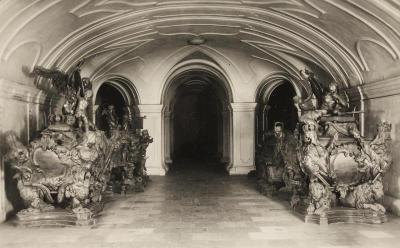 Impressie van de Kapuzinergruft (foto ca. 1930)
De landkaart van nu laat zien dat Oostenrijk acht buurlanden heeft. Een groot deel van die landen, en nog een paar andere, lag tussen 1867 en 1918 binnen de grenzen van de dubbelmonarchie. Het grondgebied omvatte (delen van) de huidige staten Bosnië en Herzegovina, Hongarije, Italië, Kroatië, Montenegro, Oekraïne, Oostenrijk, Polen, Roemenië, Slovenië, Slowakije, Tsjechië en Servië. Joseph Roths geboorteplaats was Brody, nu in de Oekraïne, ten tijde van Roths geboorte gelegen in het Kroonland Galicië. Het hierboven geciteerde personage uit Die Kapuzinergruft heeft een Poolse naam, de kastanjeverkoper over wie hij het heeft komt uit het gebied dat we ooit Joegoslavië noemden.
Eerder in de roman heeft Roth de persoon met de Poolse naam, graaf Chojnicki, in een mooie alinea de culturele en etnische complexiteit van de Vielvölkerstaat Oostenrijk-Hongarije laten formuleren:
In deze monarchie […] is niets merkwaardig. […] Ik bedoel hiermee: wat zogenaamd merkwaardig is voor Oostenrijk-Hongarije, is vanzelfsprekend. Tegelijk bedoel ik er ook mee: alleen dit idiote Europa van nationale staten en nationalismen vindt wat vanzelfsprekend is vreemd. Het zijn weliswaar de Slovenen, de Poolse en Roetheense Galiciërs, de kaftanjoden uit Boryslaw, de paardenkooplui uit de Bacska, de moslims uit Sarajevo, de kastanjepoffers uit Mostar, die 'Gott erhalte' zingen. Maar de Duitse studenten uit Brünn en Eger, de tandartsen, apothekers, kappersbedienden, de kunstfotografen uit Linz, Graz en Knittelfeld, de kroplijders uit de Alpendalen, zij allen zingen 'Die Wacht am Rhein'.
De alinea wordt afgesloten met de constatering dat het wezen van Oostenrijk niet het centrum is, maar de periferie.
Het dubbelmonarchiegevoel werd dus beleefd tot in de uithoeken van Oostenrijk-Hongarije, maar het centrum van de staat was toch Wenen, en de taal waarin het allemaal plaatsvond was het Duits. Tenminste, dat is wat ik – eigenlijk tegen beter weten in – altijd dacht. Want Oostenrijk-Hongarije en wat daaraan historisch voorafging was natuurlijk niet alleen een Vielvölkerstaat, maar ook een veeltalig complex van landen, volkeren en bevolkingsgroepen, met alles wat daarbij komt kijken. Een groot aantal talen moest het met elkaar zien te vinden. Over de praktische consequenties daarvan had ik eerlijk gezegd nooit goed nagedacht. De vondst van een Mehrsprachiges Handbüchlein op de zaterdagse rommelmarkt op de Linke Wienzeile in Wenen maakte me duidelijk dat ik dat misschien toch eens moest doen.
Ik had al een plankje met dit soort oudere veeltalige taalgidsjes voor praktisch gebruik, en bij allemaal vraag ik me af hoe praktisch ze eigenlijk waren. Het zou kunnen dat de Meyers Bildsprachführer voor de talen Duits, Russisch, Oekraïens en Georgisch, in 1943 uitgegeven door het Bibliographisches Institut in Leipzig ten behoeve van de oostwaarts trekkende soldaat, vanwege de verduidelijkende afbeeldingen wel nuttig is geweest, maar ik stel me dan toch vooral situaties voor waarbij de verbale communicatie geen grote rol speelde – mijn exemplaar is dan ook niet gebruikt zo te zien. Van een paar jaar later is de All Services Polyglott Diary, in 1945 uitgegeven door de Australische uitgeverij Collins; de soldaten voor wie dit boek bedoeld was konden kiezen uit de volgende talen: Frans, Spaans, Portugees, Nederlands, Japans en Maleis, de talen dus die toen in hun deel van de wereld werden gesproken en die er op dat moment van de geschiedenis toe deden.
| | |
| --- | --- |
| | |
Een van de interessantste boekjes uit mijn kleine collectie is de Miners' Companion in English, Afrikaans, Sesuto and Mine Kaffir for the Use of Miners on the Gold Mines of the Witwatersrand and Extensions, in 1938 in Johannesburg uitgeven door The Prevention of Accidents Committee of The Rand Mutual Assurance Co. Ltd. Behalve een woordenlijst van nuttig geachte woorden bevat het boekje Engelse zinnen als 'You must not drink the mine water' en 'You are not sick but lazy' met vertalingen in de diverse talen. Mijn exemplaar is actief gebruikt, want de binnenkanten van het omslag bevatten in handschrift een aantal aanvullingen in talen die het gidsje niet biedt, waaronder – dat leert een zoektochtje op het internet – in het Malayalam. Er waren dus blijkbaar werknemers van Indiase komaf die geen Engels, Afrikaans, Sesuto en 'Mijnkaffers' konden spreken of verstaan.
Het exemplaar van het meertalige Handbüchlein dat ik op de Weense rommelmarkt vond heeft geen gebruikssporen. Het is heel netjes gebleven in de honderd jaar die het heeft overleefd, want het is uit 1915, drie jaar vóór het einde van de dubbelmonarchie. Het voorwoord is ondertekend met 'Der Verfasser', en die blijft naamloos, ook in de persoonlijke opdracht in handschrift die bij dat voorwoord staat. De titelpagina duidt de auteur aan als 'Volksmissionär'. De volledige titel van het boekje luidt: Mehrsprachiges Handbüchlein oder Anleitung, die einen jeden Priester befähigt, in den in Oesterreich-Ungarn gebräuchlichen Sprachen Beicht zu hören. De bedoelde, in de dubbelmonarchie voor de biecht gangbare talen zijn Duits, Hongaars, Tsjechisch, Pools, Kroatisch, Slowaaks, Oekraïens, Roemeens, Sloveens en Italiaans. Behalve de titel in al deze talen vermeldt de titelpagina ook nog dat het handboekje in eigen beheer werd uitgeven door het Missionshaus van de lazaristen in Wenen.
Het voorwoord is tevens gebruiksaanwijzing. 'Als de biechteling goed kan lezen, verdwijnt elk probleem,' schrijft de volksmissionaris. 'Het is voldoende hem naar de afdeling van het Handboekje te verwijzen die in zijn eigen taal is geschreven.' Er staan inderdaad in tien talen lange lappen tekst in het boekje over relevante thema's, uit te spreken of ter lezing voor te leggen bijvoorbeeld 'Wanneer een zieke onwetend en niet in staat is, een volstandige biecht af te leggen', of 'Bij een zieke, die helemaal niet katholiek is, of wiens religie onbekend is'. Er zijn ook vragen die gesteld kunnen worden, bijvoorbeeld over bepaalde doodzonden: 'Bent u gierig geweest?' Of: 'Bent u onmatig geweest bij het eten en drinken?' Opvallend bij al deze vragen en teksten is dat de biecht nogal een eenzijdig gebeuren is: er is niet voorzien in antwoorden van de biechtelingen.
Behalve dat ik dat ook wel vind passen bij het wezen van de katholieke biecht (ik ben in Zuid-Limburg geboren, dat zegt hopelijk genoeg), vraag ik me toch ook hier af hoe ik me het gebruik van het boekje moet voorstellen. Had een biechteling nu ook zo'n boekje, of werd het telkens aan hem of haar overhandigd met de vinger bij de goede vraag? En hoe ging dat heen en weer reiken in de biechtstoel met dat roostertje tussen priester en biechteling? Waren de kleine letters van het Handbüchlein wel leesbaar in zo'n donker hok? En als het om een thuisbiecht ging, kreeg een Duitstalige volksmissionaris dan in een eenvoudig huisje in een buitenwijk van Brzezia Łąka, ondanks de handige uitspraakadviezen voor elke taal, soepel de vraag 'Czyś nie popelnił cudzołóstwa?' uit zijn mond wanneer hij van een Poolse zondaar wilde weten of hij de echt had gebroken? Misschien is het antwoord op dergelijke vragen wel ergens te vinden, maar hoe moet je beginnen met zoeken in dat enorme Oostenrijks-Hongaarse rijk?
*
De citaten uit Die Kapuzinergruft (Bilthoven: De Gemeenschap, 1938) zijn hier weergegeven in de vertaling van Wilfred Oranje: De Kapucijner Crypte (Amsterdam/Antwerpen: L.J. Veen, 2015, 6e druk), p. 16-17 resp. 156.
Over het intrigerende 'Mine Kaffir' vind ik dit: https://nl.wikipedia.org/wiki/Fanagalo.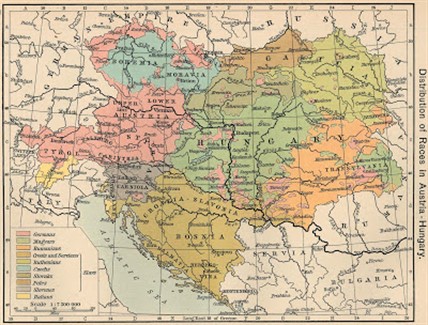 Kaart Oostenrijk-Hongarije, uit: The Historical Atlas, W.R. Shepherd, 1911.