Tolken tegen wil en dank
Krotoa en Malintzin, verguisde boegbeelden van nieuwe realiteiten
Roemer Leushuis

In Filter is al eens aandacht besteed aan de befaamde en verguisde tolk Malintzin of La Malinche, onder andere in een artikel van Ilse Logie en mijzelf. Het mengsel van mythe en legende rond Malintzin speelt nog steeds een belangrijke rol in de muziek, cultuur, geschiedschrijving en politiek, niet alleen van Mexico, maar ook elders in de Spaanstalige wereld. Tot mijn verbazing heeft Nederland een eigen Malintzin: Krotoa.
Malintzin
Malintzin, door de Spanjaarden Doña Marina en door latere generaties La Malinche genoemd, leefde in Mexico in het begin van de zestiende eeuw, toen de Spanjaarden onder leiding van Hernán Cortés bezig waren met de verovering van de kolonie die ze Nieuw Spanje noemden, waar Azteken en andere volkeren leefden. Waarschijnlijk is ze als dochter van een aristocratische familie opgegroeid in de omgeving van Veracruz, waar Náhuatl werd gesproken. Na de dood van haar vader en een tweede huwelijk van haar moeder werd ze mogelijk verkocht aan een groep rondtrekkende slavenhandelaren. Daarop is ze enige malen van eigenaar verwisseld. Ze belandde uiteindelijk bij een groep Maya's en leerde hun taal spreken. Vervolgens zou ze, samen met 19 andere vrouwen, geweven stoffen en wat goud, zijn geschonken aan Cortés, bij wijze van zoenoffer na een overwinning.
Ze leerde al snel Spaans en begon langzamerhand voor Cortés te tolken tussen het Spaans, het Náhuatl en het Maya. De moderne kwaliteitseisen voor tolken waren nog niet van toepassing, dus waarschijnlijk lette niemand erop of zij betekenis, register, connotaties en dergelijke feilloos weergaf in de doeltaal. Zo had ze de vrijheid om tijdens haar tolkwerk langzamerhand de rol van diplomaat aan te nemen. Ze onderhandelde namens Cortés met min of meer vijandige partijen, die soms verbluft waren dat de Spanjaarden zich lieten vertegenwoordigen door een vrouw. Ze begon Cortés te adviseren over de aanpak van zijn veroveringen en over het smeden van allianties om de verovering succesvol te laten verlopen, misschien ook om onnodig bloedvergieten te voorkomen. Ze kreeg bovendien een zoon met Cortés. De Spaanse soldaten droegen hun Doña Marina op handen.
Vooral vroeger bestond er veel onduidelijk over de historische rol van Malintzin, maar dat heeft latere generaties in Mexico en Spanje er niet van weerhouden haar op te hemelen of te verguizen. Mexicaanse nationalisten hebben haar geïdealiseerd als de moeder van de Mexicaanse natie, de vrouw die onvoorwaardelijk achter haar man, Hernán Cortés, stond.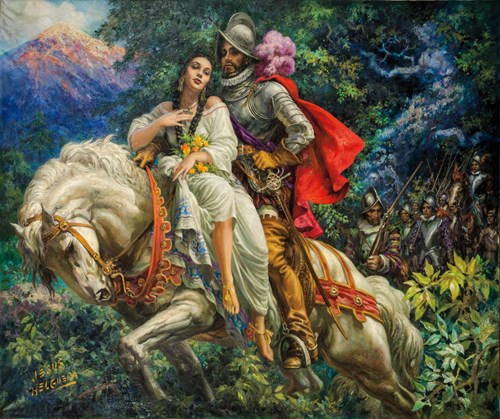 Cortés en Malinche, romantische voorstelling door Jesús Helguera (1941). © Calendarios Landin/Quintana Corral Family/Carolina Performance
Voor de verdedigers van de rechten van de inheemse bevolking (indigenistas) werd zij de apotheose van verraad. In zijn essay over de Mexicaanse identiteit El laberinto de la soledad (1950, vertaald door Robert Lemm als Het labyrint der eenzaamheid) schildert Octavio Paz haar af als de vrouw die haar eigen, inheemse gemeenschap heeft verraden, maar vervolgens door de Spaanse bezetter is verkracht en moeder werd van de eerste Mexicaanse kinderen van gemengd Spaans en inheems bloed. Haar kinderen, de Mexicanen, hebben haar niet vergeven voor het verraad en hebben de band met hun moeder verbroken.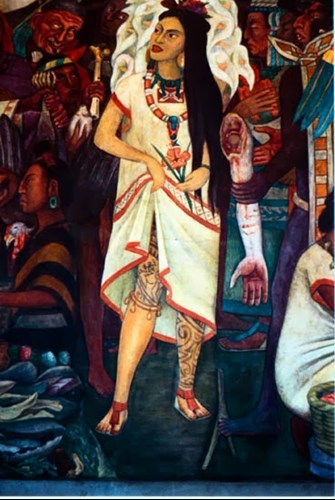 Diego Rivera, La Malinche, muurschildering (eigen foto)
Haar verguizing bereikte een hoogtepunt in het lied La Maldición de Malinche (De vervloeking van Malinche), van Gabino Palomares en Amparo Ochoa, voor mijzelf de eerste kennismaking met La Malinche.
Ik kan het niet laten om, voordat ik op Krotoa, onze eigen Nederlandse Malinche, kom, nog even te wijzen op de meest recente manier waarop de historische rol van Malintzin is verdraaid en voor commercieel gewin misbruikt. In september dit jaar is in Madrid Malinche: The Musical ten tonele gebracht. Ondanks kritiek vanuit verschillende hoeken dat de meest conservatieve en kolonialistische versie van het verhaal van Malintzin in 2022 toch weer opnieuw wordt gepresenteerd, kon de musical rekenen op volle zalen. Onder meer de trumpistisch rechtse Isabel Ayuso, president van de regio Madrid, liet zichzelf fotograferen tijdens de première. Ter illustratie: Ayuso heeft eerder gezegd dat Spanje 'het katholicisme en dus de beschaving en de vrijheid naar het Amerikaanse continent heeft gebracht'.
Krotoa
Wij Nederlanders hadden ook zo'n tolk tegen wil en dank, maar zij is alleen bekend in Zuid-Afrika. Ze heette eigenlijk !Oroǀõas, waarbij ! en ǀ staan voor klikklanken die voor Nederlanders onuitspreekbaar bleken. De Nederlanders noemden haar Krotoa of, nadat ze christelijk was gedoopt, Eva. Zij was een Khoisan-meisje dat rond 1653, op haar tiende of elfde, mogelijk gedwongen, werd opgenomen in de huishouding van Jan van Riebeeck, de eerste gouverneur van de VOC-kolonie op de Zuid-Afrikaanse Kaap. Zij leerde er Engels, Nederlands, Frans en Portugees, en werkte als tolk voor Van Riebeeck bij zijn onderhandelingen en vooral conflicten met de Khoi-Khoi. Net als Malintzin nam ze daarbij steeds meer de rol aan van diplomaat en adviseur. Ze droeg Nederlandse rokken en jurken wanneer ze in het kleine fort was, maar keerde als puber korte tijd terug bij haar Khoisan-gemeenschap. Terug in het Nederlandse fort trouwde ze met een Deense chirurgijn die ook in de kolonie woonde en met wie ze kinderen kreeg, volgens de overlevering de eerste Zuid-Afrikanen. Net als Malintzin werd ze door haar eigen volk voor verrader uitgemaakt. Na de dood van haar man ging het slechter met haar. Ze raakte aan de drank, werd beschuldigd van losbandigheid, vluchtte uit de kolonie, werd weer gevangengenomen en uiteindelijk naar Robbeneiland verbannen, waar ze in 1674, op ongeveer 32-jarige leeftijd, overleed. De Nederlandse kroniekschrijvers concludeerden, terugblikkend op haar leven, dat het beschaven van inlanders parelen voor de zwijnen was. De Zuid-Afrikanen beschouwen haar verhaal als een belangrijk deel van hun cultureel erfgoed. In 2017 is een speelfilm gemaakt over haar leven.


Voorstelling van Krotoa
We moeten oppassen met koloniale vestigingsmythes. De Amerikaanse historica Pamela Scully schrijft: 'A rich literature reveals how explorers and travelers rendered the Americas through a gendered and sexualized reading that saw the land as a woman, often as a passive indigenous woman, therefore open to the embrace and penetration of Europe.' (Scully 2005) Deze voorstellingswereld zou best eens ten grondslag kunnen liggen aan de overleveringen over Malintzin en Krotoa. Maar het (waarschijnlijk juiste) beeld van Malintzin en Krotoa als slachtoffers van mensenhandel en jonge vrouwen uit de inheemse elite die door de witte, mannelijke kolonisator zowel als tolk werden uitgebuit als seksueel werden misbruikt, wordt niet benadrukt in de documentaire (over Malintzin, 2019) en de speelfilm (over Krotoa, 2017) die zijn verschenen over hun levens. In deze films zie je twee vrouwen die werden verscheurd door tegengestelde machten, maar zich snel aanpasten aan de nieuwe koloniale realiteit, geholpen door hun talent voor talen, tolken en diplomatie. Beiden probeerden bloedvergieten te voorkomen door te bemiddelen tussen de leiders van de inheemse groepen en de kolonisatoren, omdat ze zich bij beide groepen betrokken voelden.
Wat er ook van zij, ik vind dat Krotoa in Nederland meer aandacht verdient. Hoezeer de naam van Malintzin in Spanje ook wordt misbruikt, daar krijgt zij tenminste aandacht. In Zuid-Afrika staat Krotoa bekend als de moeder van de natie, terwijl zij hier in Nederland bijna onbekend is.
Bronnen
Roberta Durrant, 2017 Krotoa (speelfilm, Zuid-Afrika) https://www.youtube.com/watch?v=1xm6UOp4eNI
Krotoa Eva, South African History Online https://www.sahistory.org.za/people/krotoa-eva
Krotoa, Translator, Negotiator & Peacemaker (1642 – 1674) https://www.capetownmuseum.org.za/they-built-this-city/krotoa
Scully, Pamela, 2005 'Malintzin, Pocahontas, and Krotoa: Indigenous Women and Myth Models of the Atlantic World' Journal of Colonialism and Colonial History 6:3
Fernando González Sitges, 2019 Malintzin, la historia de un enigma (documentaire, Mexico)    https://www.youtube.com/watch?v=S2P58qu_pZo
Patricia Gosálvez, 2022 'Todos quieren ahora a La Malinche', El País 09-10-2022 https://elpais.com/cultura/2022-10-09/todos-quieren-ahora-a-la-malinche.html