Lebe das jahrige Vondelpark!
Jan Gielkens

De onlangs verschenen zomeraflevering van de papieren Filter bevat twee artikelen over machinaal vertalen. Telkens weer interessant om te lezen hoe wij van het vak laveren tussen kritisch hoopvol en net zo kritisch sceptisch. Er zijn, dat vind ik dan, helaas meer redenen om sceptisch te zijn dan optimistisch. Ik heb wel eens een vrijdagse Filter-column gewijd aan het fenomeen van het misplaatste vertrouwen in een vertaalmachine.
Waarom willen wij van het vak eigenlijk zo graag dat dat machinaal vertalen werkt en nuttig is? Het gevolg kan toch alleen maar zijn dat nog meer mensen denken dat het overzetten van de ene taal in de andere een fluitje van een cent is en dat iedereen dat eigenlijk wel kan, zeker als het Engels of Duits is. Want wat maakt het nou uit of de toerist die door Amsterdam slentert ergens op het Damrak op het menubord op de stoep een 'Snitsel' krijgt aangeboden Of, als toetje, een 'desert'?
En soms maakt het ook niet uit wanneer iemand een taal gebruikt die hij niet goed beheerst tegenover mensen die dat wel doen. Ik liep onlangs mee met een rondleiding in het Duits door een historische binnenstad in het westen van het land, en de zeer deskundige Nederlandse gids maakte er een potje van: naamvallen, umlauten, alles was niet wat het volgens de regelen der kunst had moeten zijn, maar het was allemaal begrijpelijk, en de rondgeleide gasten vulden aan als de gids naar een woord zocht. Iedereen was vol bewondering over de taalkennis van de gids.
Maar soms maakt het wel uit. Als het om gedrukte of – in het geval van een website – schriftelijk gefixeerde informatieve teksten gaat, zoals in het geval van de Europeana-website waarover mijn hierboven gelinkte column gaat. Om gedrukte teksten gaat het hieronder ook, en wel teksten uit 1965. Toen werd er al uitgebreid en optimistisch over computervertalen nagedacht; Hugo Brandt Corstius schreef er in 1973 een amusant stuk over in Hollands Maandblad. Rond diezelfde tijd kregen wij als studenten Duits in Utrecht ook van een linguïst te horen dat de toekomst van de vertaalmachine rooskleurig was.
In 1965 waren er nog geen publieksvriendelijke vertaalcomputers, maar ook toen al was ongetwijfeld de opvatting wijd verbreid dat iemand met een goede middelbareschoolopleiding en 'dus' met een gedegen kennis van het Nederlands en de drie moderne talen een heel eind kon komen zonder een specialist in te schakelen. Dat dat niet altijd goed ging, documenteert Het Parool van 29 april 1965. Het dagblad drukte onder de titel 'Lebe das jahrige Vondelpark!' een pagina af uit een catalogus die eerder die maand was verschenen bij een beeldententoonstelling ter gelegenheid van het honderdjarig bestaan van die lap groen in de hoofdstad. Tentoonstelling en catalogus waren samengesteld door de voormalige directeur van het Stedelijk Museum, Willem Sandberg. Diens naam stond weliswaar niet op de titelpagina van de catalogus, en ook niet onder het Nederlandstalige voorwoord, maar wel, zij het zonder voornaam, onder de Franse versie ervan, een pagina verder. Nog twee pagina's verderop stond, na de Engelse, de Duitse versie, en die drukte de krant af: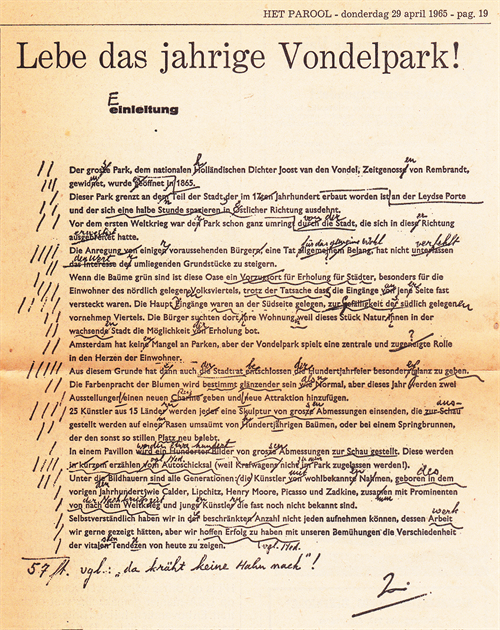 De redactie had de tekst voorgelegd aan 'een alleszins bevoegd leraar aan een van de Amsterdamse gemeentelycea […] om Sandbergs werkstuk met onderwijsblik te bekijken'. Ongetwijfeld nadat er van alle kanten over de tekst was geklaagd, want ondertussen, laat de krant weten, heeft ook de verantwoordelijke man van de gemeente Amsterdam 'ontdekt dat de tekst van de catalogus wel eens een amateuristische indruk zou kunnen maken op de buitenlandse bezoekers'. Dat gold, en dat is niet zo moeilijk vast te stellen, ook voor de Franse en de Engelse vertalingen. De remedie van de gemeenteman was deze: de tekstbladzijden van de catalogus kunnen zonder schade uit het boekje worden verwijderd en er komt een inlegvel met een nieuwe vertaling, gemaakt door een beëdigd vertaler.
Maar de oplossing was toch een andere: er kwam een tweede druk, waarin niet alleen het Duits radicaal veranderde, maar ook het Frans en het Engels. De naam van Sandberg verhuisde van de Franse naar de Nederlandse tekst. Vergelijking leert dat de beëdigd vertaler van de Duitse tekst zich van de correcties in Het Parool niets heeft aangetrokken en zijn eigen Duits heeft gebruikt. Dat is nog steeds, als u het mij vraagt, geen echt lekker Duits, en dat geldt ook voor de nieuwe Engelse en Franse teksten: ze kunnen er mee door, en de buitenlandse bezoekers zullen niet meer spontaan in de lach schieten.
Erg lekker Nederlands is de oorspronkelijke tekst van Sandberg overigens ook niet. De eerste zin gaat zo: 'Het grote park, genoemd naar onze nationale dichter Joost van den Vondel, tijdgenoot van Rembrandt, werd in 1865 ingewijd.' In het Duits staat daar nu, in tweede instantie: 'Der grosse, nach unserem Nationaldichter und Zeitgenossen Rembrandts Joost van den Vondel genannte Park wurde 1865 eröffnet.' De nieuwe Franse vertaler maakte van 'Amsterdam compte pas mal de parcs, mais le Vondelpark joue un rôle central et affectif dans le coeur de ses citoyens' in de herkansing dit: 'Amsterdam compte un assez grand nombre de parcs, mail le Vondelpark occupe un place de choix dans le coeur de ses habitants.' In het Engels staat in de tweede druk: 'In a special pavilion about 100 photographs will tell the story of the life of a motor car,' terwijl er in de eerste nog dit stond: 'A pavilion will lodge a hundred of large photographs. They will shortly tell the adventures of motorcars.' In het Nederlands luidde deze zin overigens: 'En in een voor de gelegenheid gebouwd paviljoen zullen een honderdtal foto's van formaat de lotgevallen vertellen die de auto gedurende zijn kort bestaan beleeft.'
Eén kwestie werd gelukkig uniform opgelost. In het Nederlandse voorwoord legt Sandberg uit dat het Vondelpark zich vanaf het Leidseplein in westelijke richting uitstrekt. In de Franse versie van de eerste druk was dat ook het geval, maar in de Engelse en de Duitse vertalingen ging het park precies de andere kant op. 'Westen' en 'ouest' werden opeens 'east' en 'östlich'. Het zou erop kunnen wijzen dat Sandberg niet in zijn eentje zijn eigen tekst in drie talen heeft vertaald, zoals Het Parool suggereert. De hoofdredacteur van de krant op dat moment is overigens Herman Sandberg, en dat zou een pikant detail zijn als ik hier kon vertellen welke familierelatie de twee heren met elkaar hadden. Maar dat kan ik op deze korte termijn niet achterhalen – daar heb je, ondanks alle digitale hulpmiddelen, specialisten voor nodig.
En dan zijn we meteen ook bij de moraal van dit verhaal. Machinale en niet-machinale vertalingen door zelfkazers zijn vaak het gevolg van een wisselende combinatie van tijdgebrek, zuinigheid, onverschilligheid en overmoed, en het vermijden van dat alles is, in welke combinatie dan ook, aan te raden. De zelfkazers en het algemene publiek daarvan doordringen is net zo belangrijk als het verstandig ontwikkelen van nuttige machinale hulpmiddelen bij het vertalen.